May 24, 2021 02:14 AM
CHINA
Freezing Weather Kills 21 Runners in 100-Kilometer Race
A massive rescue effort was initiated after some runners lost contact.
Twenty-one people were killed during a 100-kilometer foot race in northwestern China's Gansu province as hail, freezing rain, gales and a sharp plunge in temperature suddenly struck.
Most of the victims died of hypothermia, a dangerous drop in body temperature usually caused by prolonged exposure to cold temperatures. The race took place in the rugged Jingtai Yellow River Stone Forest scenic area, known for its sheer cliffs, stone columns, canyons and dramatically twisting river course.
One of China's top long-distance runners, Liang Jing, was among the dead, Caixin learned. Huang Guanjun, the 2019 marathon champion in the 2019 National Paralympic Games hearing impaired section, was also killed, news site The Cover reported, citing a friend of Huang's.
The disaster spurred charges that the organizers weren't prepared for potential weather risks. Several participants and rescue professionals told Caixin that there were organizational flaws in the event as wind shells and jackets were removed from the list of compulsory gear for runners, leaving them vulnerable to abrupt weather changes.
"The provincial government has set up an investigation task force to follow up," said Mayor Zhang Xuchen of Baiyin, the city hosting the event. He called the tragedy "a public safety incident" and bowed in apology to victims' families at a Sunday briefing.
The remaining 151 competitors were rescued, of whom eight were lightly injured and hospitalized, according to the Baiyin government. Started in 2018, the event was organized by the Baiyin city government with assistance of Jingtai county, where the scenic area is located, and Gansu Shengjing Sport and Culture Development Co. as the operator.
The 2021 Yellow River Stone Forest ultramarathon in Baiyin May 22. Photo: Xinhua
"This is the most tragic event in the history of Chinese cross-country running and even the world's," said Yang Guang, a senior manager at Beijing Sanfo Outdoor Products Co. Ltd. Yang said the tragedy could have been avoided if the organizers and authorities were better prepared.
A total of 172 runners started the race Saturday morning. Runners followed a route through canyons and hills on an arid plateau, including a section rising 2,000 meters (6,500 feet) above sea level.
Deadly race
Around 1 p.m. Saturday when runners reached the 20 km – 31 km section of the race with rising elevation, bad weather set in with hail, freezing rain and gales that caused temperatures to plummet close to the freezing point, according to the official Xinhua News Agency.
Dressed in shorts and tops, many of the runners had little protection against the frigid temperatures. A massive rescue effort was launched after some runners reported discomfort or lost contact, Xinhua said.
Zhang Xiaotao, a surviving runner, said he was rescued by a local herder after he lost consciousness after falling amid the extremely cold weather.
"It was almost frozen rain when I reached the top of the hill," said Zhang, who tried to keep warm with a thermal blanket but couldn't stop shivering and gradually lost control of his body. Zhang said he passed a check point at the top of a hill but didn't find any replenishment site as he expected.
"It was a living hell," Zhang said.
Zhang returned to the foot of the mountain around 4 p.m. Saturday. A medical examination found his injuries were minor. No official explanation was given regarding the incident, Zhang said.
Another survivor said the weather turned overcast as the race began. The wind picked up and rain started falling when he passed one check point, beyond which there would be an 8 km stretch over rocky, muddy ground. He decided to continue although some runners ahead of him were dropping out. The wind and rain turned even stronger later.
"I took out thermal blanket and tried to wrap myself, and the blanket was blown apart by the wind," the runner wrote. The runner said he soon lost feeling in his fingers. "That's when I decided to drop out and descend. Lucky I made that decision as I was already showing symptoms of hypothermia."
The runner was directed by rescue workers to a cabin where he waited with many other participants to be transported to a safe area. Some fellow runners were hurt by cuts and falls, the runner said. The rescue was difficult amid the weather and road conditions, he wrote.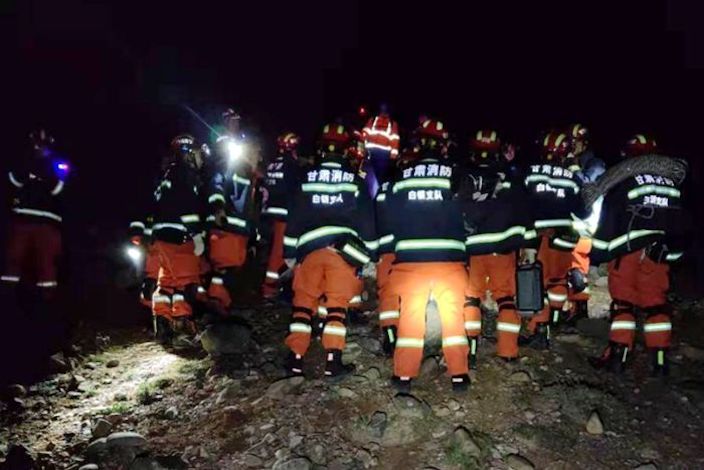 Rescue workers search for survivors in the morning of May 23. Photo: Xinhua
Extreme weather
Video footage seen by Caixin showed one person passed out while several other runners huddled together for warmth.
Caixin found that in the previous three years organizers required runners to bring warmer clothing and wind jackets. It was unclear why the items were dropped from this year's list. A Caixin call to Gansu Shengjing went unanswered.
Gansu's provincial weather authority forecast Friday that the province would experience worsening weather as a cold front passed through. Baiyin would have a low of 6 degrees Celsius (43 degrees Fahrenheit) Saturday with wind forces as high as level 7, or 51–60 km per hour, according to the forecast.
A helicopter joins the rescue effort in Baiyin. Photo: Xinhua
The Jingtai county weather bureau told Caixin that it submitted a detailed forecast to the event organizers including highest and lowest temperatures and wind conditions. But there was no detailed information about how the cold front would move, one official said.
A social media account run by the Jingtai weather bureau Friday issued a blue alert of strong winds for the following 24 hours, Caixin learned.
Marathon and long-distance running events are thriving across China as the sport becomes increasingly popular among the country's growing middle class. Local authorities are enthusiastic to host such events in hopes of boosting tourism and often offer prizes to attract participants. The Baiyin government offered 1,600 yuan ($248) to each runner who completed the race.
In a commentary, state broadcaster CCTV said extreme sport activities should be properly organized to avoid such catastrophes.
Contact reporter Han Wei (weihan@caixin.com) and editor Bob Simison (bobsimison@caixin.com)
Download our app to receive breaking news alerts and read the news on the go.
Get our weekly free Must-Read newsletter.
You've accessed an article available only to subscribers
VIEW OPTIONS
Share this article
Open WeChat and scan the QR code

Caixin China Biz Roundup: Philippines Gambling Cleanup Could See 40,000 Chinese Workers Deported