Opinion: Should Extreme Cross-Country Racing Be Suspended?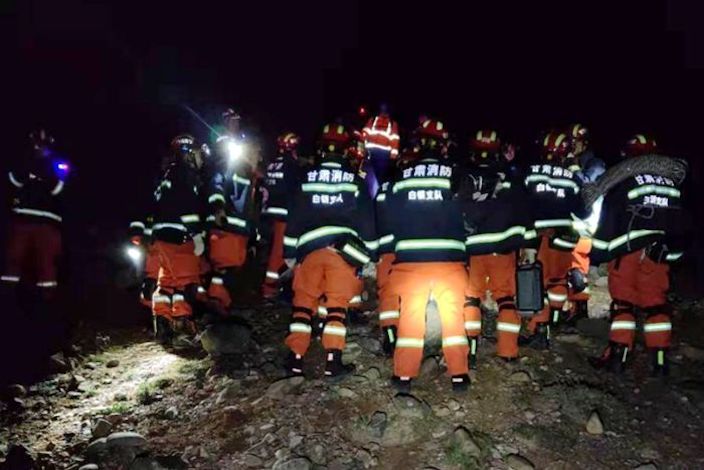 Rescue workers search for survivors in the morning of May 23. Photo: Xinhua
The May 22 tragedy in northwestern China's Gansu province dealt a hard blow to China's nascent extreme-sports industry.
A frigid vortex brought heavy freezing rain down on the Yellow River Stone Forest tourist site's fourth annual 100-kilometer cross-country race near the city of Baiyin. The extreme weather shift left 21 participants dead — including some of the country's top cross-country runners.
The next day, the General Administration of Sport of China called for stricter requirements for the safety management of sporting events. The regulator ordered the sports industry to improve safety measures and risk-control capacity. It also proposed to introduce a "circuit breaker" mechanism for sports events.
The deadly race in Gansu was not extremely difficult in terms of elevation or distance, attracting professional athletes as well as amateur runners. How did it end in such tragedy?
Official statements now characterize it as "a public safety incident due to a sudden change in weather." Certainly, the victims indeed died because of the sudden drop in air temperature and accompanying freezing rain, hail and high winds. Nevertheless, the supposedly unpredictable weather did give some clues in advance. The day before, several local meteorological stations issued a blue warning of strong winds. With the technology available, precise hourly weather forecasting and monitoring are quite possible. Rather than being in complete ignorance, the marathon organizers and participants apparently simply minimized or disregarded the warning.
Even worse were the inadequate requirements for equipment. Protective gear such as windbreakers or outdoor jackets were absent from this year's list of compulsory items for runners, although they were required for the race in the previous three years. Competitors wearing only shorts and short sleeves were thus directly exposed to frigid ice, wind and rain, suffering grievously from the sudden drop in temperature.
Compulsory gear is especially needed for cross-country races in China even though such requirements are rarely seen in similar overseas events. That is partly because the sport has been well-established in many other countries, and runners have a better understanding of how to protect themselves from weather risks.
In fact, when it comes to outdoor sports, there is no division into winter and summer. When running a 100-km cross-country race, outdoor jackets, down jackets or fleeces should be considered essential items. The tragedy that unfolded when these runners encountered a large area with a sudden drop in temperature directly exposes a longstanding problem in the field — that many athletes and athletic event organizers are indifferent to or inadequately aware of safety issues.
Contributing behind the scenes were insufficient supplies and inadequate emergency rescue measures. One runner said that "on the particularly tough stretch where we needed supplies most, there were no supply points." The area where the accident occurred — between the second and third checkpoints — features complex terrain, including steep mountain ledges. Phone reception was bad or nonexistent, according to many of the runners. With strong winds, freezing rain and extremely poor visibility, road signs and other race-related markings either blew away or could hardly be identified. On the day of the race, some runners already sent out SOS signals at 12:00, but organizers didn't suspend the race until around 14:00.
These details all point to mishandling on the part of the event organizers. They simply hadn't made adequate preparations. These errors were compounded when multiple runners called for help at the same time, and rescue resources were quickly overwhelmed.
From its inception, sports competition has had extremely high requirements for rules. They are needed to maintain fairness and impartiality, but more importantly, to maintain people's lives. When people lack awareness of the rules on the one hand, and more and more marathon and cross-country races are trying to raise awareness of events on the other, calamities are inevitable, like monsters lying in wait for their prey.
Marathons and cross-country races are just one reflection of the marketization of sports in China.
China's sports were under national management for a long period. But in October 2014, the State Council approved the document, "Opinions on Accelerating the Development of Sports Industry and Promoting Sports Consumption" (Document No. 46), which effectively canceled the government approval process for commercial and mass sporting events. Instead, capital for such events is raised through market mechanisms, and local governments are responsible for providing services for various sporting events.
The policy has encouraged local governments to regard these events as effective approaches to building names and brands for their local jurisdictions. Su Jun, secretary of the CPC Baiyin Municipal Committee, told reporters that accelerating the integration of sports and tourism is an effective path for tourism development. It was believed that this ultramarathon would raise Baiyin's reputation within the tourism industry, promote infrastructure construction, enhance the level of municipal management and expand the tourism market.
Considering the wealth of potential benefits, enthusiasm for marathon events is running high all around the country. Nearly 1,000 marathons are now held in China every year. However, the frequency of extreme sporting events comes with certain problems — including a lack of talent and operational capacity for holding such events. Establishing a sports company, arranging several persons to attend a meeting, inviting a sponsor and preparing a race site is currently considered "sufficient" preparation for a secure event. But this leads to extreme variations or even large gaps in the level of event operations.
For a large-scale event like a marathon, which can often attract more than 10,000 runners, or more challenging cross-country races, there is a large range of strict preparations to be made — from selecting the route itself to the number and size of bananas at supply stations. So why are the barriers (if any) for holding such events so low?
If we look into the management mechanism for cross-country races specifically, we can identify a typical multi-line management model.
Before the cancellation of competition approval, the Chinese Athletics Association (CAA) was responsible for authorizing domestic marathons. Afterward, sports authorities no longer approve and are thus not liable for such events. Instead, Level A, B and C competitions must be reported to the CAA for filing in accordance with the Administrative Measures for Marathons and Relevant Sports Events in China. Unlike marathons, there are no management regulations requiring cross-country races to be reported at all, either to the Chinese Mountaineering Association or the CAA. The details of individual events are subject to local management. Thus, to ensure their events' successful approval, many organizers seek to cooperate with local governments and co-host competitions. In the process, as the sports authority has yet to complete its internal market-oriented restructuring, we can see that some associations have multiple roles in the event, such as judge, athlete and organizer.
Unclear standards, unclear management responsibilities and other deep-rooted problems are the true reflections of multi-party management. The competitive race sector is afflicted by a lack of strict standards, a lack of effective supervision, a lack of rules and uneven organizer quality. Considering this regulatory vacuum, market-based self-discipline can hardly be properly established. Meanwhile, China's cross-country marathons and other events continue to experience unrestrained growth.
We are left with the following questions. How can we improve event quality beyond a pure pursuit of numbers? How can governments and sports authorities innovate management models to streamline administration and delegate power, to fully unlock market vitality while strengthening event regulation and services? Will the ultramarathon tragedy provide an opportunity to overhaul China's competitive racing system and revive the industry, or will it bring the entire industry to a standstill, again pausing its budding transformation from a national system to a popular market-oriented system? This is the latest concern in an industry that has only just recovered from the Covid-19 pandemic.
Zhang Fan is an opinion editor at Caixin Media.
The views and opinions expressed in this opinion section are those of the authors and do not necessarily reflect the editorial positions of Caixin Media.
If you would like to write an opinion for Caixin Global, please send your ideas or finished opinions to our email: opinionen@caixin.com
Download our app to receive breaking news alerts and read the news on the go.
Get our weekly free Must-Read newsletter.
You've accessed an article available only to subscribers
VIEW OPTIONS
Share this article
Open WeChat and scan the QR code

China Stories: Strict Rules at Home Push Chinese Metaverse Entrepreneurs, Investors Overseas