Weekly Must-Read: China's Bond Market Gets a Reprieve in WMP Overhaul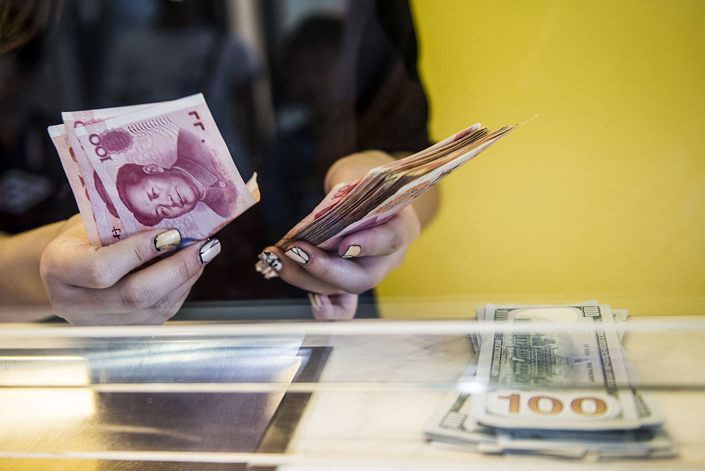 An employee at a currency exchange store counts Chinese one-hundred yuan banknotes next to a pile of U.S. one-hundred dollar bills in Hong Kong
In Depth: China's Bond Market Gets a Reprieve in WMP Overhaul
Regulators gave providers of wealth management products an extra year to restructure their money market-like offerings, easing pressure to dump bonds
China to Limit Daily Carbon Price Moves to 10%
Shanghai Environment and Energy Exchange outlines rules for national carbon market debuting this month as a key mechanism for reducing greenhouse gas emissions
The Lagging Overhaul of China's $3.9 Trillion Bank WMP Sector
Midway through a final year of transition to new rules, banks' wealth management units are struggling to get it all done, including hiring enough talent
New Chinese Brands Sparkle in '6.18' E-Commerce Marketing Event
Almost 460 brands that have been on the market for less than three years won sales in their segments on Tmall.com, the platform said
Four Things to Know About China's Hydrogen Roadmap
There's plenty of government weight behind the zero-emissions technology, but cost and infrastructure are major impediments
Guangdong Kicks Off Renewable Energy Trading
Authorities release details on carbon trading; State Council outlines plan to develop western region; Guizhou Gas Group signs pipeline gas accord
Analysis: How China's National Emissions Trading Scheme Will Work
Fitch Ratings analysts break down some of the key elements of the scheme
In Depth: What's Stopping Hong Kong From Fixing Its Housing Crisis?
Although the city's government has long promised to address a chronic shortage of homes, bureaucracy and the sway of special interests block action
Swine Fever Variants Lead to Mass Outbreaks Across China
Experts are divided over whether the variants have grown more transmissible or whether the use of unregulated 'underground vaccines' may be causing the virus to mutate
In Depth: How Japan's Nuclear Disaster Zone Is Emerging as a Clean Power Leader
A decade on from the Fukushima crisis, the country is gradually saying goodbye to nuclear power, pursuing renewable sources and placing big bets on hydrogen
Gallery: China Fights Algae Invasion With Bulldozers
985 Issues With Finding a Spouse in China
The number, shorthand for elite universities and their graduates, has become an object of disdain for how it's used by exclusive dating sites to perpetuate class divisions
GOING LIVE SOON | China Chat 06: The Future of Fintech and Digital Currency
Join our conversation at 20:00-21:00 Beijing time. We will discuss the opportunities and challenges in fintech development, the future of digital currencies, and implications for every stakeholder. Click here to know more and save your spot.
Klaus Schwab Advocates New Business Approach
Founder of World Economic Forum argues that companies need a broader metric than short-term profits and need to provide for all stakeholders including society
Yet Another Chinese Province to Ban Crypto Mining
Sichuan takes aim at crypto; critics slam 985 dating platforms for educational discrimination; and Canberra turns to the WTO after China slaps tariffs on Australian wine
You've accessed an article available only to subscribers
VIEW OPTIONS
Share this article
Open WeChat and scan the QR code

Caixin-Sinica Business Brief: China Resumes Issuing Visas to Foreigners