Jun 26, 2021 06:09 AM
CHINA
Energy Insider: Chinese SOE Profits Up 170% in First Five Months; Baowu and Vale Launch Indonesia Nickel Project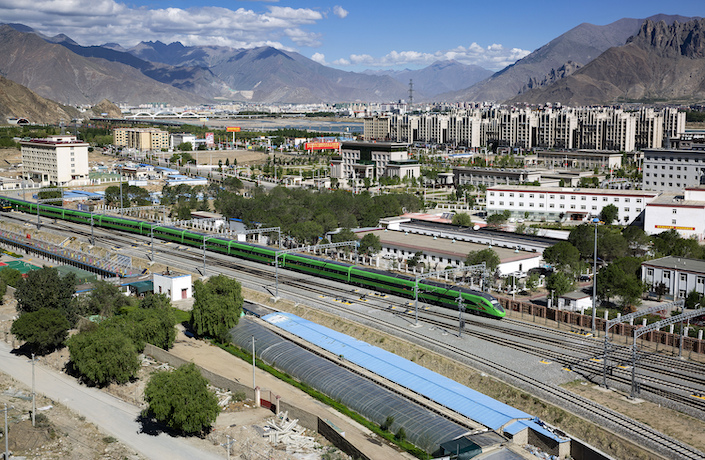 The Fuxing-class bullet train commences operations across the Tibet plateau Friday.
In today's Caixin energy news wrap: China Baowu and Brazil's Vale to launch Indonesia nickel project; Chinese SOE profits up 170% in first five months; Tibet's hydropower capacity may exceed 15 million kilowatts by 2025; Henan signs hydrogen energy agreement with U.K. company
China Baowu and Brazil's Vale to launch Indonesia nickel project
China Baowu Steel Group Corp. (600019.SH) signed a project cooperation framework agreement Thursday for construction and operation of the Indonesia Bahodopi FeNi project. Baowu, PT Vale Indonesia (PTVI), and Shandong Xinhai Technology Co. Ltd. will jointly construct and operate the FeNi project in Morowali, which lies on the Indonesian island of Sulawesi. According to the agreement, China Baowu and Xinhai will first establish a domestic joint venture, which will then establish a joint venture with PTVI. PTVI will hold 49% of the joint venture. The project is expected to produce 73,000 tons of nickel a year. Smelting will be powered with electricity from natural gas-fired power stations, which will cut carbon emissions by 60%.
Chinese SOE profits up 170% in first five months
China's state-owned and state-controlled enterprises maintained high growth in the first five months of the year. Total operating revenue of SOEs came to 28 trillion yuan ($4.32 trillion), a year-on-year increase of 30.5% and an average increase of 8.9% over the previous two years, data from the Ministry of Finance shows. In the same period, SOEs' total profits reached 1.79 trillion yuan ($280 billion), a year-on-year increase of 170% and an average increase of 13.5% over the previous two years.
Sinopec and Trina Solar sign strategic agreement
China Petroleum & Chemical Corp. (Sinopec) and Trina Solar Co. Ltd. signed a strategic cooperation framework agreement Wednesday, aiming to deepen cooperation on the zero-carbon energy transformation of gas stations, the production of hydrogen via green electricity and the supply and R&D of photovoltaic materials. The two companies plan to leverage their advantages to deepen integration, address technical bottlenecks and institutional obstacles, push for the implementation of new photovoltaic materials and reduce the costs of solar power generation, the companies said.
Lhasa-Nyingchi railway starts operation
China Railway said the Lhasa-Nyingchi railway would go into operation Friday, the government-run Xinhua News Agency reported. Fuxing-class bullet trains, powered by internal combustion and electricity, will commence operations across the plateau. The fastest trains will be able to take passengers from Lhasa to Shannan in 70 minutes and from Lhasa to Nyingchi in 3 hours and 29 minutes. Shannan and Nyingchi are both located in the Tibetan autonomous region. The railway lies in a southeastern valley between the Gangdise Mountains and the Himalayan Mountains on the Qinghai-Tibet Plateau. More than 90% of the track lies more than 3,000 meters above sea level.
Hengli Petrochemical to invest $1.72 billion in new project
Hengli Petrochemical (600346.SH) said Thursday that its subsidiary Kanghui New Material Technology Co. Ltd. plans to invest 11.1 billion yuan ($1.72 billion) in a production project with an annual output of 800,000 tons of functional polyester films and functional plastics. The project will contribute to the company's market adaptation, meeting customers' demand for high-end polyester films and functional plastics, the company said.
Henan signs hydrogen energy agreement with U.K.'s Logan Energy
Henan province co-hosted a U.K.-China Cooperation Forum on Hydrogen with the British consulate-general in Wuhan and the Department for International Trade. At the forum, Henan Lanxing Power Equipment Co. Ltd. and Logan Energy Ltd., a leading hydrogen energy technology company in Europe, signed a cooperation agreement for the construction of a hydrogen energy industrial park in Jiaozuo, Henan. Preliminary investment in the project will be 100 million yuan ($15.5 million).
Tibet's hydropower capacity may exceed 15 million kilowatts by 2025
A clean energy expert workstation and clean energy innovation and development center were officially established in Tibet, CCTV News reported. Tibet's installed hydropower capacity will exceed 15 million kilowatts, and solar panel capacity will top 1,000 kilowatts by 2025, according to the report. In the meantime, the State Grid plans to invest 46.6 billion yuan ($7.2 billion) in the region to further strengthen the Tibet-southwest China power grid interconnection, to supply higher-caliber power to Sichuan-Tibet Railway projects and to actively promote preliminary work for projects such as Qinghai-Tibet DC Networking Phase II.
Xiangtan debuts first electric mining dump truck
The world's first 120-ton pure electric-drive mining dump truck was initiated Wednesday in Xiangtan, Hunan province. The vehicle was developed by state-owned Xiangtan Electric Manufacturing Co. Ltd. and shipped to a mine in Inner Mongolia. Equipped with electric power, an energy management system and alternating current drive, the truck uses a battery instead of a traditional diesel engine to supply power. It can operate continuously for eight hours on one hour's charge. Compared with traditional 100-ton fossil fuel-powered vehicles, the electric truck consumes half as much energy, cuts operating and maintenance costs by 20% and achieves zero emissions. A single truck can reduce carbon dioxide emissions by 1,500 tons per year.
Download our app to receive breaking news alerts and read the news on the go.
Get our weekly free Must-Read newsletter.
You've accessed an article available only to subscribers
VIEW OPTIONS
Share this article
Open WeChat and scan the QR code