Ling Huawei: Is It Possible to Stop the Involution of Education?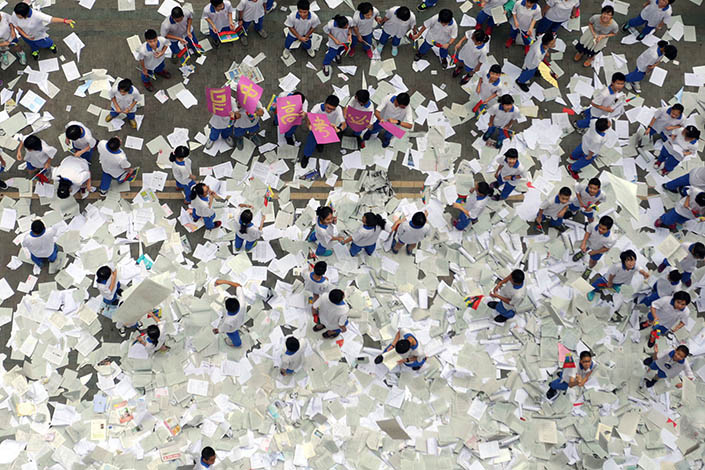 Photo: VCG
A video circulating online filmed in Anhui province shows a group of community workers kicking in the door of a classroom and pulling out a male teacher, with one man's hand firmly gripping the teacher's neck. The rough behavior in the video, which seemingly left the students terrified, has caused serious discomfort. Later, the local government made a statement explaining the background of the incident and promised to seriously punish the community workers for their inappropriate actions.
No matter what, we should respect teachers, value education and advocate learning as a way of changing one's destiny. These are traditional virtues passed on for thousands of years and the public's feelings regarding this should not be undermined. Teachers engaging in after-class training impart their knowledge to students and charging by the hour is a part of their profession. Although it is not in line with the latest policies and should be subject to adjustment, these teachers are not criminals and should not be disgraced or treated as those who are the targets of the fight against pornography or organized crime.
In China, education is critical and deemed as a foundation of the country. The involution of education will result in insufficient innovation and slow economic growth. Therefore, changing the involution of education is done in good faith by the authorities adjusting the policies and also a reform trend supported by a large number of parents. However, the choices of policy measures available to guide the improvement of the education and training industry are many. For example, a practical way would be to send a clear signal to the capital market in advance, by resisting the rapid expansion of the education and training industry through overcapitalization and announcing that these enterprises are not welcome and prohibited from listing. In this way, it is possible to make policies more predictable, giving capital time to take initiative and adjust investment. In a market-oriented economy, government signals should be used to guide market adjustment to prevent over-weighting in the implementation process at lower levels.
There are multiple reasons for the involution of education. China has an enormous population and an intensely competitive market. This is an inevitable fact and also an important reason why Chinese students have to work so hard and why most parents are willing to invest a lot in education. Compulsory education ensures relatively equal access to educational opportunities, but resource constraints make it hard to implement the competency-based instructing system which is the key to improve the quality of education. It should also be noted that students at all levels have a real need for attending tutoring or advanced classes, which may be reasonable or be something corresponding to a deeper educational distortion. This problem cannot be solved with a one-size-fits-all approach.
If it is believed that the education and training industry has intensified the hunt for high scores by endless exercises, causing high scores but low abilities, then the solution should tackle the problem at the root and study multidimensional talent cultivation and selection standards rather than solely focusing on scores.
Provided that in-service teachers pay more attention to paid after-class tutoring than classroom teaching, relevant policies can be issued to ban paid tutoring classes, preventing a conflict of interests and making sure that the teaching incentive mechanism is more reasonable. This issue can be completely solved by strengthening the occupation norm for in-service teachers.
Students will still have real needs, but policies impose restrictions. If the education and training industry becomes semi-concealed, it is more difficult to control the risks and low-income families will face higher barriers to tutoring classes. At present, the education and training industry has attracted investments of billions of yuan, but it is actually just composed of many small companies with more than 1 million employees in total. Therefore, the impact of unemployment caused by the ban on the education and training industry cannot be underestimated.
We still rely on modern social governance to settle key issues, such as unequal access to educational opportunities, involution of education and low quality of education. In China today, the reality is that the education system does have its flaws. For example, China generally lacks educational resources, children of migrant workers cannot attend school in the cities where their parents work, poor rural areas lack teachers and local children are in great need of the construction of a resource allocation system. However, the gap between the existing quality of education and the talent needed makes it harder for China to move forward in areas where originality is needed, such as technological innovation. This is something we need to think deeply about. Given that in-system educational resources are in short supply and that it is hard to allocate sufficient resources in a short period of time, we should make good use of the market — a regulating and supplementary tool — and should be careful when restricting the supply side of the market to avoid unsuccessful short-term solutions and counterproductive effects.
Ling Huawei is managing editor of Caixin Media and Caixin Weekly.
Contact editor Joshua Dummer (joshuadummer@caixin.com)
Download our app to receive breaking news alerts and read the news on the go.
Get our weekly free Must-Read newsletter.
Share this article
Open WeChat and scan the QR code

Caixin China Biz Roundup: Auto Sector Price War Heats Up