Oct 13, 2021 05:12 PM
CHINA
Cultural Relics Are the Latest Casualty of North China's Torrential Rain
Plastic covers a Buddha statue at Longxing Temple in Xinjiang county, North China's Shanxi province. The statue was wrapped up to prevent damage from water leakage. Photo: Liang Yingfei/Caixin
Days of heavy rainfall in North China's Shanxi province have threatened the preservation of many cultural relic sites, some of which have suffered damage including leaking roofs and collapsing walls and foundations.
As of Sunday, a total of 1,763 immovable cultural relics — including 177 nationally protected sites — have suffered various degrees of damage from the heavy rains that began early this month, according to the provincial cultural relics bureau. The record-breaking downpours during the weeklong National Day holiday caused floods and landslides that damaged railways and devastated villages, affecting some 1.75 million people in 11 cities and leaving 15 people dead, local authorities said Tuesday.
Known for its rich material history, Shanxi contains at least 53,875 immovable cultural relics, including 531 sites under national-level protection, the highest number in the country, according to official statistics.
Affected relics include the 1,400-year-old Jinci Temple in the provincial capital of Taiyuan, according to the National Administration of Cultural Heritage. And in the ancient town of Pingyao — a UNESCO World Heritage site — a 25-meter section of a city wall was damaged last week.
Historic sites in the cities of Taiyuan, Linfen, Lüliang and Yuncheng also suffered damage including water leaks and cracked walls, according to local media reports.
At Longxing Temple in Xinjiang county in the city of Yuncheng, statues of the buddha were wrapped in plastic to prevent water damage.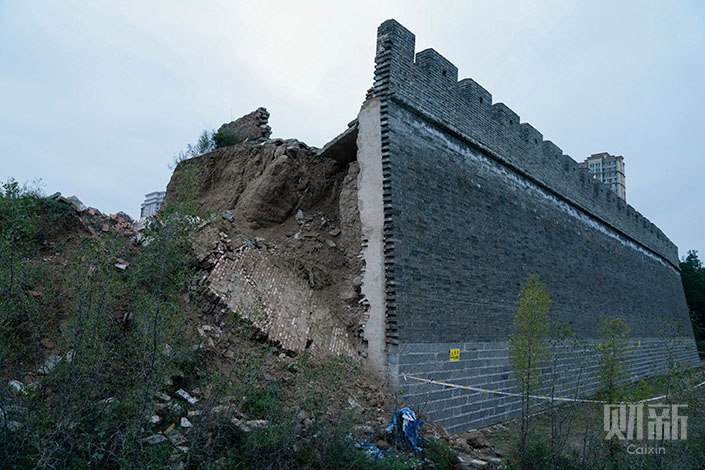 The east gate of the forbidden wall in Yanchi county suffered severe damage due to the rain. Photo: Liang Yingfei/Caixin
On Monday, Li Qun, head of the National Administration of Cultural Heritage, held a meeting on coordinating rescue and repair work on the affected cultural relics in Shanxi. He said that the bureau will dispatch experts to the province to assess the damage and direct rescue work, and will allocate emergency funds to help the province carry out repairs.
Jia Zhangke, the renowned Chinese director who was in the ancient town of Pingyao preparing for the fifth Pingyao International Film Festival, scheduled to run for a week starting from Tuesday, weighed in during a media interview, noting increased attention is needed from governments and the public for the preservation of cultural relics in remote areas.
Fang Qingsong, a member of the Chinese National Committee for the International Council on Monuments and Sites, told Caixin that there should be more daily protection and maintenance of cultural relics as it is more difficult to protect immovable cultural relics in emergencies when they are affected by natural disasters.
He also noted that compared with nationally protected relics, those with lower protection status at the city or county level are rarely maintained by local governments.
In Xinjiang county, the Kuixing building in Yanjiazhuang village collapsed due to the heavy rainfall. As the building had not been listed, it has not been given effective protection or maintenance for a long time.
The Kuixing Building in the village of Yanjiazhuang in Shanxi's Xinjiang county collapsed due to the heavy rain. Photo: Liang Yingfei/Caixin
Yan Yexiang, who lives nearby, remembers a childhood in which she often visited the building with her friends, while her family went there to worship. Some other ancient buildings nearby are also in poor condition, and villagers' initiatives to raise money for repairs have not yet been carried out.
Contact reporter Cai Xuejiao (xuejiaocai@caixin.com) and editor Heather Mowbray (heathermowbray@caixin.com)
Download our app to receive breaking news alerts and read the news on the go.
Get our weekly free Must-Read newsletter.
You've accessed an article available only to subscribers
VIEW OPTIONS
Share this article
Open WeChat and scan the QR code

Caixin-Sinica Business Brief: Hong Kong to Allow Retail Investors to Trade Crypto