Energy Insider: Battery Production Triples on EV Boom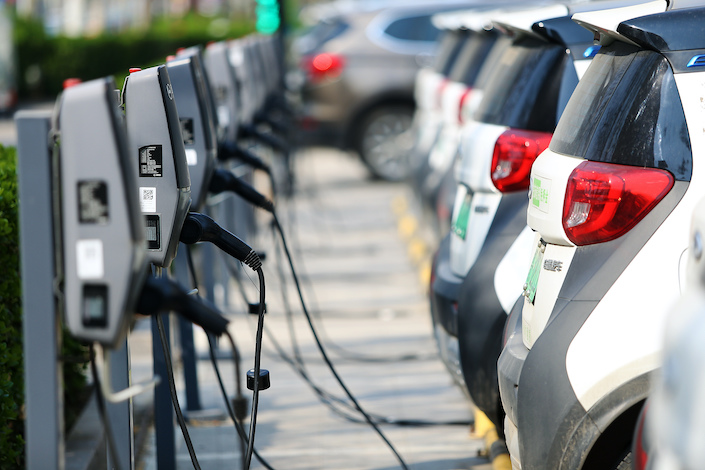 In today's Caixin energy news wrap: China's power pricing system overhaul makes progress; auto exports surge amid post-pandemic recovery; CATL to invest $5 billion building battery industrial park.
Battery production triples in first three quarters amid EV boom
China's production of batteries for electric vehicles rose 195% to 134.7 gigawatt-hours (GWh) in January-September, with 62.8 GWh from ternary batteries and 71.6 GWh from lithium ion phosphate batteries. The top 10 producers accounted for 91.7% of the market, while the three leading producers took 73%.
China lifts curbs on coal-fired electricity prices amid power crunch
China will allow coal-fired power plants to price electricity based on market rates while lifting a government-set pricing system, the National Development and Reform Commission said Tuesday. Coal-fired power prices will be allowed to fluctuate by as much as 20% from base levels, an increase from previous limits of 10% to 15%. Prices for high energy-consuming companies would not be bound by the 20% limit to encourage them to improve power efficiently, the NDRC said. The change is a key step in the government's long-running efforts to revamp the electricity pricing regime as the country suffers a massive power crunch.
CATL to invest $5 billion in battery industrial park
Battery giant Contemporary Amperex Technology Co. Ltd. (CATL) plans to build an industrial park for battery material production with a total investment as much as 32 billion yuan ($5 billion). The project aims to secure the supply of raw materials for CATL's battery production and improve its lifecycle management of retired batteries, the company said.
Four coal mines remain shut in flood-hit Shanxi
Four mines with total annual capacity of 4.8 million tons of coal remain shut in China's main coal producing province of Shanxi, sparking concerns of a worsening coal shortage. Last week, 60 mines in Shanxi shut down as flooding hit. According to a local emergency management official, most of the mines soon resumed operation, and the coal supply will not be substantially affected.
China's auto exports more than double
Auto exports from China in the first nine months of 2021 more than doubled from a year earlier as the industry rebounded from the Covid-19 pandemic. China exported more than 1.36 million vehicles from January to September, according to the China Association of Automobile Manufacturers, compared with 620,000 in the same period in 2020.
China to support hydrogen industry
China plans to launch more demonstrations and establish standard systems to bolster the hydrogen industry. In a recent meeting, the National Development and Reform Commission (NDRC) discussed the status of hydrogen production, storage, transportation, injection and usage. The participants agreed that developing the hydrogen industry would help China shift to cleaner energy and achieve carbon neutrality goals.
Baowu to take 21 units public in next few years
China Baowu Steel Group Co. Ltd., the world's largest steelmaker, plans to push its 21 subsidiaries to sell shares in the next two to three years to promote mixed-ownership restructuring. Some subsidiaries will soon start the process for public offerings. The restructuring will cover a wide range of sectors including minerals, environmental protection, supply chain services, clean energy, renewable resources, and finance.
Huawei looks to logistics and energy
Huawei Technologies Co. Ltd. is further expanding its business beyond telecom gear and electronics into the logistics and energy industries. The Shenzhen-based company created four new divisions known as corps, tapping businesses in customs and ports, smart highways, data center energy and smart photovoltaics. Each corps will act as an independent business unit, connecting research and marketing teams, a source inside Huawei told Caixin.
China-Europe Railway Express adds two routes to fulfill demand
Qilu Express, the China-Europe Railway Express starting from China's East Shandong province, added two routes to meet surging transport demand caused by the pandemic. The first express train departed Tuesday with 100 standard containers carrying machines and daily necessities and will arrive in Moscow 12 days later. Crossing 22 Belt and Road countries, the Qilu Express ran 1,335 freight trains this year through September, up 16% year-on-year.
Soaring coal prices cause huge losses for electricity producers in China
Soaring coal prices hammered profits of electricity providers across China. Guangdong Electric Power Development Co. Ltd. reported a loss of as much as 260 million yuan ($40.4 million) for the first three quarters with a third-quarter loss of 280 million to 380 million yuan, compared with a 1.57 billion yuan profit in the same period last year. Jilin Power Share Co. Ltd. posted a loss of 22 million to 32 million yuan in third quarter. However, with its main business in thermal, wind and solar power, Jilin Power still recorded a profit of as much as 682 million yuan for the first nine months.
Profit of China Coal Energy surged in first three quarters
China Coal Energy Co. Ltd., the world's third-largest coal supplier, reported a net profit of as much as 12.4 billion yuan ($1.9 billion) for the first nine months, almost triple that of last year.
Contact editors Han Wei (weihan@caixin.com) and Bob Simison (hello@caixin.com)
Download our app to receive breaking news alerts and read the news on the go.
Get our weekly free Must-Read newsletter.
You've accessed an article available only to subscribers
VIEW OPTIONS
Share this article
Open WeChat and scan the QR code

Caixin Biz Roundup: China's Covid Caseload Hits Six-Month High