Oct 27, 2021 08:30 PM
CHINA
China Suffers First Widespread Air Pollution of the Season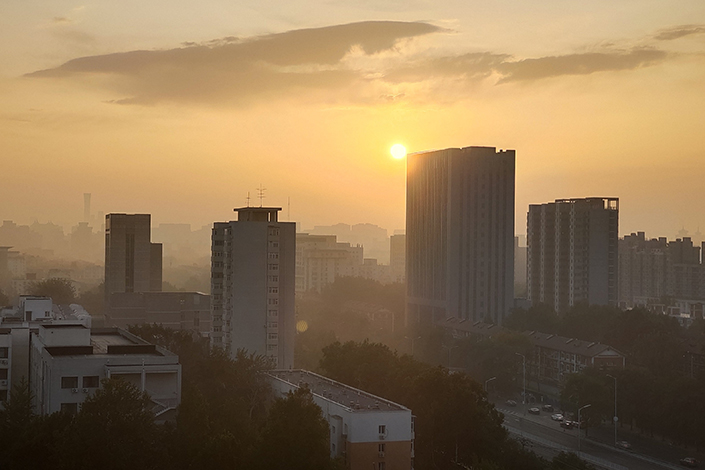 Buildings shrouded in smog in Beijing on Tuesday. Photo: VCG
China's central and eastern regions suffered widespread air pollution for the first time since the start of fall, a state-run environmental research center has reported, noting that emissions in some areas remain at a high level.
As of Monday afternoon, 36 cities in the Beijing-Tianjin-Hebei region and its surrounding areas, as well as the Yangtze River Delta region, have seen polluted days (link in Chinese) in which the level of PM2.5 — ultrafine particles that damage human health — has risen, according to a report by the National Joint Research Center for Tackling Key Problems in Air Pollution Control.
The central city of Puyang and the northern city of Langfang had the highest daily and hourly concentrations of PM2.5, averaging 130 and 174 micrograms per cubic meter of air, the report said. The World Health Organization has suggested that 24-hour PM2.5 exposures should not exceed 15 micrograms.
"Currently, emissions of air pollutants in key areas remain at a high level, and those of main pollutants other than sulfur dioxide still far exceed the environment's (assimilative) capacity," said the report.
Peng Yingdeng, a researcher at the National Engineering Research Center for Urban Pollution Control, told Caixin that PM2.5 pollution is not as serious as in previous years, and the current level should be classed as "moderate pollution."
"Moderate pollution" in China means the air quality index — representing a weighted average of several toxic substances in the air — ranges from 201 to 300. Going outside with pollution at this level can "significantly" worsen the symptoms of patients with heart and lung diseases, according to a report by the Ministry of Ecology and Environment (MEE).
The period of widespread air pollution came just days ahead of the U.N. climate summit in Glasgow, but soon after China enjoyed a weeklong National Day holiday in which the air quality was good compared with the same period in recent years, the research center said.
The country has been making efforts to improve its air quality as the world's largest emitter of greenhouse gases aims to peak carbon dioxide emissions by 2030 and become carbon neutral by 2060.
The research center said that apart from high regional emissions and a rise in concentrations of nitrogen dioxide — the highly reactive gas that contributes to the formation of PM2.5 — wind direction was a factor in the worsened air quality.
In regions including Beijing, Tianjin and central Hebei, PM2.5 concentrations increased after contaminated air clouds from southern and central China changed course and began moving northbound, as pictures in the report showed. In the Chinese capital, particulate matter concentrations nearly doubled on Sunday night from 50 micrograms per cubic meter earlier that day.
The research center said that China's air quality in some areas still depends on meteorological conditions, and the air pollution easily surges in the colder seasons. But they do suggest that enhanced measures to reduce emissions may bring the air pollution under control.
The National Joint Research Center for Tackling Key Problems in Air Pollution Control was established in 2017 by the MEE. It's currently run by the Chinese Research Academy of Environmental Sciences, affiliated with the MEE.
Several cities have seen air quality improve since the weekend. Beijing's air quality index stood at 24 around 4 p.m. Wednesday, with PM2.5 concentration of 4 micrograms per cubic meter according to the weather service website of the China Meteorological Administration, while Langfang's air quality index stood at 26.
Contact reporter Wang Xintong (xintongwang@caixin.com) and editor Heather (heathermowbray@caixin.com)
Download our app to receive breaking news alerts and read the news on the go.
Get our weekly free Must-Read newsletter.
You've accessed an article available only to subscribers
VIEW OPTIONS
Share this article
Open WeChat and scan the QR code

Caixin China Biz Roundup: Mystery Deepens After Missing Teen's Body Found Behind School