Former Moutai Chairman Gao Weidong Under Anti-Graft Probe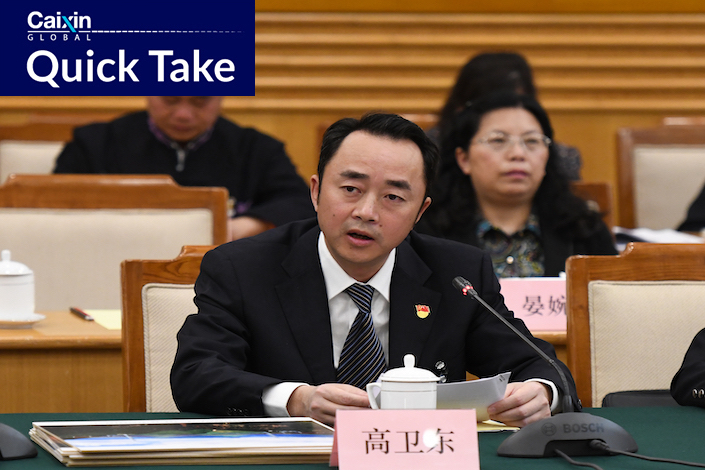 Gao Weidong
What's new: The former chairman of Kweichow Moutai Group who is the current head of the Coal Geology Bureau of Guizhou province is under investigation on suspicion of serious violation of law and discipline, according to China's top anti-graft watchdog, the Communist Party's Central Commission for Discipline Inspection.
Gao Weidong, 50, who was chairman and Communist Party secretary of Moutai Group between March 2020 and August 2021, joined a long list of corrupt executives at the state-owned liquor giant and local government officials with close ties to the company. He also had the shortest tenure in the top job in Moutai Group's history.
Before Moutai, Gao was the head of the Department of Transportation of Guizhou Province. The provincial government usually picks long-term officials as the chairman of the state-owned parent of China's most valuable listed company.
As usual, the anti-graft watchdog didn't disclose details of the investigation. When Gao was Moutai's chairman, some shareholders complained several times about the management at Moutai's publicly traded unit, shareholders told Caixin.
The background: Moutai's namesake product, known as China's "national liquor," is often served at Chinese state banquets and presented as a diplomatic gift. As the liquor is often in short supply, the market price can be much higher than the wholesale price dealers pay the company. For years, multiple Moutai executives have been caught accepting bribes for helping others obtain lucrative distribution rights.
Yuan Renguo, former chairman of Moutai, was sentenced to life in prison in September 2021 for accepting $17.5 millions of bribes for handing out distribution rights.
It has been an open secret for years that local and central government officials obtained liquor or distribution rights from Moutai executives. Wang Xiaoguang, former Guizhou vice governor, and his family made more than 40 million yuan of profits in seven years on the Moutai distribution licenses obtained through Yuan. Wang was sentenced in 2019 to 20 years in prison and fined 173.5 million yuan.
Quick Takes are condensed versions of China-related stories for fast news you can use. To read the full story in Chinese, click here.
Contact reporter Denise Jia (huijuanjia@caixin.com) and editor Bob Simison (bob.simison@caixin.com)
Download our app to receive breaking news alerts and read the news on the go.
Get our weekly free Must-Read newsletter.
Share this article
Open WeChat and scan the QR code