Caixin's New Economy Index Rises on Capital Investment Growth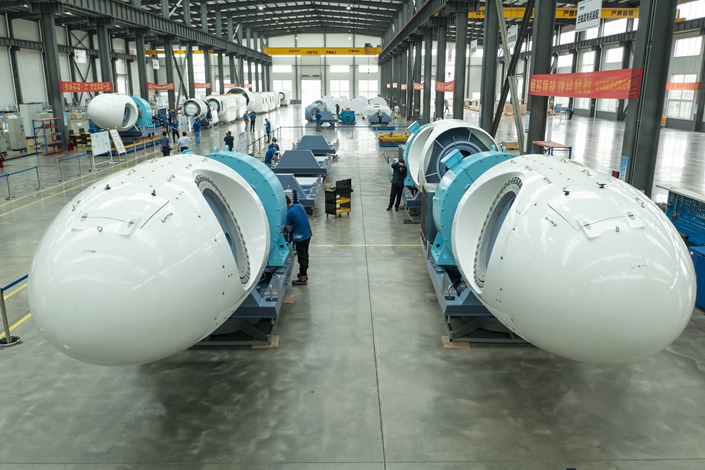 Workers assemble wind power turbines on June 15 in Rizhao, Shandong province. Photo: VCG
The contribution of high value-added industries such as biotech to China's total economic inputs expanded in July due chiefly to a rise in capital investment, a Caixin index indicated Tuesday.
The Caixin BBD New Economy Index (NEI) came in at 31.4 last month, showing that new economy industries accounted for 31.4% of China's overall economic inputs. The reading was up from 30.1 in June, rising for the second consecutive month.
The NEI uses big data to track nascent industries in China. It measures labor, capital and technology inputs in 10 emerging industries relative to those used in all industries.
Growth in the index in July was mainly the result of a rise in the subindex for capital inputs. The subindex, which has a 35% weighting, increased 4.9 points month-on-month to 40.4 in July.
The technology input subindex, which has a 25% weighting, increased 0.8 points month-on-month to 28.7 in July. This subindex gauges the number of research personnel recruited by the tracked industries, their inventions, and the patents they have obtained.
The subindex for labor inputs, with a weighting of 40%, dropped 1.5 points month-on-month to 25.3 in July. The subindex measures employee income and the number of positions in the new economy industries.
Launched in March 2016, the NEI defines a new economy industry as one that is not only technology- and human capital-intensive, but also asset-light, experiences sustainable and rapid growth, and is strategically encouraged by the government.
Of the 10 tracked industries, the new information technology industry remained the largest contributor in July, making up 9.6 percentage points of the NEI reading, although the contribution was down 1.2 percentage points from the previous month. The contribution of the biotech industry ranked second, contributing 4.5 percentage points.
The average monthly entry-level salary in the 10 industries, based on data compiled from online career and recruitment websites, was 13,814 yuan ($2,041) in July, down 450 yuan from the previous month.
Monthly NEI reports are produced by Caixin Data Technology Co. Ltd. and Chinese big-data research firm BBD, in collaboration with the National School of Development at Peking University.
Contact reporter Zhang Yukun (yukunzhang@caixin.com) and editor Heather Mowbray (heathermowbray@caixin.com)
Read more about Caixin's economic indexes.
Download our app to receive breaking news alerts and read the news on the go.
Get our weekly free Must-Read newsletter.
Share this article
Open WeChat and scan the QR code

Caixin China Biz Roundup: Hong Kong 'Homecoming' Listings