Sep 16, 2022 08:11 PM
WORLD
China to Sanction CEOs of U.S. Defense Firms Over Taiwan Arms Deal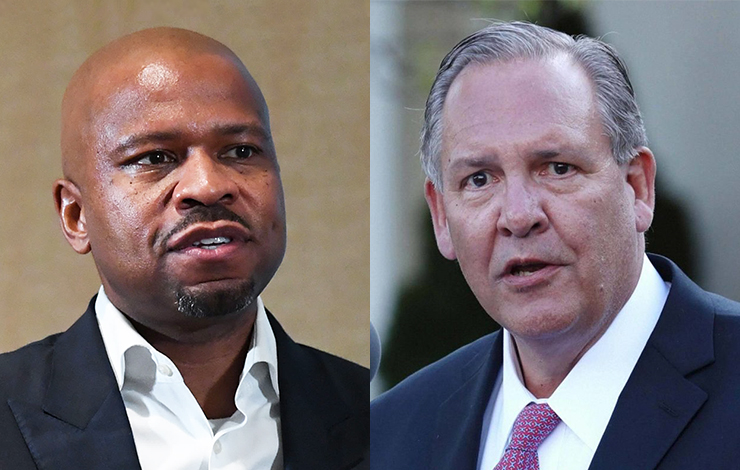 Ted Colbert(left),Gregory Hayes
What's new: Beijing will sanction the CEOs of Raytheon Technologies and Boeing's defense unit for participating in Washington's recent $1.1 billion planned arms sales to Taiwan, the Ministry of Foreign Affairs announced on Friday.
Boeing's defense and space division head Ted Colbert and Raytheon Technologies' Chairman Gregory Hayes will be penalized, foreign ministry spokesperson Mao Ning said during a regular media briefing without elaborating on the details of the sanctions.
Mao said the United States' approval of the arms deal was a grave violation of the one-China principle and the provisions of the three China-U.S. joint communiqués. She added that China will continue to take all necessary measures to safeguard its sovereignty and security interests based on how the situation evolves.
The background: On Sept. 2, the Biden administration approved and notified Congress of the arms sales to Taiwan, which includes logistics support for a radar program, up to 60 Harpoon anti-ship missiles from Boeing and some 100 Sidewinder air-to-air missiles from Raytheon, according to U.S. media reports.
The U.S. Senate Foreign Relations Committee also advanced the Taiwan Policy Act 2022 this week, which would authorize billions of dollars to bolster Washington's security assistance to Taiwan over the next few years. China has said it strongly opposes the bill, which has yet to be signed into law.
In February, China said it would punish Raytheon Technologies and Lockheed Martin after the U.S. announced arms sales of $100 million worth of Patriot missile upgrades to the island. Beijing also announced sanctions against Raytheon and Lockheed in 2020 for yet another arms deal to Taiwan.
Quick Takes are condensed versions of China-related stories for fast news you can use.
Contact reporter Kelly Wang (jingzhewang@caixin.com) and editor Bertrand Teo (bertrandteo@caixin.com)
Download our app to receive breaking news alerts and read the news on the go.
Get our weekly free Must-Read newsletter.
Share this article
Open WeChat and scan the QR code

China Stories: Verdict Reversal in High-Profile Murder Stands Out Amid Exoneration Trend