Gallery: Shanghai Library Unveils Dazzling New Branch
Sep. 28, 2022
Share this article
Open WeChat and scan the QR code
The floor, "Bygone Times," created by artist Shen Fan, draws on the pattern made by pages of newspaper text. Shanghai Library East Branch opens Wednesday in Pudong, Shanghai. Photo: IC Photo
Spanning 115,000 square meters, it is the largest building in China that is dedicated solely to a library. It is situated in Shanghai's biggest park and comprises seven floors above ground and two below.
An installation, "Living Word," created by artist Xu Bing, floats above the reading desks at the library. Photo: Zhang Hengwei/China News Service, VCG
A visitor checks out an installation titled, "Accompany," by Simon Ma, shaped like a giant water drop. Public art installations by ten artists from China and abroad are placed around the library. Photo: IC Photo
The library provides nearly 6,000 seats for the planned lectures and academic events expected to take place there. The number of readers it will receive every year is likely to reach 4 million. Photo: IC Photo
The children's area on the ground floor of the branch, containing more than 160,000 copies of books for readers under the age of 14. Photo: IC Photo
People visit an exhibition of 70 collections, including ancient engravings and examples of movable type printing. Photo: VCG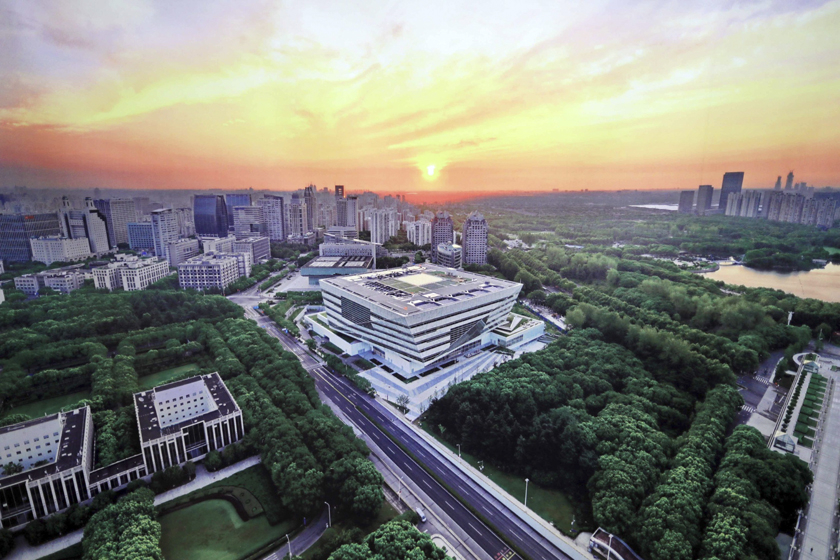 Designed by Denmark's Schmidt Hammer Lassen Architects, the construction of the branch started in September 2017 and was completed at the end of 2021. Photo: IC Photo
Next Gallery

Recent Galleries
Load more...