Mar 09, 2023 04:57 AM
WORLD
China 'Is Open' to a Visit by U.S. Commerce Secretary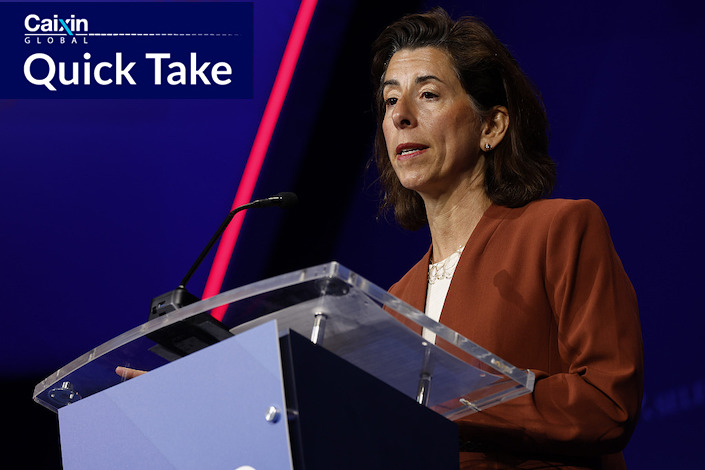 Gina Raimondo
What's new: China is open to a visit by U.S. Commerce Secretary Gina Raimondo and upholds the importance of dialogue, the Ministry of Commerce said.
Raimondo said last week in an interview with Bloomberg that she is considering a trip to China this year.
In response to a question on the matter, China's Commerce Ministry said it has not received any information from the U.S., but China "is open to Raimondo's wish to visit."
"We believe that it is very important for the commerce departments of the two sides to maintain dialogue and communication," the ministry said in a statement. "China will continue to be committed to addressing each other's concerns through dialogue and promoting constructive and practical cooperation."
The context: Raimondo told Bloomberg in the interview that a visit is likely as early as this spring.
"I'm certainly going to be sending my team over," she said. "We're trying to work that out. And yes, I think probably I would" go.
U.S. President Joe Biden is "looking to engage with China in all ways that are good for America, commercially, diplomatically — that communication is intended to de-escalate. That's where we want to be in our relationship with China — not escalating," Raimondo said in the interview in Washington.
Tensions between China and the U.S. mounted as Washington steps up restrictions on Chinese businesses. On March 2, the Commerce Department added 28 Chinese entities to its trade blacklist citing activities contrary to U.S. national security and foreign policy interest. The White House this week endorsed a bipartisan bill that could give the president authority to ban or force a sale of TikTok, the China-owned video app.
Despite the clashes, trade ties between the world's two largest economies remain strong. In 2022, trade in goods between the U.S. and China climbed to a record $690.6 billion.
Quick Takes are condensed versions of China-related stories for fast news you can use.
Contact reporter Han Wei (weihan@caixin.com) and editor Bob Simison (bob.simison@caixin.com)
Download our app to receive breaking news alerts and read the news on the go.
Get our weekly free Must-Read newsletter.
Share this article
Open WeChat and scan the QR code

Caixin-Sinica Business Brief: China Resumes Issuing Visas to Foreigners