Hisense Buys Sharp TV Unit in Mexico for US$ 23.7 Mln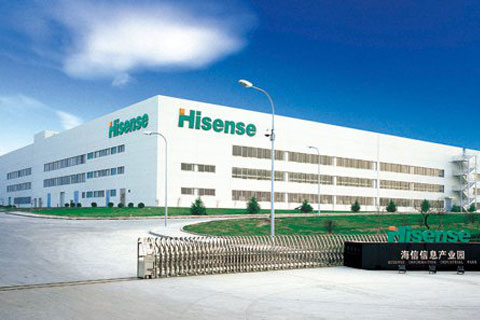 (Beijing) – Hisense Electric Co. Ltd. says it will pay US$ 23.7 million for a television unit of Japan's Sharp Electronics Corp., continuing a trend that has seen Chinese brands expand abroad to in a bid to prop up growth.
Hisense Electric, the listed arm of Hisense Group, said in a filing with the Shanghai stock market on August 1 that it will pay US$ 11.21 million for a 49 percent stake in Sharp Electronica Mexico S.A. de C.V. The filing also said Hisense USA Corp. will buy 51 percent of the company in Mexico for US$ 11.67 million.
The price also includes US$ 820,000 in other expenses, such as lawyers' fees, that the two Hisense companies agreed to pay.
Hisense USA, headquartered in the U.S. state of Georgia, is a wholly owned subsidiary of Hisense Group, a major appliance manufacturer based in the eastern city of Qingdao.
The transaction will be finalized before January 6, the filing said. The deal also gives Hisense the rights to use the Sharp brand name and all its sales, distribution and logistics networks in North and South America, the company said.
With the economy slowing in recent years, China's central government has been encouraging companies to "go out" – meaning expand into overseas markets – to help shore up growth and help manufacturers tackle overcapacity.
Hisense started as a small radio factory in 1969, and has established itself among Chinese consumers as a trusted manufacturer of white goods, TVs, tablets and laptops. It reported sales of US$ 2.6 billion last year, but very little of that came from North and South America.
The acquisition could help the company compete with big TV producers like LG, Samsung, Sony and Panasonic that have dominated the market in the Americas, an analyst said.
Liu Wenjian, a spokesperson for Hisense Group, said that the company will use both brand names to sell its products in a bid to grab a greater share of the highly contested market.
Sharp, now in its 103rd year, was one of pioneers of liquid-crystal display (LCD) technology, but has struggled in recent years to keep up with South Korean and Chinese competitors in the TV market.
It lost 34 billion yen, or US$ 274 million, in the first quarter of 2015, up from 1.8 billion yen in the same period of last year.
Its president, Kozo Takahashi, recently told Bloomberg that the company has to consider all options, "including a spinoff of the LCD business as the LCD market is changing very rapidly."
(Rewritten by Li Rongde)
You've accessed an article available only to subscribers
VIEW OPTIONS
Share this article
Open WeChat and scan the QR code

Aug 07 16:15

Aug 07 15:42

Aug 07 04:24

Aug 06 19:23

Aug 06 19:01

Aug 06 17:30

Aug 06 16:01

Aug 06 14:18

Aug 05 18:04

Aug 05 17:20

Aug 05 17:03

Aug 05 16:47

Aug 05 15:15

Aug 05 13:25

Aug 04 17:56
GALLERY