China Vows Crackdown on Financial Fraud in Rural Areas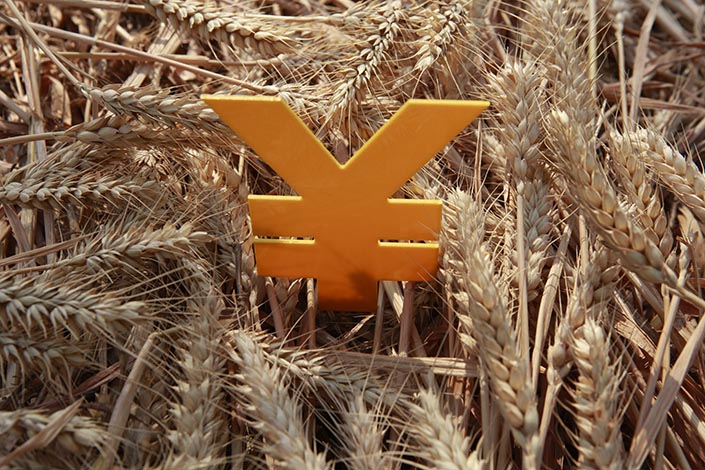 Photo: Visual China
(Beijing) — Worried about an increase in financial fraud that is often directed at unsophisticated rural areas, China is urging banks to offer more internet and mobile-based financial products to farmers while pledging to combat financial scams.
The State Council and the Central Committee of the Communist Party issued a policy statement Sunday subtly modifying last year's wording on developing internet finance in rural areas. While last year's call was to develop internet and mobile-based financial services in rural areas, this year's document emphasized the role of financial institutions by encouraging banks to use internet technologies to provide microloans, payment services and insurance to farmers.
The changes come as concerns rise over widespread financial fraud targeting the rural population. Many of the schemes involve online wealth planning and investment products that promise quick returns and low investment thresholds through internet platforms such as peer-to-peer (P2P) lending.
According to the Ministry of Public Security, the number of illegal fundraising cases overall increased by 71% in 2015 compared with a year earlier to 6,000, and the total money involved rose by 57% in 2015 to about 250 billion yuan ($36.5 billion). In the first quarter of 2016, about 2,300 illegal fundraising cases were filed.
The internet has been increasingly used as the platform for financial scams under the cover of financial innovation. In late 2015, the government closed Ezubo, a peer-to-peer lending website that investigators said swindled 900,000 small investors out of more than 50 billion yuan through a Ponzi scheme. Twenty-one people running the site were detained, according to the official Xinhua News Agency.
The Beijing Times newspaper reported last year that an investment company in Henan collected nearly 200 million yuan from more than 4,000 rural households with fake P2P investment plans in an apparent Ponzi scheme.
This year's policy for the first time called for a crackdown on illegal fund-raising and financial fraud in rural areas.
Since last year, the State Council, China's cabinet, has initiated a nationwide campaign to better regulate internet finance and clamp down on financial fraud, said an official at the China Banking Regulatory Commission. This year's policy put an emphasis on those efforts in rural areas.
The Sunday document outlined the major works and reform agenda for China's rural area and agriculture sector this year. It is the 14th year that the central government dedicated the annual policy to rural development.
The document highlighted reforms in the rural financial system by offering more diverse and convenient services to farmers, said Bai Chengyu, secretary of the China Association of Microfinance. He added that financial products offered by internet companies haven't shown an actual benefit to rural production. And it will be a more effective way to help farmers by encouraging financial institutions to offer new services using new technologies.
Contact reporter Han Wei (weihan@caixin.com)
You've accessed an article available only to subscribers
VIEW OPTIONS
Share this article
Open WeChat and scan the QR code