China Railway Corp. Struggles to Adapt in Era of Air Travel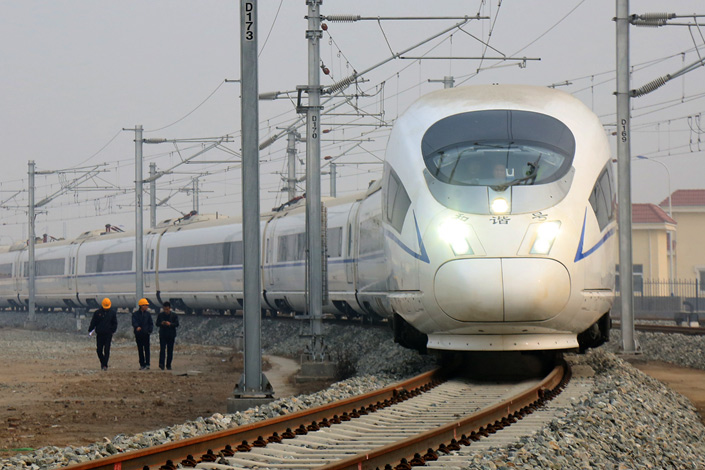 A CRH (China Railway High-speed) bullet train heads to a maintence station in Xi'an, Shaanxi province on Dec. 13. China Railway Corp., operator of the world's biggest rail system, faces business challenges as it struggles with shifting tastes in travel and trillions of yuan in debt. Photo: IC
(Beijing) — Working on the railroad was a dream for many Chinese in the 1980s, when trains were the country's main form of transportation and offered a glamorous life of travel that was off-limits to most.
But that aura has faded today, in an era when air travel is common and even ordinary people can afford modest vacations. The transformation has created an identity crisis for China Railway Corp. (CRC), operator of the world's biggest rail system, which also includes a state-of-the-art high-speed rail network.
Despite its attempts to behave like a company, the state-owned operator is plagued by a bloated payroll of 2 million employees and the inability to quickly roll out new products to capture market demand and generate new revenue. Instead, CRC has emerged from its former status as a government entity to become a slow-moving behemoth saddled by trillions of yuan in debt, with little prospects of repaying that money anytime soon.
Adding further baggage to the company is a culture lacking transparency and a series of traumatic accidents that have dogged CRC. Falling freight traffic is also a cause for worry as demand for bulk commodities slides with China's slowing economy.
At the same time, the company is saddled with 4.3 trillion yuan ($625 billion) in debt from building the nation's high speed rail network, now 22,000 km long and set to keep growing over the next five years. Some have likened that load to a ticking time bomb, which could one day explode unless the company can develop new revenue sources.
"The largest challenges CRC faces now are the increasing debt and declining freight traffic," said Zhao Jian, director of China Urban Research Center at Beijing Jiaotong University. "All new rail projects are high-speed ones, which cost a lot. But the revenue so far can't even cover the interest of the loans."
Falling Freight
One of CRC's biggest challenges lies in freight services, often the biggest revenue contributor for many rail operators. That was once true for CRC, but the situation has shifted sharply over the last two years due to weak demand from miners and other bulk item haulers as China's economy slows.
CRC's freight income fell behind passenger revenue for the first time in 2015, and the gap grew last year to 64 billion yuan. Freight revenue dropped in 2015 by 10%, and was down an even-sharper 12% in the first three quarters of last year.
CRC has tried to offset the slowdown by offering transport services for higher value-added goods, such as apparel and electronics. But its big bureaucracy and inability to provide modern logistics services have hampered that effort.
The current process often requires reams of paperwork and rejects small orders, said Wang Dong, a representative from a large Beijing-based logistics company. Real-time information also can't be shared with clients, who need to check with local rail operators for updates, said Yao Ping, deputy general manager of Yingkou Port Group.
Meantime, a new generation of privately owned transport and logistics companies like SF Express and YTO Express have been more than happy to fill the gap, providing state-of-the-art tracking services and door-to-door pickups and deliveries.
Slow to Adapt
CRC took its current form in 2013, as the operational arm of China's railroad network after the Ministry of Railways was split into two. But its lack of experience as a commercial entity has made it slow to adapt to unexpected market changes.
After slumping in the beginning of 2016, coal prices in China started to surge in the second half of the year due to supply shortages. But CRC couldn't meet the sudden new needs from miners, having retired carriages and adjusted to the slower demand, a person close to the operator told Caixin. It ultimately turned for help to coal miner Shenhua Group, which lent 1,500 carriages as an emergency measure.
The company needs to delegate some powers to lower levels and partner with private logistics companies if it wants to improve its service to win clients, said Beijing Jiaotong University's Zhao.
Another potential gold mine for CRC is in real estate development in areas close to tracks and railway stations — a model used in other parts of world. But even there, CRC has had little or no success, despite government assistance.
In 2014, China's State Council issued guidelines supporting CRC's construction of real estate along railways and near stations. But those nonbinding guidelines didn't specify how profits could be shared between local governments that owned the land and CRC. As a result, those local governments, facing their own heavy debt loads, were unwilling to share with the rail operator.
Another potential revenue stream could come from advertising, and CRC has made more progress in that area. Since the business began to develop in late 2015, advertisements from private companies have appeared on CRC's online ticket-booking website and mobile app.
In December, the operator also partnered with Didi Chuxing and Shouqi Limousine & Chauffer to introduce their private car services into CRC's train ticket mobile app. Advertising still accounts for just a small portion of CRC's revenue, but it's still good that CRC is more aware of the market, Zhao said.
Difficult Fund Raising
As new revenue sources are slow to take off, a more-promising funding avenue could come from private investors looking to participate in new project construction. CRC was allowed to accept private investment as early as 2005, and the central government has issued several documents supporting private capital entering the monopolized sector.
But progress has been slow due to a shortage of appealing projects, not only for CRC but other rail operators as well.
In 2013, the government of western China's Sichuan province set up the nation's first independent rail company only to quickly discover there was no interest from the private sector in its Southern Sichuan Rail Co.
Another rail project in affluent Zhejiang province was backed by CRC and managed to raise half of the necessary funds from private equity giant Fosun Group of Shanghai and automaker Zhejiang Geely Holding Group Co. Ltd. But even there, the Zhejiang government had to promise subsidies to ensure investors didn't lose money, according to Jiao Xuxiang, deputy head of Zhejiang's Development and Reform Commission, who made the comments in December — a day before construction work started.
Located in a rich area and backed by the government, the Zhejiang rail project might be an isolated case for a long time, observers said.
Safety has also been an issue dogging the operator, especially after the 2011 high-speed train crash in southeast Zhejiang province that killed 40 people and shocked the world.
The now-defunct Railways Ministry released a detailed investigation in that case. But CRC is far less forthcoming more often. Many accidents that injured or killed rail workers were never made public before, as the ministry ran a separate judicial system.
In December, two accidents happened in four days in northern Henan province that killed eight rail workers. Many believe such incidents would have been concealed in the past, and only become public after going viral on social media.
Contact reporter Coco Feng (renkefeng@caixin.com)
You've accessed an article available only to subscribers
VIEW OPTIONS
Share this article
Open WeChat and scan the QR code