Bike-Sharing Firms, Investors Pedal Into Uncharted Territory
Workers assemble shared bicycles in a manufacturing workshop in Tianjing on March 11. Photo: Yang Yifan/Caixin
(Beijing) — Urban China's once-mighty bicycle fleets were dying off when smartphone technology, savvy entrepreneurs and investors with deep pockets spearheaded a bike-sharing movement that's now sweeping the country.
Smart-looking bikes in yellow, orange and blue are increasingly available for rent near subway and bus stations in dozens of cities from Shanghai to Kunming. A commuter using a smartphone app pays a small fee to unlock a bike before pedaling to work or home.
About 30 companies, each with millions of app-activated two-wheelers, have been competing for Chinese commuters since early 2016. And the sector is growing: Market analysts expect these companies to add nearly 30 million new bikes to their combined inventories this year alone.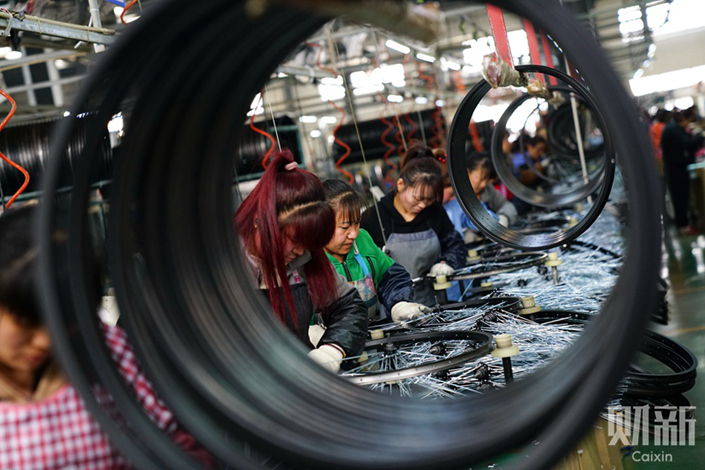 Workers assemble shared bicycles in a manufacturing workshop in Tianjing on March 11. An average of six bicycles roll off the assembly line every minute. Photo: Yang Yifan/Caixin
The fleet is already huge. Bike-sharing companies apparently snapped up a significant number of what the National Statistics Bureau said was last year's nationwide total bicycle-factory output of 53 million units.
The torrent of low-rent two-wheelers pouring onto city streets has raised questions about the future and profit potential for bike-sharing companies, each of which has leaned heavily on investors for startup cash.
The industry's long-term prospects could be hindered by city governments that have signaled an interest in more closely controlling these park-anywhere bicycles, which have been known to clog sidewalks in congested areas.
Other risks loom for bicycle and bike-parts manufacturers, many of which have expanded plants rapidly in recent months to accommodate bike-sharing company demand.
Bike factories have recruited new workers and added production lines to meet surging demand, said Jin Jian, marketing director of Tianjin-based bicycle manufacturer Flying Pigeon Cycle Development Co. Wang Zhaoguang, general manager of bicycle-chain maker Jiangsu Meiya, said his company recently spent millions of yuan on new production equipment.
Industry experts such as Guo Jingjing, vice president of bike manufacturer 700Bike, and Lu Jiangcheng, founder of bike-sharing app Qibei, have warned about a possible bust that could follow on the heels of the current boom.
"After one or two years, orders from bike-sharing companies may fall sharply," Lu said. "That would weaken demand and hurt small bike-manufacturer competitiveness."
Assembly takes place on the shared-bicycle production line in the factory of Flying Pigeon, a Chinese bicycle manufacturer, in Tianjin, on March 11. Monthly production of the Ofo shared bicycle from the Flying Pigeon Co. has reached 400,000. Photo: Yang Yifan/Caixin
Even investors who have bankrolled the bike-sharing movement may be affected as the sector matures.
Ma Huateng, the Tencent Holdings Ltd. CEO whose social networking firm has invested in leading player Beijing Mobike Technology Co., said in March during this year's national legislators' meeting in Beijing that "bike-sharing's capital-fueled expansion has come too fast."
Market values of bike-sharing companies have been rising in recent months but have yet to be properly tested, said a venture capital investor who declined to be identified.
And industry investors may face future risks as "there is likely no easy exit for a bike-sharing investment," he said.
Investor Magnets
A number of early bike-sharing investors initially got involved in part due to a shortage of attractive investment targets in China, said Wang Lixing, managing director of the Beijing-based investment bank China Renaissance.
In addition to Tencent, major bike-sharing business investors have included the Singaporean sovereign wealth fund Temasek, China-based private equity firm Hillhouse Capital, and U.S. investment firm Warburg Pincus.
Bike-sharing companies have wasted no time using cash from investors to grow their respective urban fleets.
Since launching in April 2016, Mobike said it has deployed more than 1 million orange and silver bikes in 30 cities. The company reported more than 10 million users making 400 million trips in its first nine months.
Mobike's chief rival, Ofo Inc., which grew out of a 2014 campus transportation project at Beijing's Peking University, likewise reported 10 million users. The company's fleet consists of about 2.5 million yellow bikes in 43 cities.
A worker arranges parts of Ofo shared bikes in Tianjin on March 11. Photo: Yang Yifan/Caixin
Other players include Tianjin-based Bluegogo, which rolled out its bright-blue bikes in November. CEO Li Gang said the company plans to expand its fleets in Beijing, Shenzhen and Guangzhou to a combined 8 million bikes by the end of 2017.
An estimated 500,000 shared bikes are now available in Beijing, but experts say there's still room for more two-wheelers to serve the city's 21 million residents.
Ofo plans to offer 1 million bikes in Beijing "so that commuters can find one at any time," according to company founder and CEO Dai Wei.
Some bike-sharing companies are expanding beyond China. In March, for example, Mobike launched a Singapore operation and announced plans to offer bikes in 100 cities globally by the end of 2017.
A worker sits atop shared-bicycle wheels in the Flying Pigeon factory on March 11. Photo: Yang Yifan/Caixin
Ofo, which already operates in 47 cities, including London and California's Silicon Valley, wants footholds in 200 cities worldwide.
Some industry insiders fear market saturation. Qibei's Lu, for example, said he believes Beijing commuters' needs can be met with only 200,000 shared bikes citywide.
Bike-crowding on sidewalks has also drawn city government attention. In March, for example, Shanghai transportation authorities responded to the phenomenon by unveiling standards for bike-sharing services, including bike scrappage, maintenance and technical parameters. These requirements could increase bike-sharing service operating costs, analysts said.
A Shanghai transportation official told Caixin that other cities, including Shenzhen, Nanjing, Beijing and Chengdu, are also considering new rules aimed at controlling the shared-bike business.
Ofo shared bicycles are put onto the streets of Beijing on March 10. Photo: Wu Gang/Caixin
Meanwhile, the competitive nature of domestic bike-sharing has forced companies to set low prices for their China services, which means most companies have been operating at a loss or on razor-thin margins.
Mobike and Ofo each charge between 0.5 yuan (7.2 U.S. cents) and 1 yuan per 30-minute ride. And to attract new customers, some companies have been offering discounts that effectively slash ride prices to zero.
An industry source said a bike-sharing business' key risks are tied to bicycle fleet depreciation and the time needed to recoup bike-purchase costs. At least 16 months' worth of riders would be needed to recover the cost of one bike, analysts said.
Mobike said it spends more than 1,000 yuan for one of its most expensive bikes. Ofo and other players offer bikes that cost 300 to 600 yuan.
Discounting can hurt profitability and open doors to greater risks, said another industry source. Some analysts have predicted the current round of discounting, which mirrors the price war among car-hailing app companies that eventually ended global giant Uber Technologies Inc.'s foray in China, could continue until the end of the year and force some players out of the market.
Companies also may be called to task for the deposit money they collect from riders. The government's financial supervisors may in the future enact rules on managing these deposits, which companies say they keep in dedicated bank accounts. Some industry analysts have called on supervisors to more closely scrutinize bike-sharing firms' finances.
Ofo shared bicycles are put onto the streets of Beijing on March 10. Photo: Wu Gang/Caixin
Mobike requires a 299 yuan deposit from each user, while Ofo charges 99 yuan. Company user numbers indicate their deposit funds total nearly 3 billion yuan and 1 billion yuan respectively.
Venture capitalists and private equity investors have yet to slow their support for bike-sharing companies.
In March, Ofo raised $450 million from a group of investors led by China's largest car-hailing company, Didi Chuxing Technology. Earlier, Mobike said it had raised $215 million from investors including Tencent.
These and previous investments brought the total raised by each company since early 2016 to more than $1.2 billion, according to a Caixin analysis.
But smaller players are also attracting investors. Bluegogo's Li told Caixin his company secured a second round of investor funding worth more than $100 million within four months of its startup, which was also fueled by investors.
"Investors who haven't made an investment in a bike-sharing project feel they're being left behind," said one investment fund manager.
But some investors have voiced caution, arguing that the bike-sharing craze is reminiscent of a similar, overenthusiastic rush into the online-to-offline commerce sector three years ago.
Investors have also raised red flags over the bike manufacturing sector, despite the current boom in demand.
"Before the first half of 2016, most bicycle plants and parts suppliers had cut production and laid off workers. Some even went bankrupt," said 700Bike's Guo.
The China market for bicycle manufacturers had in fact been slowing for years as increasing numbers of city dwellers replaced their bikes with cars and subway tickets.
In 2016, though, the plants were reinvigorated thanks to huge orders from bike-sharing firms. In November, for example, Ofo ordered 1 million bicycles from Shanghai-based Phoenix Import & Export Co.
The company also recently ordered 4.8 million bikes from Tianjin Fushida Bicycle Co. and 13 million units from Flying Pigeon. Qibei's Lu said bike-sharing company orders are expected to spur a doubling of production at Fushida this year.
And one investor noted that bike-sharing profit margins as of March were climbing along with rising demand. But how long the good times last is still an unanswered question.
"It's hard to predict when the bike-sharing market will be saturated," the investor said.
Contact reporter Han Wei (weihan@caixin.com)
Share this article
Open WeChat and scan the QR code