Fact Box: Assessing the Key Elements of the Belt and Road Initiative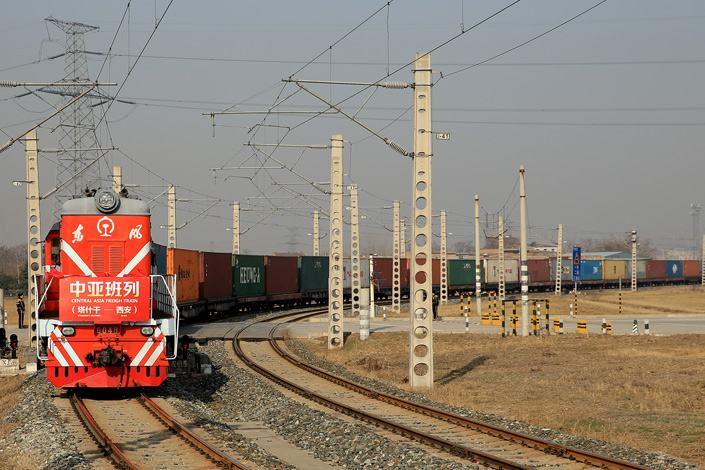 A train carrying cotton from Central Asia's Uzbekistan arrives in a station in Xi'an, Shaanxi province, on Feb. 24. It was the first freight train from Uzbekistan since Xi'an started a Central Asia freight service as part of the Belt and Road program. Photo: IC
The Chinese government's "One Belt, One Road" summit on May 14 and 15 is touted as the highest-level meeting since President Xi Jinping announced the ambitious plan in 2013 to revive the ancient Silk Road trade routes on land and sea.
State leaders and government heads from 28 countries will participate in the summit, while more than 1,000 officials, scholars, entrepreneurs and representatives from international organizations will attend the meeting, according to China's Foreign Ministry.
But what exactly is the Belt and Road initiative? Is it just about using infrastructure to strengthen ties, or does it form the basis of a visionary blueprint for global economic development?
What is the Belt and Road initiative?
In 2013, Xi raised the idea of developing a new economic belt on land and a 21st-century maritime Silk Road, known as the Belt and Road initiative, to better connect China with Europe, Africa and the rest of Asia to boost trade ties. It has since become a national strategy for the world's second-largest economy, which is now ready to embrace free trade and globalization.
The idea comes from the famed ancient trade routes that spanned Europe and Asia and helped countries along the routes share not only goods, but also culture and prosperity. Ancient Chinese also explored the sea routes from the South China Sea to the Indian Ocean, reaching the Persian Gulf and even Africa. China now aims to revive these centuries-old trade routes, and their spirit, in a bid to create strategic drivers to support the economic development of the nation's hinterlands and to promote international trade and investment, according to an action plan published by the Chinese government in 2015.
Where do these new Silk Roads go?
According to the 2015 action plan, there will be three land routes. A northern trade route will go from China through Central Asia and Russia to the Baltic Sea in Europe. A central route will link China with the Persian Gulf and the Mediterranean Sea via Central Asia and the Middle East. A southern trade route will connect China with Southeast Asia, South Asia and the Indian Ocean.
There will be two sea routes — one going west to Europe through the South China Sea and the Indian Ocean, and the other going south and east through the South China Sea to the South Pacific.
According to the official Belt and Road website, there are 64 countries along these routes. While these countries have a combined population of 4.4 billion, accounting for 63% of the world's total, their gross domestic product (GDP) totaled $21 trillion, or 29% of the global GDP.
But the initiative is not limited to these 64 countries. It forms the basis of a general idea of promoting trade ties with as many countries as possible. During his visit to the U.S. on April 7, Xi also invited his U.S. counterpart, Donald Trump, to join the initiative.
Is it just about infrastructure?
It is true that the Belt and Road program will initially focus on infrastructure development. The Ministry of Commerce said in 2016 that in the following five years, China would cooperate with related countries to push forward the construction of economic corridors — the China-Mongolia-Russia corridor, the New Eurasian Land Bridge, the China-Central Asia-West Asia corridor, the China-Indochina Peninsula corridor, the China-Pakistan corridor, and the Bangladesh-China-India-Myanmar corridor.
The New Eurasian Land Bridge is a 10,000-km rail network linking China's east coast to Rotterdam in the Netherlands.
China is also building a 1,152-km highway linking Peshawar and Karachi in Pakistan as part of the China-Pakistan Economic Corridor project. China also helped Pakistan develop Gwadar Port, which will form part of a sea, rail and road network linking to Kashgar in western China's Xinjiang region.
But the Belt and Road initiative is not just about roads and ports. According to China's action plan, it will also involve the construction of oil and gas pipelines, electricity lines, and telecom facilities such as fiber optic cables. China will also seek to clear investment and trade hurdles with the related countries, enhancing cooperation on agriculture, manufacturing, environmental protection and tourism. Educational and cultural exchanges are also envisaged.
What has been accomplished so far?
According to the official Xinhua News Agency, more than 100 countries and international organizations are now involved in the Belt and Road initiative, with 40 countries along the planned routes having signed cooperation agreements with China. Besides that, Foreign Minister Wang Yi said on April 18 that nearly 20 countries and more than 20 international organizations are expected to sign cooperation documents during the Belt and Road summit to be held in May. Xi will speak at the two-day summit.
By the end of 2016, China has helped more than 20 countries build 56 industrial parks. More than 1,100 Chinese companies have helped establish plants and branch companies involved in the auto, machinery, electronics, textiles and clothing industries among others. They have invested $18.5 billion and created 180,000 jobs for local people, according to data from the Ministry of Commerce.
In the first quarter of this year, China has signed nearly 100 project contracts in 61 countries along the Belt and Road routes, generating $14.4 billion and accounting for nearly half of all revenue Chinese companies achieved in overseas projects, the Ministry of Commerce said. The trade volumes with Belt and Road countries such as Russia, Indonesia, Singapore and Malaysia have jumped by about a third in the first quarter year-on-year, far faster than those with the U.S., the EU and Japan, which increased by 11% to 17% .
Contact reporter Wu Gang (gangwu@caixin.com)
You've accessed an article available only to subscribers
VIEW OPTIONS
Share this article
Open WeChat and scan the QR code