Nanjing Eases Home-Buying Restrictions to Lure Talent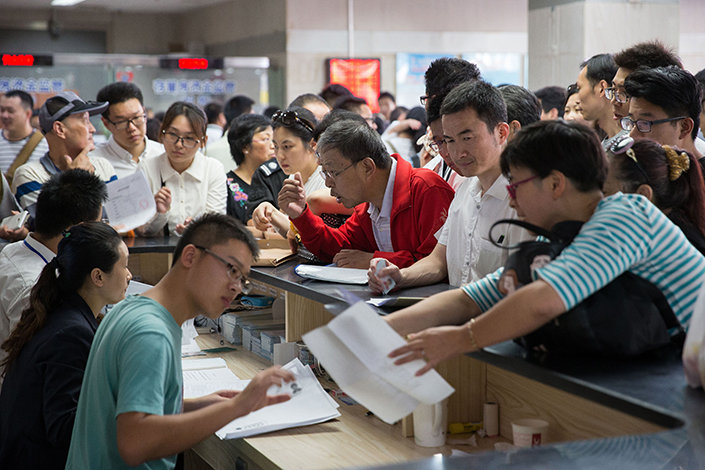 The Nanjing city government says graduate-degree holders, skilled technicians and professionals working in the city now will be excluded from a promise that they would be eligible to buy a home after paying income taxes and social security fees for five years. Above, Nanjing residents conduct housing transaction procedures in a real estate registration center in the city on Sept. 26. Photo: Visual China
(Beijing) — Nanjing, the capital of Jiangsu province, has become the latest Chinese city to relax home-purchase restrictions for residents with higher degrees in a bid to attract talent.
According to earlier rules, individuals without a household registration in the city had to pay personal income taxes and social security fees for five years before being eligible to own a home. But now the Nanjing government says graduate-degree holders, skilled technicians and professionals working in the city will be exempted from this requirement as the city moves to loosen purchasing quotas introduced last year to tame rising property prices.
Nanjing hopes to draw a younger demographic — homebuyers who want to enjoy the benefits of this exception must be under the age of 40 — amid a nationwide trend of tightening home purchase restrictions to diffuse property bubbles. Analysts say this could give the administrative center an advantage when competing for talent with nearby Suzhou, which is more industrially advanced.
Suzhou has adopted similar home-buying quotas since October, but has so far not made exceptions for young professionals.
"The graduation diploma has become a voucher to purchase apartments," said Zhang Hongwei, director of research at real estate consultancy Tospur. "Nanjing's objective is quite straightforward — leveraging housing restrictions to attract talent." He believes other cities in Anhui province and around the Yangtze River Delta — a region that accounts for nearly 40% of China's economy — may soon roll out similar guidelines to grab talent.
The property market in Nanjing has cooled since the quotas were implemented in September. Housing prices dipped for four consecutive months between January and April, marking the longest slump in two years. In contrast, prices rose roughly each month in the first four months of 2016.
Nanjing is not the first city to ease house-purchasing restrictions to lure talent. Haikou, the provincial capital of Hainan, was considering preferential support for skilled migrants, while the manufacturing hub of Zhuhai in Guangdong province has made it easier for nonlocal postdoctoral fellows and those with certificates of achievement from the local government to buy homes. In Zhongshan, also in Guangdong, professionals in the high-tech industry and employed by firms that cooperate with the local government also enjoy lower thresholds when purchasing homes.
Even as China tries to cool the property sizzle in major cities by tightening restrictions, residential real estate has remained a favorite investment vehicle, with prices skyrocketing by over 30% in cities like Anhui's Hefei and Fujian's Xiamen in the past year.
Netizens in Nanjing joked about the exorbitant price tags, saying, "Housing prices are totally out of proportion with the salaries here. You say you have a graduate degree? Whether you make use of that to buy a home will be a real test of your intelligence."
Contact reporter April Ma (fangjingma@caixin.com)
You've accessed an article available only to subscribers
VIEW OPTIONS
Share this article
Open WeChat and scan the QR code