Advertisers, Fitness App Makers Laugh Their Way to Finish Line as Marathon Mania Grips China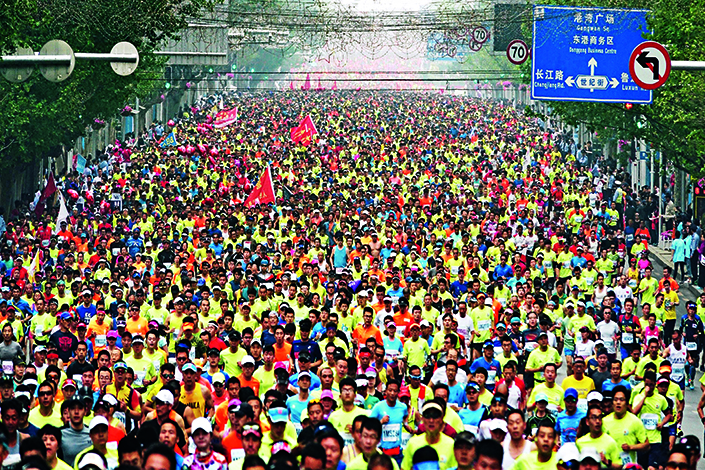 Running has become increasingly popular in China, as the number of marathons and other running competitions registered in the country has jumped from 39 in 2013 to 328 in 2016. Above, 29,613 runners participated in the 30th Dalian International Marathon on May 13. Photo: Visual China
With his lanky frame, salt-and-pepper hair, and measured speech, Ji Chuanxue seems at first glance more scholarly than athletic.
But the 47-year-old, who works at a sports marketing firm in Beijing, has 10 marathons under his belt.
"I started running in 2013," Ji said. "At the time I played tennis, but always felt I lacked strength, so I started running. I started off doing 5 kilometers, then 10, and then later when I saw that signups were open for the Beijing Marathon, I decided to give it a shot."
At the time, the 42.195-km Beijing Marathon didn't have strict entry requirements for participants, so even someone like Ji, who had never completed even a half-marathon, could take part. After the marathon, "all my muscles were stiff, and I couldn't lift my legs," he recalls.
After that first attempt, Ji was hooked. In 2014, he set a goal of running 2,014 km in a single year, and has since participated in races outside of his home city, like the Xiamen Marathon and Ningbo Marathon. "These days, I wear through two pairs of running shoes a year," he said.
Millions of running enthusiasts across China share a similar story, swept up in a nationwide marathon craze. In 2013, 39 marathons and other running competitions were registered with the Chinese Athletic Association, which governs athletics events in the country. In 2016, the number of registered events was 328, attended by over 2.8 million participants.
'The new religion of the middle class'
China's expanding middle class is a major driver of this marathon fever. In many countries, competitive running becomes a popular hobby when the per capita gross domestic product (GDP) approaches $8,000, according to Yi Jiandong, a sports researcher at Peking University.
When people get richer, they "start to look for 'masochistic' physical activities," Yi said. In 2014, the year China's running craze got into full swing, the country's per capita GDP was $7,683, according to World Bank figures.
The integration of social media with gadgets like smart watches has also been crucial in popularizing marathons in China, sports organizer Hudong Sports General Manager He Yan told Caixin. "Once pedometer apps appeared on the market, everyone started showing off their step counts on social media." He said.
Running is the "new religion of the middle class," Phoenix Television sports commentator Zhang Feng wrote in a recent essay. "No one remembers the names" of the medalists, he wrote. "The real champions are in WeChat friends circles," where the number of users who have logged more than 50,000 steps using their pedometer apps has risen.
Exercise also gives runners opportunities to express themselves as consumers — the solo middle-aged jogger in Asics running shoes and Under Armour shorts is now a common sight in China's urban parks. On weekends, runners show up at competitions across the country decked in branded gear.
But the attraction is more than superficial. "Many people may start running in order to show off," Hudong Sports' He said, "but after running for some time, they truly experience the benefits of exercise."
When Zhang, who works at the same marketing firm as Ji, started running three years ago, her "motivation was impure," she told Caixin jokingly.
She joined her university classmates' running group because she liked the design of the running jersey given to every member by the corporate sponsor, Zhang said.
Her motives may have been "impure," but Zhang, who had "previously never thought about how to run," quickly fell into step. Influenced by her peers, she began signing up for competitions, and has completed two half-marathons in recent months.
A marathon in every city
In October 2014, China's State Council stopped requiring organizers of commercial and mass sports events to seek official approval. Local governments responded by rushing to host marathons in hopes of boosting their tourism and service industries.
Marathons on their own don't bring in much money through registration fees. Wang Jing, director of sports investment fund The Arena Capital, told Caixin that it's the revenue generated by runners buying equipment, using social media, and traveling that really make the events attractive to businesses and governments.
"A marathon's financial model is actually the least healthy out of all sporting events because its costs are the highest," Wang said. "You need to close roads," for instance.
Organizing a marathon is hard work, Ren Wen, chairperson of event organizer Wisdom Sports, told Caixin. Many local governments have no experience with organizing large-scale sporting events, which puts a lot of pressure on the commercial organizer.
However, local governments certainly don't lack enthusiasm. "Out of 26 government departments, 25 will come talk to you — the only one that won't is the agriculture department," Ren told Caixin. Every planning meeting is attended by at least 100 government employees, she said
"Why do governments do this? The main reason is publicity," Wang said. "Most of the money earned in sports comes from peripheral activities, rather than the actual sporting event. So when I organize a competition, it comes with additional benefits, whether it's greater brand recognition, tourism, or something else."
The Xiamen International Marathon, for instance, added 462 million yuan ($67.9 million) to its namesake city's economy in 2015, according to figures from its organizers.
A significant portion of the benefits comes from sports tourism. Most participants at marathons in major cities like Beijing and Shanghai are from out of town, according to a Northeast Securities report.
In China's less-densely populated inland regions, the effect on the local economy is especially prominent. Ever since Lanzhou, the provincial capital of Gansu, began hosting its own marathon in 2011, it has seen tourist numbers increase by an average of 15% every year.
"Before marathons became popular, the sports departments of local governments were all struggling to raise money, but now things have changed," a sports industry insider told Caixin.
For race sponsors, a marathon is essentially a 42-km sales gallery, where thousands of participants and audience members provide a unique marketing opportunity.
But many brands and investors are more interested in the indirect effects of the running craze rather than actual competitions. Running gives people reasons to spend money all year long, Wang said. "If you're a runner, the registration fee is the least of your expenses. Travel, accommodation, equipment, and health account for far more."
That's why The Arena Capital chose to invest in Joyrun, a running app that boasts over 20 million users — a number that dwarfs the 2.8 million signups for China Athletics Association-registered events last year.
"Simply comparing the numbers will tell you where the business opportunities are bigger," Wang said.
Stumbling blocks
It may have grown rapidly in recent years, but China's running scene is still relatively undeveloped. The lack of standardized operating procedures and professional organizing staff are serious concerns for race hosts and participants alike.
"Right now there is still a relative absence of fitness and health monitoring within the country," Beijing Xinsaidian Sports Investment CEO Xu Linzhou told Caixin, pointing to cases of marathoners suddenly collapsing during races due to previously undetected heart conditions.
Hudong Sports' He said the absence of standards is also a problem. "Some companies see a commercial opportunity and think all they need is a few people holding a meeting, inviting a sponsor, and securing a venue to hold a race, but this results in wildly inconsistent race standards," He said.
A large-scale sporting event like a marathon requires extremely detailed planning, but organizing teams in China's nascent sports industry find it hard to get everything right, Wisdom Sports' Ren said. "There are two few people in the country with comprehensive knowledge of sports."
Since the State Council did away with mandatory government approval for commercial mass sporting events, all local marathons are required to do is register with the China Athletics Association.
Local governments, race organizers, and the Athletics Association are in an ongoing discussion over how to standardize competitions across the country. "The association has general guidelines, like those distinguishing between 5K, 10K, half- and full marathons, but what standards preparation and operation of races should achieve are up to the individual operator," Ren said.
"We don't want to go from having 328 races a year all across the country to having everything come to a halt because of a negative incident" caused by mismanagement, he added.
You've accessed an article available only to subscribers
VIEW OPTIONS
Share this article
Open WeChat and scan the QR code