Deaf Culture Gets a Hearing as Community Struggles With Limited Career Opportunities
Zhang Long, the owner of Silence, a cafe in Beijing, signs the word for coffee in Chinese Sign Language. At the cafe, Zhang, who is deaf, and his business partner, Liu Jing, hold sign language classes and talks about the deaf community. Their efforts have helped increase awareness about deaf culture in China. Photo: Song Xiaoyi/Caixin
The clinking of glasses was the only sound to be heard at Silence cafe in Beijing on a recent Tuesday.
It was around 7 p.m., in the midst of the cafe's regular silent hours. "No talk!" proclaimed the chalkboard in the corner that listed the times when speaking was forbidden. On the walls, cartoon illustrations demonstrated how to sign phrases such as "What would you like to drink?" and "Check, please" in Chinese Sign Language (CSL).
Behind the counter, proprietor Zhang Long, who is deaf, smiled with pride as he cleaned the cafe's shiny espresso machine. When his business partner, Liu Jing, walked in, Zhang spoke to her using only his hands.
Although Liu can hear, she grew up speaking CSL with her deaf parents. She bakes desserts for the cafe and helps translate for Zhang.
One of their goals for the cafe is to increase awareness of deaf culture. Liu said they plan to teach weekly sign language classes and give talks about the deaf community.
The cafe was the dream of both Zhang and Liu, but it is also indicative of a larger trend in China in which deaf people have grown more assertive about achieving more-ambitious goals. Over the last 10 years, "the deaf community has become much more empowered," said professor Yang Junhui, a senior lecturer in deaf studies at the University of Central Lancashire in England.
Zhang and Liu are using their cafe, which opened in April, to promote deaf culture in China. Beyond the posters and classes, the cafe itself serves to advance the idea that deaf people's only disability is their inability to hear. "By opening a coffee shop, I can not only gain society's approval but show that — except for being able to hear — deaf people can do anything," Zhang said.
Silence is the dream project of Zhang and Liu, but it is also indicative of a larger trend in China in which deaf people have grown more assertive about achieving more-ambitious goals. Photo: Song Xiaoyi/Caixin
Despite the progress that deaf people have made in China over the last decade, the country's millions of deaf people continue to face challenges because of ignorance about people who can't hear. Deaf people are discouraged by family and friends, especially when — like Zhang — their ambitions fall outside the disciplines traditionally taught to the deaf in China's education system.
Spreading deaf culture can improve the situation. In the United States, the demand for equal access to education and employment largely came out of the deaf-culture movement. Proponents argue that by speaking their own language, deaf communities have developed their own values, behavioral norms and institutions that constitute a culture.
However, there remains pushback against the notion of deaf culture, specifically by parents who want their deaf children to assimilate into mainstream culture. At the same time, technology has made it possible for more of the hearing-impaired population to communicate without sign language, leading to the erosion of deaf culture just as it is taking root.
A relatively new concept
There are an estimated 70 million people in China whose hearing is impaired enough to be considered a disability, according to a 2014-15 study by the China Rehabilitation Research Center for Hearing and Speech Impairment and several other groups.
In China, the idea that deaf people can do anything is a relatively new concept. "Before, when I lived in China, we didn't know what deaf culture was or deaf pride was," Yang said.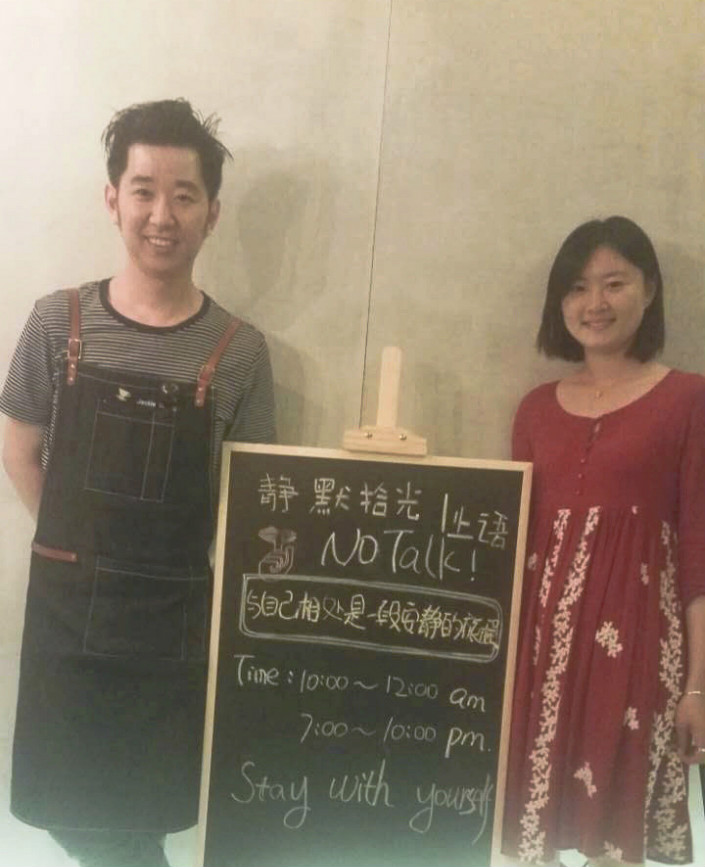 Zhang and Liu stand beside a chalkboard detailing the cafe's silent hours, times during which customers are asked not to speak. Photo: Roma Eisenstark/Caixin
Yang became deaf when she was 4 years old. She grew up in China and went to graduate school in the U.S. "It wasn't until I went to the United States and I mixed with the deaf community that I had a lot of role models who made me feel proud," she said.
There she learned that deaf people could get doctorates and achieve great things. That level of pride is something she still doesn't see in China today. "I think that level of awareness may not yet have spread in the Chinese deaf community," she said.
In China, many parents don't want their children to become part of a special culture, hoping instead that they can assimilate into mainstream society. Many parents are wary of sign language. "When I was young, my parents told me to 'Speak, speak, speak!'" said Li Hang, a deaf resident from Miyun district in suburban Beijing.
Liu Keyan, a teacher at a high school for the deaf in Beijing, said that many parents come to her asking her not to use sign language. "Especially students who have come from regular schools, the parents will often bring it up and say, 'We hope that you won't use too much sign language with my child. We hope that he can maintain his current speaking ability.'"
In addition, few parents learn sign language, which can leave the children feeling isolated. "I think that many children, in the end, feel very distant from their parents," Liu Keyan said. "A child's relationship with the teacher is really, really close because the teacher is the only one the child can speak to. When the child has a problem, he can only talk to his teacher."
When it comes to family, Zhang has encountered resistance to opening his cafe, though mostly because they don't think he will make any money. Still, he believes his deafness has made every step more difficult. "Because I can't hear, some people don't have confidence in me," he said. "They think I can't do this, so the road to achieving my dream has been even harder."
'Just computers and art'
The education system is part of the problem. Deaf colleges in China offer a choice of two subject areas deemed "suitable" for deaf students: computer science and art. Interviews with Chinese college administrators have revealed a general perception that "art and computers are most suitable as a match for deaf students because deaf students have visual strengths that compensate for their deafness," according to researchers from PEN-International, a former interuniversity collaboration that worked to improve postsecondary education for the deaf.
Deaf children sign answers to questions in a class at Mengcheng Special Education School in May 2007. Photo: Visual China
"It is interesting to note that none of the deaf respondents offered this point of view," the researchers added.
At Silence, a deaf Beijing resident explained that the schools for the deaf in China don't offer many options. Because the cafe's silent hours were in effect, the resident, who goes by the name Blake, typed out answers to questions on a computer.
"After graduation, most people work as laborers, art designers, gardeners and dental assistants," he wrote.
There has been some improvement, Liu Keyan said. "Before, there was just painting. Now there is fashion design, product packaging (design), animation — subjects that combine fine arts and computer science," the teacher said.
But although the options available to her college-bound students have broadened somewhat in recent years, classes still fall under the same two disciplines. "In terms of the general direction of course development, it hasn't changed. It's still just computers and art," she said.
If students want to study something else — say, business, so they can run their own cafe — they need to attend a mainstream university, which can be extremely difficult, according to Yang.
Zhu Huaming teaches sign language to deaf children in September 2012 in Hefei, Anhui province. Photo: Visual China
Students at deaf high schools are prepared specifically to take the college entrance exam for deaf universities, which is different from the general college entrance exam, Liu Keyan said.
Mainstream universities also do not provide any accessibility services for deaf students, such as note takers or interpreters, Yang said. As far as Liu Keyan is aware, none of her students has gone to a mainstream university.
At the same time, when her former students return after graduating from deaf colleges, many come with a newfound pride in their deafness. "I think that more and more people identify themselves as having a deaf culture," Liu Keyan said. "More and more people agree with the idea. They recognize this and want to express it. I think it's a really good phenomenon."
The spread of deaf culture in China owes a lot to social media, Yang said. Deaf Chinese are starting to create media sites with news and other TV shows that use CSL. They are also spreading information about laws that affect deaf people, and demanding services like subtitles on TV and greater access to interpreters.
'More and more, they like to speak'
Yet, this sense of shared identity may ultimately be eroded by technology. Cochlear implants and better hearing aids have become commonplace over the last few years. Cochlear implants, if fitted when a deaf person is young enough, can provide nearly complete hearing, though the devices don't work for all deaf people. As a result, the number of people with total hearing loss has been dwindling.
"Now we have very few students who are completely deaf," Liu Keyan said. "Most of them have undergone rehabilitation therapy. Some have cochlear implants; others wear hearing aids or have had speech therapy."
Of the eight students in her class, only two are completely deaf, she said. The others have only partial hearing loss. "Now I feel that many of my students' sign language is not as good as mine. There are many words they know how to say but not sign. My feeling is that more and more, they like to speak."
At the cafe, Blake was asked if he thought deaf culture was threatened. "In the future, fewer people will speak in sign language, and the culture will naturally die out," he wrote.
But he sees it as a positive. "In the future, more deaf people will be able to become part of mainstream society," he wrote. "They will be able to have conversations with hearing people, and live and work together."
After going to regular schools, he added, deaf graduates will have more and better employment opportunities.
Liu Keyan can understand where the students are coming from. "If it were me, I would also probably hope to mix with regular people. If I were able to hear and speak, I would be more interested in talking with people and listening to spoken language. But from another angle, I think it's unfortunate. This is a very special culture. If it's gone, that would be very sad."
Roma Eisenstark is a freelance writer based in Beijing.
You've accessed an article available only to subscribers
VIEW OPTIONS
Share this article
Open WeChat and scan the QR code