Is China Poised to Become the Top Dog in Luxury Pet Services?
A dog gets a trim at the Pet Expo at the Shanghai World Expo Exhibition & Convention Center on March 17, 2016. Photo: IC
(Beijing) — In one of the largest pet cemeteries on the outskirts of Beijing lies a dog's tomb made of white marble — the material used only for ancient royal gravestones. This symbol of love that reminds one of the cool white marble coffin inside the Taj Mahal cost the pet owner more than 30,000 yuan ($4,440), according to the guard at this graveyard that smelled of cat litter.
The rise in disposable incomes, the number of rich elderly with "empty nests," and "double income, no kids" households — or DINK families — are fueling pet ownership and the growth of luxury pet services in China.
Once banned as a bourgeois pastime, pets have now become a symbol of financial success and a way to fill an emotional void for some in the country. Consultancy Euromonitor forecast the pet care sector to grow by more than 22% year-on-year to $2.5 billion by the end of 2017, outpacing growth in the world's biggest market, the United States, which is expected to grow just over 3.7% this year to $46 billion. According to Euromonitor's forecast, China will become the world's fourth largest pet market in 2021 after the U.S., Brazil and UK.
Pet ownership in the country has more than doubled since the turn of the century and stood at 100 million in 2015, according to Goumin.com, a leading online forum for China's animal lovers.
A survey by the site that year showed that 3 out of 5 pet owners in China had a dog, and only 1 in 5 had a cat. The third-most-popular pet was a turtle.
"Since people have started to view their animals more like children, the demand for training and pampering services has turned rigid and wasn't too price-sensitive," according to the report.
One in 10 surveyed pet owners spent more than 10,000 yuan per year on pet massages, manicures and imported pet food, while 19% spent 3,000 to 5,000 yuan, the study found. Given that over half the pet owners in the country were between the ages of 25 and 35, and the average annual salary of a white-collar worker in Beijing in that age group was about 120,000 yuan, this shows that some spent over 8% of their salary on their little wards.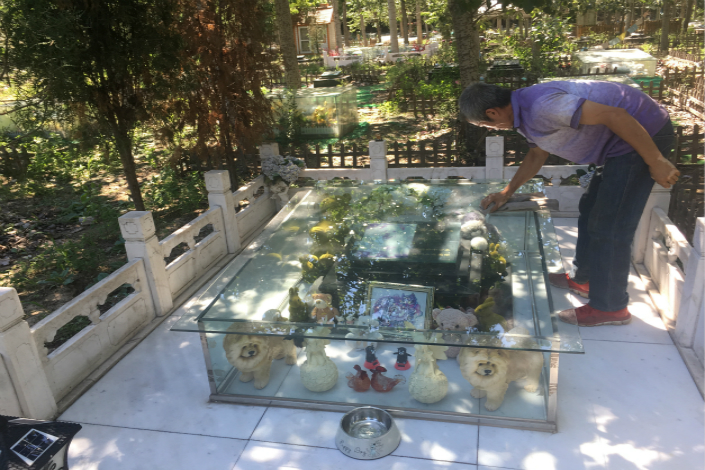 A guard cleans a marble tomb at Baifu Pets' Paradise Cemetery in Beijing on July 10. Photo: Cai Tongxu / Caixin
China's pet-rearing habits have certainly passed the stage in which one fed one's Pekingese with some diced chicken liver or corn-flour flatbread. As many families switched to specialized food options, the market for dog food in China is estimated to grow by 182% from 2013 to 2017 to 6.5 billion yuan, according to Euromonitor.
A Shanghai-based manufacturer named Royal Canine was the top dog in the country's pet food industry, closely followed by global brands like Nestle's Purina and U.S. food giant Mars Inc.'s Pedigree.
Small artisan bakeries have also popped up in big cities like Shanghai and Beijing, which offer chicken mousse cakes or mixed-berry cheesecake made with New Zealand yogurt — especially for puppy birthday parties.
Besides the daily meals and occasional treats, pets also required vitamin supplements, calcium tablets, omega-3 and even dentifrice. One pet store in Sanlitun, a busy shopping hub in downtown Beijing, sells mouthwash for dogs that can give canines minty breath for 12 hours. One of these bottles cost over 240 yuan, the price of a meal at an upscale restaurant in the area. According to the Goumin.com survey, spending on these nonfood items including clothes, toys and "plush cat castles," accounted for 60% of all expenses on pets — and the percentage is growing.
A pet owner dresses her teddy-bear dog with a navy blue top on Thursday at the Smellme pet store in the Sanlitun Soho shopping center in Beijing. Photo: Cai Tongxu / Caixin
China's demand for high-quality pet accessories has pushed up cross-border e-commerce, with a premium puppy stroller from South Korea being sold for 3,747 yuan on shopping site Taobao. It has also mobilized an army of "daiguo," or Chinese students or housewives living abroad, who will buy high-end trainers from the U.S., or a handmade dress with lace and fake pearls from Japan and deliver it to one's doorstep.
Another sector that has benefited is pet spas. Smellme, a high-end pet store in the Sanlitun Soho shopping center, plays a video showing a French bulldog, partially wrapped in a white, fluffy towel, enjoying a fragrant oil massage with its eyes squinting in pleasure. According to the price list behind the front desk, this massage costs 588 yuan. The company also offers mud baths, herbal baths and hair styling, in addition to the mandatory fur trimming.
Despite the small apartment sizes given real estate prices in major Chinese cities, many pet owners opted for bigger dogs such as golden retrievers, huskies and Labradors, according to data from Your Pet, an industry information provider from the southern city of Guangzhou. A few even opted for sturdier animals, including German shepherds, Alaskan malamutes or Great Pyreneeses.
The upkeep of a large dog usually costs more than 3,000 yuan a month, according to a manager at Nobelpet, another pet store located on the same building as Smellme.
She underplayed the hefty price tag, saying, "Expensive? That is not expensive at all!"
A refrigerator holds pet pastries at the Smellme pet store at the Sanlitun Soho shopping center in Beijing on Thursday. Photo: Cai Tongxu / Caixin
Meanwhile, a couple entered, holding a schnauzer. They asked for a bath and later chose the kind of pedicure they wanted for their dog.
At one end of the store a teddy-bear dog, shaking badly, was getting its hair shaved by two pet stylists. On the price board, stylists were classified as A-grade, B-grade or those that could prep your pup for a beauty pageant. The pageant option could cost up to 1,300 yuan per session. On the other end of the store were kennels where pet owners can leave their wards for a few days when they are out of town, and where a stressed employee snapped at a boarding dog for barking too much.
A costly 'ancestor'
The rise in disposable incomes, particularly among rich elderly parents trying to fill their empty nests, DINK families and white-collar female workers who opt to stay single, have fueled spending on luxury pet care, according to Deng Yuanyuan, a researcher from CKGSB Knowledge, a part of Cheung Kong Graduate School of Business.
Another reason is that Chinese students, who went overseas to study after the country opened up in the 1980s, brought back with them Japanese or Western ideas of pet care to China.
According to Deng's research into pet-related consumer behavior China's pet industry has also been through "the three stages of maturity," similar to that in Europe or Japan, and this has changed people's attitudes toward animals.
"At the primary stage, animals were only needed to fulfill domestic or functional roles, including watching over homes or catching mice," she said. "At the second stage, the concept of 'raising' an animal comes in, and pet owners would set aside part of their income for pet food and other basic needs of animals. Finally, at the third stage, the existence of pets breeds an independent industry, which includes all kinds of different merchandise, just like those for human beings."
A red lotus-shaped speaker, powered by solar energy, plays Buddhist chants for a deceased pet at the Baifu Pets' Paradise Cemetery in Beijing. Photo: Cai Tongxu / Caixin
While some affluent buyers are willing to splurge as much as $3,200 on an extravagant dog collar, according to the product catalog at Smellme pet spa, some complain about the rising cost of products as the industry matures. "My pet's medicines and shampoos are costlier than mine," wrote one Weibo user with the online name Vitaminee-D. "It costs 10 times the money to get the fur trimmed on my dog compared to my haircut. It's almost as if I was making offerings to a precious ancestor!"
But the extreme lengths that some owners go to pamper their pets was also linked to loneliness and stress endemic to city life.
A graduate student in psychology at Beijing Normal University who provided only her surname, Zhang, said, "I basically treat my cat Jianguo the same way I would treat a very important friend."
"My cat brings me great comfort and joy. Most importantly, he offers me many new experiences, which I've never had when I interact with humans."
"For example, with humans, I might be desperate to reason with others and to prove them wrong," she said. "But thanks to Jianguo, I've learned the happiness of compromising for another being."
"I do know quite a few people who could have a great time with cats but not with humans," she added, trying to explain why some owners may attribute human traits to animals or believe they had humanlike demands such as the need to have a gravestone.
In the nondescript cemetery in Beijing's Changping district, a freshly dug grave that was barely 1.6 square meters (17.2 square feet) cost 3,000 yuan, according to the guard. The bigger ones were priced at 5,000 yuan or more. The marble tomb for the royal canine sprawled over four big plots and had the words "Mommy's little princess, I'll love you forever!" carved on it. The owner had also placed more than a dozen stuffed animals and other toys the pet loved in a glass case built atop the grave. The funeral service also includes transportation, according to the guard, who estimated that it would cost 300 yuan one-way to pick up a deceased pet from downtown Beijing, which is an hour's drive from the cemetery.
"We have plenty of returning customers," he said. "That household over there has buried seven pets already."
The sound of Buddhist chanting could be heard blaring out of small devices on some graves. According to the guard, the mini-speakers placed on a few tombs are powered by solar energy.
Correction: This article has been corrected to say that according to Euromonitor's forecast, China will become the world's fourth largest pet market in 2021 after the U.S., Brazil and UK. An earlier version said "according to Euromonitor's forecast, China will surpass Japan to become the world's second-biggest pet market by 2020."
You've accessed an article available only to subscribers
VIEW OPTIONS
Share this article
Open WeChat and scan the QR code