After Outrunning Its Rivals, Ctrip Now Faces World of Giants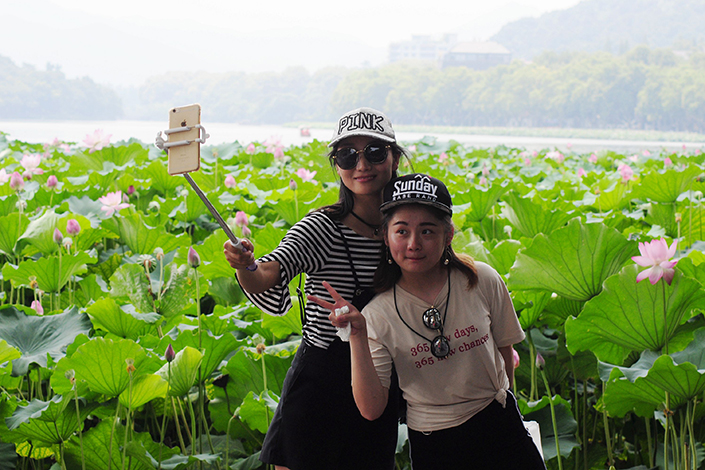 Online travel agency Ctrip is seeking to grow its market share in a tourism market dominated by entrenched offline opponents. Above, two Hangzhou visitors take a selfie in front of lotus at West Lake in Hangzhou, Zhejiang province, on July 28. Photo: IC
Within three years, travel website Ctrip went from losing 224 million yuan ($33.23 million) in one quarter to controlling more than 40% of the country's online travel market, winning a vicious price war and acquiring its biggest opponents along the way.
But now Ctrip faces the challenge of sustaining its growth as the largest online operator in a tourism industry still dominated by offline giants.
Ctrip towers over its closest online competitor, Tuniu Corp., which has a market share slightly more than half the size of Ctrip's. But online travel agencies control only 10% of China's tourism market, leaving it plenty of room to grow, Ctrip CEO Jane Sun said. "The travel industry's golden age has only just begun," she told Caixin.
But to take full advantage of this opportunity, Ctrip must battle well-established, and often state-owned, opponents offline for control of facets of travel as diverse as hotel rooms and tour packages.
Winning the price war
Ctrip Chief Operating Officer Sun Maohua thinks of the company's history in terms of the four seasons. Spring, when the company was in its infancy, was between 1999 and 2003. The years from 2003 to 2008 represented the long summer of growth, when Ctrip "didn't really have competitors."
The "fall" of 2008 to 2011 brought a good harvest — high profit margins. But a harsh winter wasn't far behind. From 2011 to 2013, with the rise of mobile internet, newer competitors like Tuniu, eLong and Qunar Cayman Islands Ltd. began to eat away at Ctrip's market share by offering discounts to lure in customers.
Ctrip management was divided about how to deal with the upstarts. President and company co-founder Fan Min was against imitating their tactics. But co-founder James Liang, who had stepped down as CEO in 2006, decided Ctrip couldn't afford to lose its momentum. By 2014, a price war between Ctrip and other online platforms was well underway.
At the height of the price war, in the fourth quarter of 2014, the online travel agencies were burning through money in the battle for market share. Ctrip lost 224 million yuan that quarter; Qunar lost 675 million.
Liang, who had returned to Ctrip as CEO in March 2013, was pushing the company to pour resources into building a mobile app, which he thought could pull Ctrip back from the brink.
Ultimately, Ctrip bought its way out of the price war. In May 2015, the company, along with Plateno Group, purchased a 63.7% stake in eLong from its controlling shareholder, Expedia Inc.
In October that year, Ctrip acquired 190.2 million shares of Qunar from Baidu Inc, which received a 25% stake in Ctrip in return.
Once the deals were settled, Liang again stepped down from the post of CEO. On November 16, 2016, Ctrip announced the appointment of Jane Sun as Liang's successor. Liang remains as executive chairman of the board. "We had been in touch for nearly a year," Jane Sun told Caixin. "To outsiders, it looked like an abrupt change, but we had been preparing for more than a year."
After years of burning through money, the company is now back in the black. Ctrip's net revenue in the first quarter of 2017 grew 46% year-on-year to 6.1 billion yuan. Profits returned to shareholders totaled 82 million yuan, quite a turnaround from the 1.6 billion yuan loss the company reported in the same period last year.
Wei Changren, president of research firm Jinlü Consulting, believes Ctrip was able to return to No. 1 because its "management standards are higher than those of its competitors."
But Jane Sun doesn't want to get complacent. "I want the entire organization to have a sense of urgency. The travel industry is overheated. Every year, more capital comes in to fight us."
Upstream challenges
Online travel agencies control only 10% of China's tourism industry, Jane Sun said. Platforms like Ctrip that aim to push beyond that 10% figure face challenges, especially when dealing with upstream suppliers.
Hotel bookings, together with plane and train tickets, make up the core of Ctrip's business. But for large hotel chains like Home Inns and Huazhu, direct sales account for more than 80% of room bookings. Both of those chains are loath to hand a greater share of bookings over to online platforms, which demand commissions.
To increase the number and value of the hotel rooms it can offer, Ctrip announced on Nov. 13 that it had signed agreements with thousands of smaller hotels, including Xinhua International Hotel in Chengdu, and Greatwall Hotel Shenzhen. The announcement came a few weeks after a similar agreement with a different group of hotels that allowed Ctrip to receive discounted room rates and priority access to rooms during peak periods.
Online agents also face a supply bottleneck when it comes to air tickets. In 2015, the State-Owned Assets Supervision and Administration Commission required China's three biggest airlines — Air China, China Eastern Airlines and China Southern Airlines — to make direct sales account for 50% of all ticket sales over the following three years. After the announcement, many small and midsize ticket agents went out of business.
Ctrip's response was rather different. On July 5, 2016, China Eastern Airlines announced that Ctrip had bought a 3.22% stake in the airline worth 3 billion yuan, becoming China Eastern's fourth-largest shareholder.
Online competitors
Ctrip may have absorbed erstwhile rivals Qunar and eLong, but new competitors have since emerged to threaten the company's dominance.
Group-buying giant Meituan.com began to dabble in tourism in 2012, and formally opened its hotel and travel service, Meituan Travel, in July 2015. Meituan Travel and Flying Pig, the travel arm of e-commerce company Alibaba Group Holding Ltd., are now Ctrip's biggest rivals after Tuniu, which Ctrip holds shares in.
Meituan Travel focuses on budget hotel bookings, which its president, Chen Liangceng, said are highly dependent on online bookings. This translates into high profits and low signing costs for Meituan, Chen said.
But Ctrip COO Sun Maohua believes Meituan's focus on budget hotels means the average commission it receives from each booking must be very low, and that Meituan Travel could be low in funds. "We don't lack funds," Sun said of Ctrip. "We have three brands. We're not afraid of a price war."
Additionally, Ctrip also has an advantage that no purely internet-based company can surmount: human resources. Early on, Ctrip had built a more than 10,000-strong customer service team, a big asset in a service-centric industry like tourism.
Ctrip still has the advantage online. But offline, the challenges are larger and more complex.
Offline obstacles
Outside the 10% of the market controlled by online travel platforms, giants are entrenched in the long industry chain of tourism. State-owned enterprises enjoy immense advantages offline, especially in third- and fourth-tier cities.
Ctrip is trying to change this. On Oct. 17, it signed an agreement to wholly acquire Traveling Bestone, a travel agency with more than 5,500 outlets in 23 provincial-level areas. At the moment, Ctrip-owned Qunar has signed agreements with over 400 brick-and-mortar travel agencies, and expects to open around 1,000 branches in China by the end of the year.
On June 24, Ctrip opened 30 service centers in Beijing. The company also has branches in Chengdu, Wuhan and elsewhere. The plan is to fill first- and second-tier cities with Ctrip branches, and third- and fourth-tier cities with Qunar and Traveling Bestone outlets, Jane Sun said.
But playing catch-up won't be enough to give Ctrip a winning edge. Offline competitors are also expanding their reach through large acquisitions.
After Beijing Tourism Group's 11 billion yuan acquisition of Home Inn Group in 2015, the combined company had over 367,000 guest rooms in its hotels, making it the country's second-largest hotel provider. In October, HNA Group, the parent of Hainan Airlines, acquired a 25% stake in Hilton Hotels and Resorts for $6.5 billion, becoming the hotel group's single largest shareholder.
Squeezed by giants at home, Ctrip is now looking abroad for space to grow. According to Jane Sun, Ctrip currently holds less than 1% of the global tourism market.
On Oct. 26, Ctrip announced a strategic investment in travel agencies Sea Gull Holiday and East Coast Holidays Inc., which both specialize in arranging tours for Chinese in North America. Ctrip also signed a four-way strategic cooperation agreement with the two companies and Tours For Fun, another North America-focused agency.
Although Ctrip bought U.K.-based Skyscanner Ltd. for 1.4 billion pounds ($1.84 billion) in November, it is focusing on expanding its presence in North America for the time being. "In the past, Europe was very important for long-distance tourism, but trips to Europe seriously declined in 2016. The U.S. has since made it easier for Chinese residents to get 10-year visas, and tourism to the U.S. has seen triple-digit growth, so we're allocating resources to our U.S. business," Jane Sun said.
Board Chairman Liang, worried that Ctrip needed to innovate in addition to its many acquisitions, has pushed for decentralization of project management in the company by setting up small business units. "Every small business unit has its own CEO, COO and so forth," Jane Sun said. "We gave business units a formula that allows them to calculate their own valuations. The way Wall Street assessed us was how we assessed them. All of a sudden, their performance improved."
Business units allow the company to run multiple parallel projects that don't need to have every decision made at the top, Jane Sun said, calling it a mechanism designed to "make the elephant dance."
Contact reporter Teng Jing Xuan (jingxuanteng@caixin.com)
You've accessed an article available only to subscribers
VIEW OPTIONS
Share this article
Open WeChat and scan the QR code