Regulator Invites Foreign Firms to Further Tap Into Insurance Market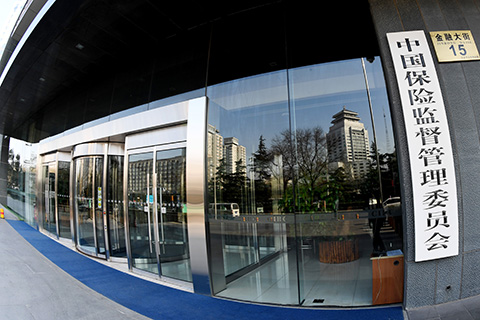 The China Insurance Regulatory Commission (CIRC) encourages foreign insurance firms to enter the country's health, disaster and pension markets. Photo: Visual China.
(Beijing) — China's insurance regulator pledged to further open the 3 trillion yuan market to foreign capital and encouraged overseas players to tap into the local health, disaster and pension insurance businesses.
The China Insurance Regulatory Commission (CIRC), the country's top insurance regulator, will continue improving the regulatory environment while further widening market access for foreign-funded insurers in the country, said Chen Wenhui, vice chairman of the CIRC at a Tuesday industry meeting.
Chen, who is running the commission following former Chairman Xiang Junbo's dismissal on corruption allegations in April, said foreign insurers will be encouraged to enter China's health, pension and disaster insurance markets to help explore new business models and push forward industry reforms.
It is unclear whether the commission will revise any rules regarding foreign investments in the industry. Under existing regulations, a foreign-fund insurance company can be set up in China when its foreign parent has engaged in the insurance business for more than 30 years and has maintained a representative office in China for more than two years. The parent company should also have no less than $5 billion in total assets.
Official data showed that currently 57 foreign-fund insurance companies have been operating in China, running more than 1,800 branches and offices across the country.
But foreign insurance players' engagement in China has remained small, Chen said. As of July 31, total assets of these companies reached 1 trillion yuan ($153 billion), or 6% of the industry's total assets. Foreign insurers represented 5% of China's insurance market, official data showed.
China's insurance industry, one of the most liberalized segments of the country's financial market, has experienced rapid growth in recent years. Total premium income in 2016 rose 27.5% from a year earlier to 3.1 trillion yuan, the fastest growth since 2008. The industry reported total assets of 15.1 trillion yuan at the end of 2016, up 22.3% from the start of the year, according to CIRC.
But risks have also emerged as insurers increasingly invested in risky, short-term assets seeking quick gains. This pushed up market leverage while putting policyholders at risk. As a result, regulators imposed tighter rules this year on investments to force insurance companies back to basics.
Amid the tougher regulation, insurers in China reported that premium income rose 21% year-on-year in the January-July period, compared with a 35% jump in the same period last year.
But Chen said at the meeting that China's insurance industry is still in a golden era of growth and will remain open to the outside world. He emphasized that insurers should stick to their fundamental mission of being long-term, prudent investors.
Contact reporter Han Wei (weihan@caixin.com)
You've accessed an article available only to subscribers
VIEW OPTIONS
Share this article
Open WeChat and scan the QR code

Sep 30 05:44 PM

Sep 30 05:19 PM

Sep 30 04:44 PM

Sep 30 02:29 PM

Sep 30 02:00 PM

Sep 30 01:47 PM

Sep 30 11:59 AM

Sep 29 05:36 PM

Sep 29 05:23 PM

Sep 29 12:43 PM

Sep 29 12:36 PM

Sep 28 07:00 PM

Sep 28 03:53 PM

Sep 28 02:24 PM

Sep 28 12:22 PM
GALLERY