Court Overturns Sentence for Ally Who Turned on Guo Wengui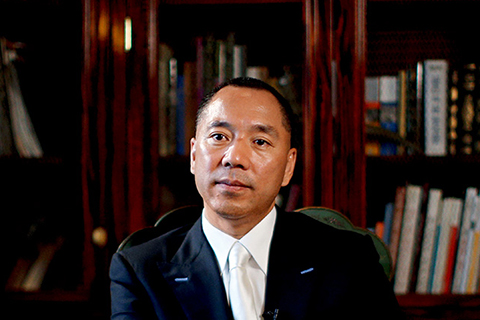 Guo Wengui. Photo: Visual China
A former business partner of Guo Wengui, who notified China's top graft-busting agency about the real estate tycoon's alleged bribery of officials, was freed after his 15-year sentence for embezzlement was overturned.
Qu Long, who was often described as the right-hand man of the now-fugitive businessman, was acquitted by the Hebei Provincial High People's Court after serving more than six years in prison. He had been sentenced to 15 years in 2012 for embezzling 855 million yuan (about $135 million at the time).
Qu, 47, told Caixin after his acquittal that his case was a typical example of how Guo used his close alliance with high-level security officials, including then-State Security Vice Minister Ma Jian, to secure business deals and interfere with the justice system.
In a review of Qu's case, Hebei's top court overturned Qu's conviction last week because "the facts were unclear and evidence was insufficient."
Qu, former president of Zhongyin Investment and Development Co. Ltd. and a former executive director of Guo's Beijing Zenith Holdings Co. Ltd., had a falling-out with Guo in 2011 over a business dispute. Qu then reported Guo to the top anti-graft watchdog, the Communist Party's Central Commission for Discipline Inspection (CCDI), revealing Guo's alleged use of kickbacks and political favors to acquire publicly traded stocks.
Qu was detained shortly after tipping off the CCDI and imprisoned. The trial was allegedly pushed by Zhang Yue, the former Hebei provincial police chief whom Guo had close ties with, according to Ma.
Qu's family has been trying to appeal the verdict for the past six years, but saw a turning point in the case only after some officials involved with Guo became the subjects themselves of investigation by Chinese authorities.
Ma has been under investigation since the CCDI detained him in January 2015. Zhang went on trial in April for allegedly taking bribes worth 158 million yuan ($24.1 million).
Ma has admitted he asked Zhang, who oversaw Hebei's legal affairs, to investigate Qu to clear the way for Guo's deal. Ma said he had also issued several notices to Hebei officials to push investigations of Qu, citing national security concerns.
Though cleared of the embezzlement charges, Qu and several others still are accused of fraudulently transferring more than 400 million yuan from Tianjin Huatai Holding Group Ltd. to companies controlled by Guo.
During the trial last month, Qu told the court that he was only carrying out instructions from Guo. The court has not reached a verdict on this second case yet.
Guo has been on the run since August 2014 and has recently asked for political asylum in the United States. China made a request to Interpol in April for the issue of a global "red notice" for his arrest.
You've accessed an article available only to subscribers
VIEW OPTIONS
Share this article
Open WeChat and scan the QR code

China Stories: Verdict Reversal in High-Profile Murder Stands Out Amid Exoneration Trend