In Hainan, All Bets Off for Gambling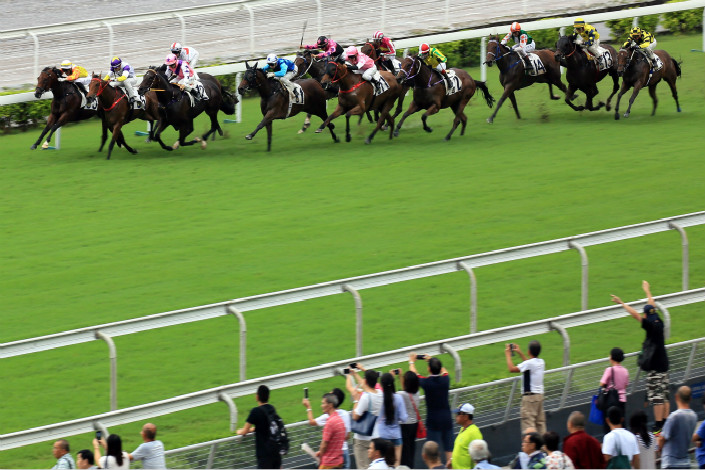 Hainan provincial authorities suspended the registration of companies looking to get into businesses related to gambling on horse racing, and revoked approval for sports gambling from companies that had previously registered as gambling businesses. Above, the National Day Cup horse race takes place at the Sha Tin Racecourse in Hong Kong. Photo: IC
Hainan province has suspended private investors from registering companies in the online gambling business.
The suspension could cool growing expectations for private investment in sports betting, lotteries and other forms of gambling in the southern island province as rumors had been circulating that the government would soon legalize betting on horse racing.
Over the past year, more than 70 companies, each which had pledged more than 10 million yuan ($1.5 million) in capital, registered in Hainan as internet gaming companies to conduct gambling businesses, including online lotteries and equestrian gaming, which could involve betting on horses, according to a Caixin investigation.
Most of the companies were established by individual investors. Many shared the same stakeholders and executives. Some even shared the same address — often at a residential compound.
Provincial authorities this month suspended the registration of companies looking to get into businesses related to gambling on horse racing, according to an official with the Administration for Industry & Commerce in the Baoting Li and Miao autonomous county in Hainan.
Authorities also revoked the approval for sports gambling from companies that had previously registered as gambling businesses, the official told Caixin. "It is a suspension at the moment. We are waiting for further instructions on whether (such registrations) should be banned going forward," he said.
Some companies had been granted approval as part of the government's effort to "lower the threshold for corporate registration," the official said.
However, higher-ranking authorities then said gambling businesses should be operated by nonprofit organizations rather than private companies, and further oversight is still needed, the official said.
Wang Wei, a consultant to the Hainan Equestrian Association, told Caixin that the investors piled on to register companies in the gambling business because they believed the province would soon legalize betting on horse racing.
Gambling is illegal on the Chinese mainland, with two exceptions — the lotteries run by the General Administration of Sport and the Ministry of Civil Affairs.
Rumors that gambling on horse racing could be legalized in Hainan have been circulating since the State Council, China's cabinet, said in a 2009 document that it would allow the province to look into legalizing some types of sports betting and lotteries.
Since then, preparation work and research have been going on in the province, including the establishment of the Hainan Equestrian Association and the Hainan Horse Industry Association, Wang said.
In early August, Hainan and the sport administration fueled further speculation when they signed a framework agreement to promote sports and related industries on the island. Under the agreement, they pledged to "support the exploration of developing sports betting and instant lotteries for large international competitions."
Contact reporter Fran Wang (fangwang@caixin.com)
You've accessed an article available only to subscribers
VIEW OPTIONS
Share this article
Open WeChat and scan the QR code