Qudian Dives Nearly 20% on Business-Model Doubts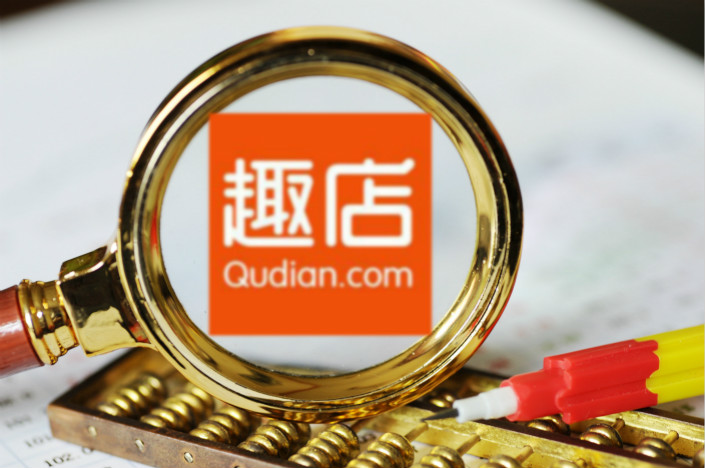 Qudian's shares in New York plunged 19.4% on Monday to $26.59 a share, though they remain above their initial public offering price of $24. Photo: Visual China
Shares of Qudian Inc. lost a fifth of their value in one day, as analysts say some investors have grown doubtful about the business model of the newly listed Chinese online microlender.
Monday, Qudian's American Depositary Shares (ADSs) in New York dived 19.4% to $26.59. The company, which debuted last Wednesday, is still trading above its IPO price $24. Qudian's nearly $900 million IPO is the fourth largest in the U.S. this year.
The plunge, analysts said, happened after the widely followed technology writer Cheng Lingfeng interviewed Qudian's CEO Luo Jun.
Cheng's report suggests Qudian's bad loan ratio is likely higher than 0.5% the company said in its listing prospectus, analysts added.
In the interview, Luo was asked whether Qudian was charging high interest rates on its loans. "If the debts are overdue, that's a bad debt for us," he responded. "In that case, we won't do anything to collect the debt, not even a phone call. If you can't pay, we will just give it away as a charity."
A senior microloan-sector investor told Caixin: "It's not clear in the IPO prospectus why Qudian has such a low nonperforming loan ratio."
A source from risk management department with BOC Consumer Finance Co. told Caixin: "The bad loan ratio disclosed is either calculated differently, or the bad-debt risk has not been disclosed."
Qudian started in 2014 by offering small loans online to college students. In July 2016, the company shifted to lending to white-collar workers after China banned online loans to students following several financial scam cases.
Qudian has been profitable since the start of 2016, according to the listing prospectus. The firm's second-quarter revenue surged 311% to 998 million yuan from a year ago, while second-quarter profit jumped nearly fourfold to 508 million yuan.
The IPO prospectus showed, in 2016, the annual interest rates on 59.5% of Qudian's loans were above the legal ceiling of 36%. Luo replied in the Sunday interview that Qudian has been adjusting the interest rates of those products to below the legal limit since April 2017.
A Qudian representative had no comment on this story after being contacted by Caixin on Tuesday.
Contact reporter Leng Cheng (chengleng@caixin.com)
You've accessed an article available only to subscribers
VIEW OPTIONS
Share this article
Open WeChat and scan the QR code