Breathless in Beijing: Hong Kong Philharmonic Dazzles With Wagner's 'Die Walküre'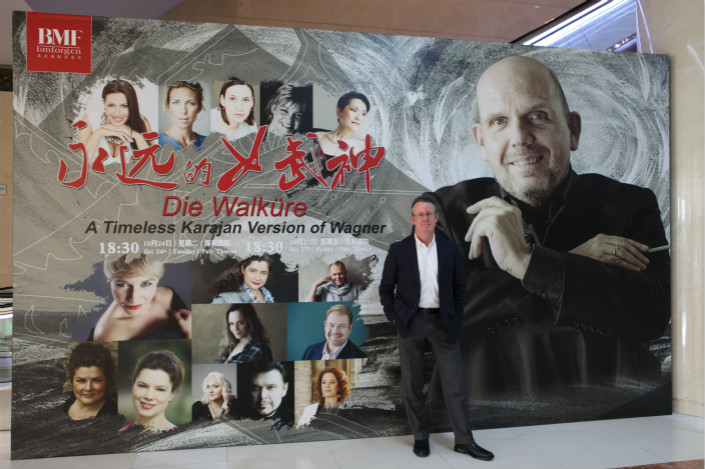 Michael Macleod, chief executive of the Hong Kong Philharmonic Orchestra, has been instrumental in revamping the body since taking the helm in 2011. Photo: Poornima Weerasekara
(Beijing) — The Hong Kong Philharmonic Orchestra's intense, five-hour rendition of Richard Wagner's "Die Walküre" ("The Valkyrie") left classical-music lovers breathless, but yearning for more during Tuesday's performance at the Beijing Poly Theater.
Conductor Jaap Van Zweden's sense of pacing and drama never falters, with vivid climaxes including the frightening scene depicting the rage of Wotan, the king of gods, as he seeks out the warrior maiden Brünnhilde in the third act.
"Die Walküre" is the second installment of Wagner's monumental opera tetralogy, "The Ring of the Nibelung," about young lovers trying to flee their fate.
The Hong Kong Philharmonic, one of the most pre-eminent Wagner orchestras in the world, is in town as part of the Beijing Music Festival, which marks its 20th anniversary this year.
"It is also the 50th anniversary of the Salzburg Easter festival that was founded by one of the supreme conductors of all times — Herbert Von Karajan. We are playing his staging of 'Die Walküre' in Beijing," said Michael Macleod, the Hong Kong Philharmonic's chief executive. The orchestra will also perform Anton Bruckner's Eighth Symphony at the Poly Theater on Oct 28.
Macleod has been instrumental in revamping the Hong Kong Philharmonic, which hadn't recorded for nearly a decade when he took over in 2011, and in choosing Wagner's so-called Ring Cycle as its artistic backbone.
Macleod's interest in Wagner goes way back. "When I was the manager of a summer opera festival in New York, before coming to Hong Kong, I discovered an opera by Wagner that had never been performed in North America," he said. "It was called 'Der Liebes Verbot,' or 'The Ban on Love,' and was inspired by Shakespeare's 'Measure for Measure.'"
Macleod's quest for novelty has also inspired him to push for more audience engagement at classical music events and move away from a rigid programming style that could intimidate the uninitiated. For example, during his stint as executive director of the New Haven Symphony Orchestra in the U.S. state of Connecticut, he arranged a set of telescopes for concertgoers to view the night sky after listening to a rendition of "The Planets," a seven-movement orchestral suite by English composer Gustav Holst. An iconic telescope that spotted Halley's Comet centuries ago greeted them at the entrance to the concert hall.
He has added the same theatrical touch to the Hong Kong Philharmonic's concerts. For example, when the orchestra played Ralph Vaughan Williams' score for the 1948 film "Scott of the Antarctic," which charts the harrowing journey of Robert Falcon Scott, an explorer who wanted to become the first Briton to reach the South Pole, the program included readings from his frozen diary, recovered months after his death on Antarctica.
Macleod is also hopeful about the future of Western classical music in China. "The average age of the audience in North America for a symphony orchestra concert is 69 years, according to statistics collected by an umbrella organization for orchestras. … In Hong Kong, there is no organization that collates these statistics, but by just looking in the hall on a regular basis, the average age is probably near 40 years. So it's like a 30-year difference," he said.
The Hong Kong Philharmonic Orchestra, led by conductor Jaap van Zweden (center, on podium), acknowledge applause from the audience after a performance of Symphony No. 5 by Gustav Mahler at the Hong Kong Cultural Centre Concert Hall on Sept. 8. Photo: The Hong Kong Philharmonic Orchestra
Macleod spoke to Caixin about how he mixes his passion for music with his flair for business and how orchestras continue to survive in the world of livestreaming. Following are edited experts.
Caixin: Did you get into the world of managing orchestras by chance or by choice? When did you know that this was your calling?
Macleod: My father was a British diplomat, and because of that I lived all over the world. I went to boarding schools in Scotland, then university in the U.S., where I didn't study music, I studied medieval history focusing on the French Middle Ages. … Now what do you do — professionally — with a degree in medieval history? So, I went back to Paris, where my parents were at the time and I saw a job advertised for librarian and assistant orchestral manager for the Scottish Philharmonic Society. … I think luck plays an important part in my life. I got the very first job that I ever applied for, which happened to be in music management. I've always loved music. My parents lived in Africa for seven years, and there were no cinemas, no internet, no TV — we entertained ourselves at home, we played pingpong, darts, chess and bridge, and usually listened to Mozart operas and Gilbert and Sullivan operettas. At school I studied the piano and the flute.
What does it take to manage an orchestra? How do you deal with things that don't go according to script at the last minute?
If you are not living on the edge, you are taking up too much space. It's high stress, there are too many moving parts and things do go wrong, but the show must go on. So a large part of the job is being quick enough to address whatever situation faces you. When David Oistrakh, one of the greatest violinists of the 20th century, died, his very next concert was supposed to be with the Scottish Chamber Orchestra. We had these beautiful posters made, … black with gold print on them, and it was a very big deal for what was a very new orchestra and the management had to find out who could play instead of him and that was relatively easy.
(In another instance,) there was an issue with Théâtre du Châtelet in Paris and the John Eliot Gardiner Montiverde choir, and suddenly I found myself with nowhere to rehearse and perform Mozart's opera "Don Giovanni." I just happened to be in Rome, and talking to someone in the music business who said there is an orchestra that just canceled an opera in Parma. So they are desperate to have an opera in two months. … I got on a train and I went into Parma and I talked them into booking us.
There is a phrase in our business — "Music for art's sake, money for Christ's sake." So, for example in New Haven, Connecticut — I was the new CEO of the orchestra there — I found this extraordinary story about a man called Igor Sikorsky who founded a helicopter company in the 1920s, and indeed most of the helicopters used by the American military today are made by this manufacturer (Sikorksy Aircraft Corp., now owned by Lockheed Martin). But in the early days, Sikorsky didn't have enough money. … One of the people (who invested) was a famous Russian composer, Sergei Rachmaninoff. Again, this is an example of how I do business. I drove to the Sikorsky offices in Connecticut and I told them that Rachmaninoff had given Sikorsky $5,000 to get his helicopter business off the ground. (I told them that) I want you to sponsor my "All Rachmaninoff" program and I want you to give me the same amount of money. … And they did.
So it's a question of being quick on the draw, being an opportunist. As they say in rugby, if you see an opening, you better go for it.
How does an orchestra make money — through touring and recording, or through donations from patrons?
Orchestras don't make money. I used to manage a British period orchestra, John Eliot Gardiner's Monteverdi Choir, for 12 years. That was during the glory years of the 1980s and the 1990s, when one could make money from touring and recording because people were still buying CDs.
But now people aren't buying CDs the way they used to 20 or 30 years ago. The market is flooded by too many recordings, so they don't sell like they used to. Touring is also proving to be more financially challenging than it was two decades ago.
Sponsorship is another interesting issue. Now companies are becoming more accountable of what they do with their money, so the management needs to think whether the return on investment is enough, will we get enough publicity or is it just paying for a concert that most of our employees are not interested in? People don't like classical music. So sponsorship is also more difficult.
Then where do you get the fuel to keep running?
By being more imaginative than everybody else! The market is flooded with recordings. People can listen to music while they are driving, or walking with their iPhone, or on their laptops while on bed. It's available 24/7 and it's very high-quality. … In the old days, you had to subscribe to go to a concert. So you had to decide nine months ahead of time that you will actually be in the mood to listen to a Shostakovich symphony. Now we have become a society of immediate choice.
So how do you get people out of the house? How do you get people out to a concert? Fifty years ago people, listened to LPs (a vinyl-recording format). There was distortion and cracks. So the audio impact was that it was better to go to a live concert. Then the cassette was invented. (The cassette tape) used to stretch a little bit or break, so still the live concert was better. Then the CD came along, with pretty good sound. … It costs about $15, whereas if you got to a concert with two people — driving, parking, drinks, $100 per ticket — that's about $250 to go out to listen to something once, whereas you can listen to a CD hundreds of times and when you want to.
So as the manager of an orchestra, I need to make sure that what we do is more interesting than just going to a normal concert. For example, Felix Mendelssohn wrote a piece called "A Midsummer Night's Dream" and it lasts about an hour. So we played that piece interspersed with the famous speeches and scenes from Shakespeare's play of the same name, so that is an event that is not on a CD normally and you can also market it to both music lovers and theater-lovers.
Or have you seen the film or the play "Amadeus"? It's about a composer named Antonio Salieri trying to pretend that he wrote Mozart's "Requiem." …I always try to do something different with the piece. I got two soloists to sing unknown arias by Mozart and the other two to sing two arias by Salieri and didn't tell the audience who wrote what aria and got them to vote. The audience actually got one of the arias wrong. It's fun. It means there is audience interaction, which I think is important. These are also all interesting to sponsors.
How do you compare audiences in China to those you have encountered in Europe or North America? Are they willing to try out new things or do they just want to see famous operas?
The average age of the audience in North America for a symphony orchestra concert is 69 years, according to statistics collected by an umbrella organization for orchestras. … In Hong Kong, there is no organization that collates these statistics, but by just looking in the hall on a regular basis, the average age is probably near 40 years. So it's like a 30-year difference. When you go to a concert, would you rather be disturbed by a hearing aid of an elderly person malfunctioning, or by a 6-year-old kicking the back of your seat? I'd say the 6-year-old, because that means there's a future for this business, there will be a new generation of live classical-music lovers.
In Europe, my observation is that people are extremely knowledgeable and would probably put the repertoire first — in other words, what is being played — and secondly by whom. In Hong Kong, it's the other way about. … So the star's name counts in Hong Kong. I think brand name is also becoming more important on the Chinese mainland. The Chinese audience has skipped repertoire. They have gone from not really knowing very much about classical music to "who are the big stars" and don't necessarily know the core repertoire, irrespective of who's performing it.
Chinese parents are keen to train children to learn music, partly because music accomplishments help them to score extra marks when applying for an elementary or middle school. But does this craze to learn piano or violin help produce good musicians?
One of the tragedies in America is that in the late 1970s, music was removed as a mandatory part of the school curriculum. So now you have a generation of people who are retired and who now have the time and the money to go to concerts, but don't go because they know nothing about it.
In my opinion there is nothing more important than education — at a very early age — about music. But that goes beyond teaching a child how to play the piano, like Lang Lang, because that's a very limited part of what music is about. I advocate a broad, general musical education as being paramount and that's something I fight for in Hong Kong. When I speak publicly about the three most important things that the Hong Kong Philharmonic Orchestra should be doing, I call them "Education, Education and Education."
Is it difficult to work with musicians? Did you ever have to intervene to resolve any artistic rivalries?
Do you know the difference between a prima donna and a terrorist? You can negotiate with a terrorist! If you are a conductor of an orchestra, you are overseeing the performance of between 100 and 150 people. … Most of these people think they know how a piece should go, but as the conductor, you need to control that. There is only one way to do that — by being a dictator. It doesn't work democratically. That's why all of the world's truly great conductors, in my opinion, have very strong personalities. Because you need to impose your musical will on an awful lot of people in order to get a unified interpretation that makes a statement of consequence.
But I've also managed the legendary Amadeus string quartet. Now they can do it democratically, where all four are equal partners and exchanging musical ideas that they can respond to in an intelligent way. … The leader of this string quartet used to say "We sometimes have to compromise, but we compromise upwards."
When you took over the Hong Kong Philharmonic Orchestra, the group hadn't been outside China or made a recording in over a decade. How have things changed under your stint?
Ultimately, an art organization has to have a strong artistic vision. Otherwise, you aren't going to get very far. I think I am one of the very few people in the world to be involved in the performances and recordings of the seven great operas by Mozart and the four operas that make up Wagner's ring cycle — "The Ring of the Nibelung."
I already had a relationship with Naxos (one of the world's leading classical music labels) before I got to Hong Kong, and they used to record the Hong Kong Philharmonic, but for a variety of reasons, that relationship had been dormant for over a decade. But we decided to record some music by Tan Dun (the Oscar-winning composer of the score for the 2000 movie "Crouching Tiger, Hidden Dragon") with him conducting it, and some music by Bright Sheng (Producer of Dream of the Red Chamber for the San Francisco Opera) with him conducting his own music.
Then we decided to give a core, an artistic backbone, for the orchestra and decided to do Wagner's Ring Cycle, which has never been performed in Hong Kong — local orchestra or a visiting orchestra. With our music director, Jaap van Zweden, who is a world-class conductor, we decided to do the ring cycle in concert over four years, one opera per year. We have done the first three, "Das Rheingold" ("The Rhinegold"), "Die Walküre (The Valkyrie) and "Siegfried." In two months' time in January, we will do the fourth one "Götterdämmerung" ("Twilight of the Gods"). (The Hong Kong city government is funding the project.)
The Chinese government has had a love-hate relationship with Western classical music, cracking down on it during the Cultural Revolution only for it to re-emerge with full force thereafter. What are the challenges of promoting classical music in Hong Kong and on the mainland now? Do current policies help or hinder your efforts?
My sense is that the Chinese government is taking a very intelligent approach to dealing with the Hong Kong situation and is gradually trying to dissolve the barrier between Hong Kong and China in a variety of intelligent ways. One of the ways in which they are doing that is ... the Ministry of Culture in Beijing and the Hong Kong government are encouraging the Hong Kong Philharmonic Orchestra to play more in the Pearl River Delta. So in Shenzhen, Zhuhai or Guangzhou, we are doing that. … We've also done quite a lot of work in Shanghai, Beijing, Tianjin and Xiamen. We are really getting around.
Just recently, the Hong Kong government — and I believe with a tip-off from Beijing ؙ there is more money available for us to do more in China. … I would actually like to go to more extreme locations.
Any tips for foreign orchestras that want to crack the China market?
It is said that China is building lots of new concert halls, but there aren't enough groups within China to use them, so many of them aren't very busy. Zhuhai just built a concert venue recently. … There's also an awful lot of money in China that 20 years ago wasn't available. Now there is an appetite for Chinese companies to sponsor. So I think there is a remarkable market opening up here.
Contact reporter Poornima Weerasekara (poornima@caixin.com)
Caixin Hot Pot is a regular feature that introduces you to the colorful array of players in today's China – from the leaders of top U.S. companies doing business here to the migrant woman selling noodles from a pushcart.
You've accessed an article available only to subscribers
VIEW OPTIONS
Share this article
Open WeChat and scan the QR code

China Stories: Verdict Reversal in High-Profile Murder Stands Out Amid Exoneration Trend