Smoggy Shanxi Tells Cities to Take Emergency Anti-Pollution Measures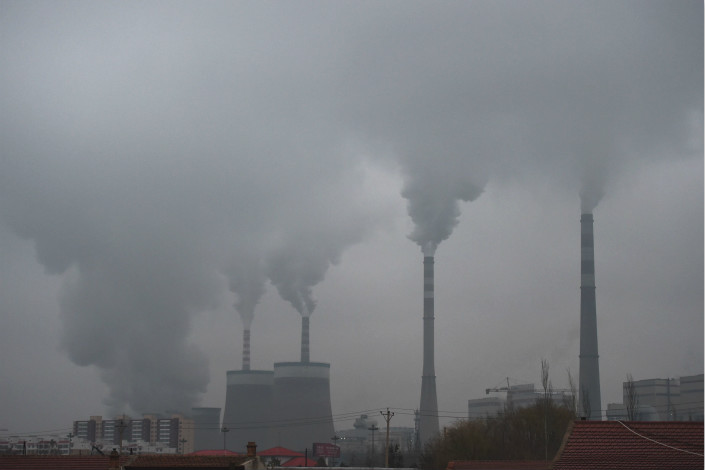 Shanxi province has told its local governments to hold businesses and individuals that fail to comply with emergency anti-pollution measures "strictly accountable." Above, smoke belches from a coal-fired power station near Datong, Shanxi province, in November 2015. Photo: Visual China
Shanxi province has told its city governments to take emergency measures against pollution in the coming days, as the coal-rich province emerges as ground zero in China's fight against winter smog.
The province expects to experience heavy pollution Saturday through Tuesday, according to notices published Thursday and Friday by the provincial Department of Environmental Protection. During this four-day period, local governments will be required to place strict limits on industrial activity and the transportation of materials to "resolutely reduce the emission of atmospheric pollutants," one of the documents said.
Local governments have been told to hold businesses and individuals that fail to comply with emergency anti-pollution measures "strictly accountable," the environment department said.
The provincial government is also requiring cities to issue pollution alerts at levels no lower than orange.
Authorities issue an orange alert when the Air Quality Index is forecast to remain above 200 for three consecutive days, or above 300 on average over the course of a single day. The orange alert is the second-highest alert on the four-tier air pollution warning system adopted in most Chinese cities.
The air in Beijing, Tianjin and the northern province of Hebei is also expected to be heavily polluted from Saturday through Wednesday, according to an orange air-pollution alert issued Friday by China's environmental authority.
Shanxi is home to some of China's most polluted cities, including its capital, Taiyuan, which suffered the heaviest sulfur dioxide pollution in the country last year. The province, one of China's top coal-producing regions, has lately begun the difficult process of weaning its industries and power grid off the highly polluting fossil fuel.
In early October, Taiyuan banned individuals and businesses from selling, transporting, and using coal, with the exception of a few state-owned steel and power plants. The city also announced a plan to renovate the heating equipment of 134,000 households in the area.
But days later, fearing outages in the winter high-consumption period, the province's government warned local authorities against "blindly" abandoning coal without first ensuring adequate supplies of alternative energy sources, including natural gas.
Shanxi's efforts are part of a larger national campaign to reduce the heavy smog that chokes many of China's cities each winter. In September, the central government released targets for reducing pollution in North China this winter. Taiyuan and three other cities in Shanxi were told to cut their number of heavily polluted days this winter by 20%, and lower their average concentration of PM2.5 air pollutants by at least 15%.
Contact reporter Teng Jing Xuan (jingxuanteng@caixin.com)
You've accessed an article available only to subscribers
VIEW OPTIONS
Share this article
Open WeChat and scan the QR code

Caixin-Sinica Business Brief: Hong Kong to Allow Retail Investors to Trade Crypto