Thousands Evicted in Beijing Crackdown After Fatal Fire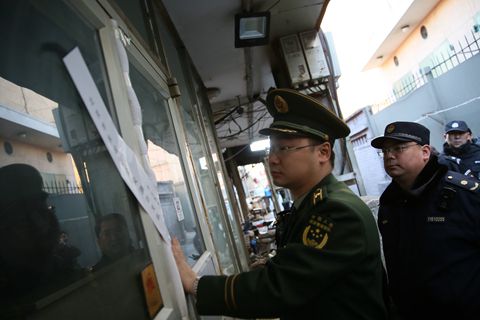 As part of the crackdown on illegal structures after a fatal fire that killed 19, Beijing police have been inspecting buildings across the capital suspected of containing fire hazards, marking many of them as condemned, as in the picture above. Photo Visual China
Thousands of Beijing tenants, mostly migrant workers, are being evicted from their homes in a crackdown on unlicensed developments after a fatal fire last week.
Nineteen people — including eight children — were killed in the blaze at a residential-industrial compound in Daxing, a south Beijing suburb, on November 18.
Investigators said Tuesday that the fire started in a refrigerated warehouse in the basement of a two-story building, which housed an industrial plant and residential apartments. Most of the tenants who lived in these apartments were rural migrants working as factory hands or deliverymen.
Shortly after the incident, the municipal authorities ordered a 40-day crackdown targeting buildings with potential fire hazards, according to a directive issued Monday by the Beijing Work Safety Committee.
The committee is an inter-departmental municipal agency responsible for coordinating work safety enforcement.
Authorities say they have identified three types of buildings prone to potential safety hazards for "inspection, cleanups, upgrades or closure." These include industrial and logistics warehouses in areas near the city's two airports, the new city government compound in Tongzhou district, restaurants, antique stores, street-front shops and old residential buildings in certain downtown areas. Inspection teams will specifically target buildings and refurbished farm facilities that have been turned into rental homes and wholesale markets on the outskirts of Beijing.
Residents were evicted from some buildings on short notice ranging from two days to a week, leaving many in limbo, several tenants told Caixin.
Firefighters deployed by the government were seen on Tuesday going door to door in the Aiwo Residence in Dongba area, in the city's eastern suburbs, ordering tenants to leave before lunchtime the next day, according a former tenant who wished to remain anonymous.
The source said nearly 200 people lived in the building, and many had come to the city looking for work. She said she was a Beijing local and had rented the place because it was close to her workplace.
"Many tenants from outside Beijing could become homeless and some didn't even get a chance to retrieve their ID card from their rooms," she said.
The main entrance to the building has been sealed off since Wednesday, but tenants were allowed to enter via other doors to retrieve their belongings, the woman said.
En masse evictions following orders from city authorities is also underway in in several suburban districts including Tongzhou, Changping and Daxing, several tenants told Caixin.
A resident who earlier lived in the Tuqiao area in Tongzhou said he was woken up by several firefighters and police officers who knocked on his door at about 7:30 a.m. Wednesday and he was told to move out in two days. Water and electricity supply to the building was cut off, according to the tenant who asked not to be named. "You feel helpless, but this is life," said the man who came from central China's Hunan province and works for an IT firm in Beijing.
Many low-income, rural migrants said they were jittery because the government was vague over the types of residential builds that are being investigated.
Industrial and office buildings refurbished as rental homes, living quarters rented out in slum areas and residential homes partitioned to accommodate multiple tenants would be affected most by the clampdown because they lack basic fire prevention facilities, said Zhang Dawei, chief analyst of Centaline Property.
Some tenants could also face losing money if landlords refuse to return their deposits or charge penalties for breaking contact, said Zhang. Rents might also go up as a result of price-gouging by new landlords.
A resident from Xibeiwang area, in Beijing's Haidian district, said he began to look for a new place after he was served an eviction order on Tuesday. He said he wanted to rent a smaller bedroom in a two-bedroom unit in an apartment in the same area, but the landlord suddenly pushed up the price to 2,500 yuan ($380)a month, 500 yuan more than what was charged from the previous tenant.
"It's really beyond what I can afford because 2,000 yuan a month is already very high for me," said the source who was still hunting for an affordable home as of Friday.
Contact reporter Li Rongde (rongdeli@caixin.com)
You've accessed an article available only to subscribers
VIEW OPTIONS
Share this article
Open WeChat and scan the QR code

Caixin-Sinica Business Brief: China Resumes Issuing Visas to Foreigners