Thousands Evicted in Beijing Crackdown After Fatal Fire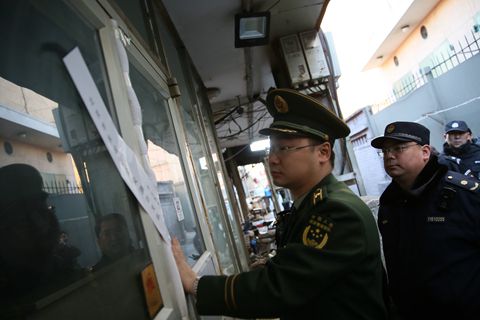 As part of the crackdown on illegal structures after a fatal fire that killed 19, Beijing police have been inspecting buildings across the capital suspected of containing fire hazards, marking many of them as condemned, as in the picture above. Photo Visual China
Thousands of Beijing tenants, mostly migrant workers, are being evicted from their homes in a crackdown on unlicensed developments after a fatal fire last week.
Nineteen people — including eight children — were killed in the blaze at a residential-industrial compound in Daxing, a south Beijing suburb, on November 18.
Investigators said Tuesday that the fire started in a refrigerated warehouse in the basement of a two-story building, which housed an industrial plant and residential apartments. Most of the tenants who lived in these apartments were rural migrants working as factory hands or deliverymen.
You've accessed an article available only to subscribers
Get 30 days of access for $0.99.
VIEW OPTIONS
Share this article
Open WeChat and scan the QR code