Hong Kong Exchange Moves Closer to Allowing Dual-Class Shares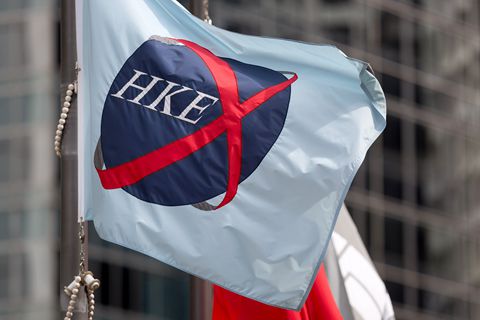 Only 3% of Hong Kong listings in the past decade have been so-called "new economy" companies, compared with 47% on the New York Stock Exchange. Photo: CFP
Hong Kong is making changes to its listing rules to allow companies with the controversial dual-class share structure to list on its bourse, in a bid to dent New York's edge with blockbuster initial public offerings (IPOs).
Companies with dual-class share structures that are engaged in emerging and innovative sectors would be allowed to list on the Hong Kong stock exchange, according to a draft plan issued Friday by the Hong Kong Exchanges & Clearing Ltd., the operator of the bourse. To qualify, the tech companies would need to have minimum valuations of HK$10 billion ($1.28 billion) and minimum annual revenues of HK$1 billion.
The exchange said it would put up the draft changes for a formal public discussion in the first three months of 2018.
The proposed overhaul in Hong Kong's listing rules comes in the wake of years of debate and the loss of technology giant Alibaba Group's listing to the U.S. in 2014.
Alibaba originally wished to float in Hong Kong. But it eventually chose to have its record $25 billion IPO in New York after Hong Kong refused to accept the company's governance structure that conflicted with Hong Kong's "one share, one vote" principle.
Alibaba calls its own stock structure "Alibaba partnership," allowing a group of 27 senior managers to stay in control. The group has the right to name the majority of Alibaba's directors, giving them effective control of the board and of the company's strategic direction. Essentially, Alibaba's partnership structure has the same effect as a dual-class stock structure, which gives certain shareholders more voting rights than others.
Some of the world's largest and most influential tech companies, from Facebook Inc. to Google parent Alphabet Corp., use such structures to maintain the influence of their founders and management after going public.
The draft rules propose that each multiple-vote share would represent no more than 10 times the votes of ordinary shares. Companies are also required to disclose additional information on their stock structure and establish rules to protect shareholders.
Companies with valuations exceeding HK$40 billion would be waived from the HK$1 billion annual revenue threshold, according to the draft rules.
The Hong Kong bourse started a public comment session in June with market stakeholders, including lawyers, accounting firms and investment managers, to find the best way to overhaul the listing regulations to encourage more big tech companies to raise capital in Hong Kong.
Hong Kong is far behind New York in the battle for hot tech stocks. Only 3% of Hong Kong listings in the past decade have been so-called "new economy" companies, compared with 47% on the New York Stock Exchange, according to the exchange's June discussion paper.
The initial proposals included the creation of a new exchange board for such dual-class companies.
But the exchange said in Friday's statement that high-quality companies usually prefer to list on the main board, and a new board would be complicated. Many respondents preferred a simpler structure that incorporates innovative companies directly on the main board, according to the statement.
The exchange said 91% of respondents supported measures that would help diversify the Hong Kong market and help attract more issuers from emerging and innovative sectors.
Many of the respondents supported weighted voting rights structures in Hong Kong as long as certain safeguards are adopted to protect shareholders, the exchange said.
Hong Kong exchange Chief Executive Charles Li said in the statement that the market has made it clear it wants the exchange to take action to broaden Hong Kong's capital markets access and enhance its competitiveness.
Dual-class Chinese companies already listed on the New York Stock Exchange or Nasdaq will also be eligible for a secondary listing in Hong Kong, according to the draft rules.
You've accessed an article available only to subscribers
VIEW OPTIONS
Share this article
Open WeChat and scan the QR code