Will China's Ban on Plastic Waste Imports Choke the World?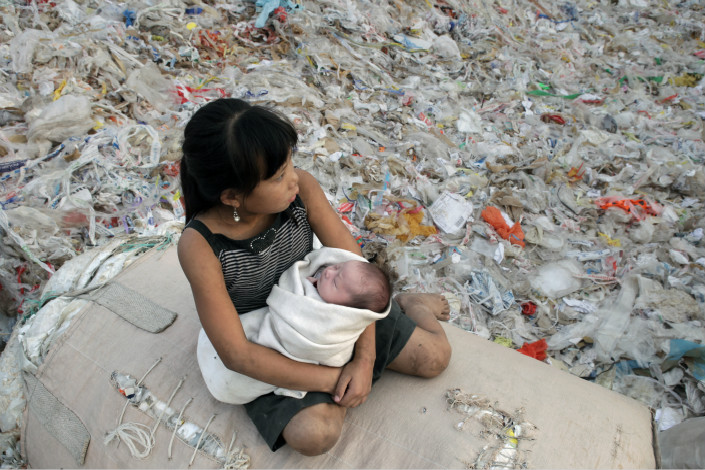 Still from the award-winning documentary "Plastic China," shot in a coastal town in Shandong province, which has recycled plastic waste imported from the U.S., UK, Germany and other Asian countries for nearly three decades. China will ban all imports of plastic waste on Jan. 1, 2018. Photo: Wang Jiuliang
In a coastal Shandong province town, adults sorted through piles of plastic waste with their bare hands, while children played among trash imported from the U.S., U.K. or other parts of Asia.
Toddlers sucked unidentified liquid from discarded syringes and blew blue plastic gloves like balloons. These are some of the scenes from the award-winning independent documentary "Plastic China," which went viral in early 2016 before suddenly disappearing from the Chinese internet.
It has resurfaced at independent theaters and at private screenings ahead of China's announced ban on imported plastic waste, which comes into effect on Jan. 1, 2018.
Director Wang Jiuliang took six years to make this documentary. In the mountains of plastic in the unidentified town he identified the imported plastic from United States, Britain, Australia, Germany, Japan, South Korea and other countries.
China is currently the world's largest importer of trash. According to statistics from the Bureau of International Recycling, the country imported 7.3 million metric tons (8 tons) of plastic waste in 2016 mainly from Europe, Japan and the United States, worth billions of dollars.
The country's hunger for plastic has spawned a lucrative industry where plastic waste is purchased from the international market and turned into raw materials for local manufactures, Ma Jun, the director of the Institute of Public and Environmental Affairs, said.After the ban "the trash refused by China will be exported to Southeast Asian countries and the Middle East," said Ma. "It will also create enormous challenges to the domestic recycling industry in developed countries."
In "Plastic China," Wang Jiuliang follows the fates of two families — a recycling plant owner's and a laborer's — from a town that has been besieged by imported waste for nearly three decades.
He also puts the spotlight on loopholes in the international trash trade. Plastic waste exported to China may be mixed with other banned, highly-polluted elements, such as medical waste. Toxic waste is dumped in rivers and workers are exposed to hazardous chemicals due to lack of oversight and regulations to govern recycling facilities. The villagers are forced drink water from a nearby spring after the groundwater was deemed too toxic.
It also contaminates food supplies. The film shows plastic blowing into wheat-threshing machines. "The sheep also eat the waste and when you cut their bellies open for meat, you'll find pieces of plastic inside," a villager said in one scene.
In 2016, "Plastic China" won the Jury Prize for the best debut at the Amsterdam Documentary Film Festival, which is known as the "Oscars for documentaries." The film was nominated in several categories at the 2017 Golden Horse Award in Taipei including for Best Documentary and won the prize for Best Editing. It was also screened at the Sundance Film Festival in 2017.
Caixin talked to Wang about what inspired him to make this documentary despite falling ill while filming due to exposure to toxins and whether he was adopting a different tone for his future projects after his documentary was taken down without an explanation. The following translated excerpts of the Chinese interview.
Director of "Plastic China," Wang Jiuliang. The documentary was taken off the Chinese internet in January 2016 after it went viral on social media. Photo: Wang Jiuliang
Caixin: What inspired "Plastic China"?
Wang Jiuliang:My first documentary "Beijing Besieged by Waste" was released in 2010. Later I got a chance to visit the U.S. I went to three factories in California, all of which exported plastic waste to China after an initial round of sorting. Two of them didn't allow me to film, and didn't give any details.
I approached the last one in Berkeley through an NGO. That factory had an obligation to raise public awareness about environmental issues, because it belonged to a municipal project. The staff had to explain the process to any citizen who visited the factory. Although I'm a foreigner, the manager Daniel talked to me openly. He said "we know trash will be shipped to China. But we aren't clear how the Chinese side deals with it. Feedback from China shows that it's OK. It looks good."
But did you show your first documentary to them?
I edited some footage I'd shot in China over the previous three years. I showed him how imported plastic waste is sorted, smashed and turned into pellets. He was shocked and stood for a long time without saying a word.
He said: "We haven't seen such a thing. Although we know that the recycling process didn't meet standards, we didn't expect it to be this bad with so many workers sorting dirty waste. Toxic waste water is discharged into the river, the fish and shrimp are all dead. I didn't know that smoke from burning plastic has become a regional environmental issue, and I haven't heard complaints from people in rural China saying their local governments are ignoring their health."
Workers sort through mountains of imported plastic waste. China is currently the world's largest importer of trash. According to statistics from the Bureau of International Recycling, the country imported 7.3 million metric tons (8 tons) of plastic waste in 2016 mainly from Europe, Japan and the U.S. Photo: Wang Jiuliang
What was the reaction to your documentary?
There are lots of international trademarks in the plastic trash such as Nestle or Starbucks that foreign audiences are familiar with.
When we were in the Netherlands, a gentleman stood up and said that he immediately saw himself in this movie because his life has impaired the life of another person in remote China.
The audience at a showing in the U.S. reacted more strongly. An old man stood up and said angrily, I wouldn't allow my garbage to go to China in this manner. In California, someone said we should organize sit-ins in front of the State Government in Sacramento because no one told us the trash is going to China in this manner.
Piles of garbage stacked up on the bank of a local river. Residents have switched to drinking water from a nearby spring after groundwater sources were polluted by effluence from plastic recycling plants Photo: Wang Jiuliang
Your health was also affected after filming in a toxic environment for three years. I can still see the scars on your eyebrow. What was your experience like while filming?
Only a touch of the scar is left now. Five years ago, in 2012, the chloracne (an acne-like eruption of blackheads, cysts, and pustules associated with over-exposure to certain chemicals), festered into my bones. Another example is poisoning; it was similar to being exposed to carbon monoxide. I spent about 20 minutes shooting in a workshop. I felt uncomfortable and got a headache and felt weak and didn't recover until the next day.
How has prolonged exposure to toxins affected the health of locals?
In addition to injuries from sorting products laced with corrosive or toxic chemicals, poisonous smoke has also led to chronic harm. The town has a high rate of cancer and cardiovascular diseases. During my first year doing research, a village woman told me that I should not ask which family had patients, I should ask are there any families without a patient.
There is a direct relationship between the diseases and the local plastics industry because PCBs (Polychlorinated Biphenyls) are a direct cause of cardiovascular and cerebrovascular diseases. Dioxins are also linked to cancer. Locals said their town was well-known at county-level hospitals.
Did making such a difficult documentary have a psychological impact on you?
It's hard for you to accept the truth as an adult, based on ethics and emotions. When you try to debate or communicate with people who are engaged in some unintelligent behavior, ignoring other's interests, you find that you can't awaken them. That's leads to a sense of loss and pain.
Now I've stopped and switched to making dramas. I think it might be a little self-healing. I saw too much. I have seen too much over the past decade.
In the last two years, I have also created a new project. I drove my car across China, observing environmental problems. I saw scenes of devastation everywhere.
If I mark environment problems with little pushpins, they will cover the entire map of the country.
But it wasn't an emotional impulse (that drove Wang to make this documentary).
Plastic industry lobby groups have a lot of power. If you aren't very rigorous, and rational in your approach to finding data and facts, they will question you or even attack you. If someone just finds one frame in your documentary was faked, then your entire project is labeled as a fake. Then your whole career is ruined. I can say with great confidence, every single shot in my movie is true.
You said you have switched to making dramas. Why?
My new project is a drama film, which focuses on local music from Daliangshan in Sichuan Province. Music is an abstract art. There are also many beautiful things that are very humane and emotional. There might be some conflicts but we can narrate them in a milder manner. If you can impress people, whether it is a tragedy or a comedy, it's powerful.
Did you switch to a new genre partly because your film disappeared from the Chinese internet in January 2016?
You can say that. There are some personal reasons too. We still have to speak up. So, when one genre isn't suitable, we change to another.
When we face unfairness or injustice, we like to find a way to resist. Praising beautiful things is also a means to fight against injustice.
Documentaries like yours could temporarily move an audience, but can they turn the current tide of consumerism?
It's important to raise public awareness about environmental issues, but that isn't enough.
Now my work focuses on government decision-making and manufacturers or businesses, which need to broaden their responsibilities toward society.
For example, about five or six years ago, we didn't have this crazy takeout phenomenon. Now the market for takeouts is blooming. But, are there any relevant government policies to curb its negative impact? Who is the manufacturer of takeout containers? Can they change the product design or make non-disposable containers? That's what I want to focus on.
You've accessed an article available only to subscribers
VIEW OPTIONS
Share this article
Open WeChat and scan the QR code

Caixin-Sinica Business Brief: Hong Kong to Allow Retail Investors to Trade Crypto