After Failed Ban, China Mulls New Policy to Combat Plastic Waste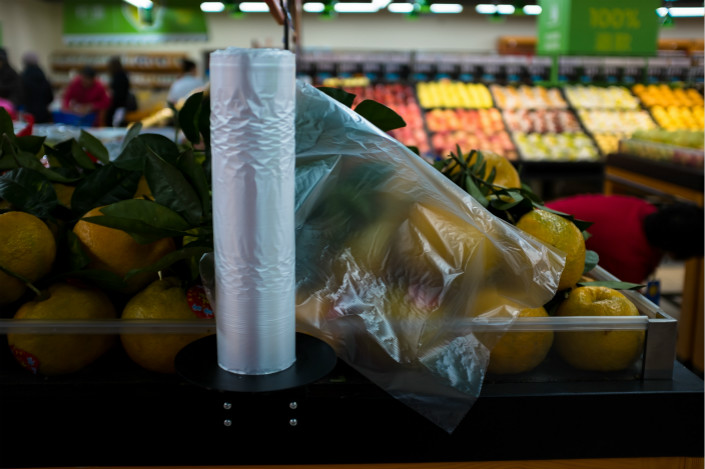 Under the 2007 rule, which came into effect on June 1 2008, plastic bags that were less than 0.025 millimeters in thickness were banned, and all supermarkets, shopping malls and wholesale and retail markets are required to charge shoppers for plastics bags. Photo: Visual China
China is mulling new policies to curb plastic waste after a decade-long campaign failed to show results due to lax enforcement and awareness.
In a rare move, the country's top economic planner is seeking public input prior to drafting the policy.
Individuals will have until Jan. 31 to submit suggestions online to the National Development and Reform Commission (NDRC) on ways to limit plastic use, according to a directive dated Jan. 5. The request was circulated online in recent days.
The public consultation comes as the commission's Department of Resource Conservation and Environmental Protection prepares to replace a decade-long ban on supermarkets giving out free plastic bags that has failed to have an impact.
Under the 2007 rule, which came into effect on June 1 2008, plastic bags that were less than 0.025 millimeters in thickness were banned, and all supermarkets, shopping malls and wholesale and retail markets are required to charge shoppers for plastics bags. But this was largely ignored.
Output of plastic products was up by 1.8% in 2015 and 2.66% again in 2016 to 77.2 million metric tons (85 million tons), according to the National Statistics Bureau.
The popularity of e-commerce, including food delivery, has led to an increase in the use of plastic packaging and this has "put pressure on the environment," the NDRC said.
In a report on June 9, the state-run People's Daily lamented "the death of the decade-old plastic curb" introduced by the State Council, saying it was turned into an opportunity to promote the banned material instead of curbing its use.
"Small vendors give away plastics bags free of charge to woo customers and big retailers also profit from the use of plastic bags," it said.
The comparatively high price of biodegradable materials or recyclable products remains a hurdle to promoting them, said Zhou Ke, a law professor specializing in environmental protection at Renmin University.
Lack of public awareness about the dangers of plastic use and weak enforcement has hampered the fight against "white pollution," he said.
China could look to some developed countries and enact laws to raise awareness of environmental protection, Zhou said.
"If we could not bring the public on board through mandatory education programs, similar regulations for curbing plastic in future might not work as well," he said.
Contact reporter Li Rongde (rongdeli@caixin.com)
You've accessed an article available only to subscribers
VIEW OPTIONS
Share this article
Open WeChat and scan the QR code

Jan 20 06:48 PM

Jan 20 06:44 PM

Jan 20 06:16 PM

Jan 20 03:41 PM

Jan 20 12:39 PM

Jan 20 12:22 PM

Jan 19 06:27 PM

Jan 19 04:53 PM

Jan 19 03:26 PM

Jan 19 01:51 PM

Jan 19 01:35 PM

Jan 19 01:17 PM

Jan 18 06:34 PM

Jan 18 06:08 PM

Jan 18 05:03 PM
GALLERY