Wanda Chief Vows to Repay All Overseas Debt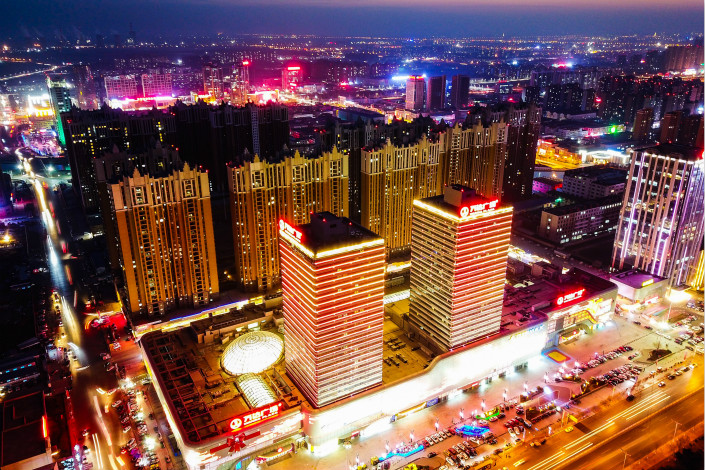 An aerial view of a Wanda Plaza commercial retail space in Dongying, Shandong province. Wanda Chairman Wang Jianlin said the company plans to open two malls and 50 new Wanda Plaza projects in 2018. Last year, Wanda opened 49 new plaza projects. Photo: Visual China
Wanda Group Chairman Wang Jianlin has promised his company will gradually repay all of its overseas debt and will not default on any loans, as the real estate and entertainment conglomerate continues to shed assets abroad.
Wang noted that it's not a good idea to increase leverage at a time when reducing debt is the trend in China and the rest of the world, according to a transcript of his speech during the firm's annual meeting on Saturday.
Earlier this month, Fitch Ratings downgraded the credit rating of Wanda's listed property unit to BB+ from BBB on offshore liquidity concerns.
The company's liquidity position may come under substantial pressure if its offshore lenders demand early repayment or if it fails to raise sufficient liquidity to repay $510 million in offshore loans due in March, Fitch wrote in a note. The situation is worsened by the absence of approval from China's foreign exchange regulator to transfer onshore funds abroad, Fitch added.
Earlier in September, Moody's and S&P Global Ratings both downgraded Dalian Wanda Commercial Properties Co. to below investment grade.
Last year, Wanda Group trimmed its assets by 11.5% to 700 billion yuan ($109 billion), of which 93% are domestic and 7% are overseas. Wanda's revenue fell by 10.8% to 227.4 billion yuan in 2017, mainly a result of its divestitures.
China has stepped up efforts since late 2016 to curb domestic companies' aggressive foreign spending, citing concerns of capital flight and mounting debt. Regulators have tightened scrutiny of foreign deals and ordered lenders to assess their exposure to offshore acquisitions.
In August, China's cabinet officially announced restrictions for foreign investment in real estate, hotels, film, entertainment and sports clubs.
Wanda, which became the world's biggest cinema operator with its purchase of a majority stake in the U.S. chain AMC, sold theme park and hotel assets to real estate firms Sunac China Holdings Ltd. and R&P Properties for 63.75 billion yuan last summer.
After the deal was complete, Wang Jianlin told Caixin he wished to repay most of his company's bank loans by the end of 2017, and that proceeds from the deal would be used for that purpose.
During Wanda's annual meeting on Saturday, Wang revealed that the selloff of cultural tourism projects and hotel assets to Sunac and R&P Properties had reduced the company's debt by 44 billion yuan, while providing 67 billion yuan in cash.
The overseas divestitures seem to be continuing. Last week, Wanda Group said it will sell a majority stake in a prominent London property for more than $250 million.
Wang said Wanda will return to growth this year. The company set a goal to increase revenue by 9% this year to 247.9 billion yuan. Wang said the company plans to open two malls and 50 new Wanda Plaza projects — commercial complexes consisting of shopping malls and office buildings — in 2018. Last year, Wanda opened 49 new plaza projects.
Wanda would only need to sell half of its overseas assets to pay off all of its overseas debt, Wang said, noting that this was proof the company has made money on its investments.
Contact reporter Liu Xiao (liuxiao@caixin.com)
You've accessed an article available only to subscribers
VIEW OPTIONS
Share this article
Open WeChat and scan the QR code