Wanda Sells Properties, Adds Investors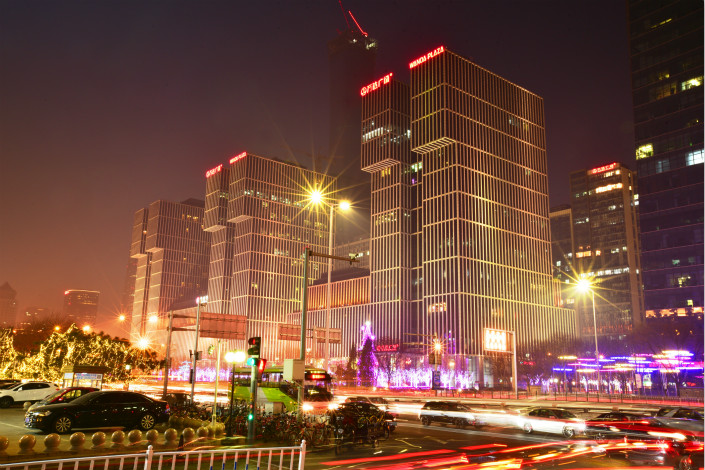 A view of the Beijing CBD Wanda Plaza, a commercial property owned by the Wanda Group. After bringing in strategic investors, Wanda's commercial property arm will cease developing property and instead focus on commercial management under the name Wanda Commercial Management Group. Photo: IC
Real estate giant Wanda Group has sold two offshore properties and brought in new investors for its commercial property arm as part of its ongoing drive to shed debt and eventually relist on the Chinese mainland.
A group led by internet giant Tencent Holdings Ltd. will pay 34 billion yuan ($5.2 billion) for a 14% stake in Dalian Wanda Commercial Properties Co. Ltd., which delisted from the Hong Kong stock exchange in 2016, Wanda Group said on Monday.
Others in the group buying the stake include retail giant Suning Holdings Group, e-commerce company JD.com Inc. and real estate developer Sunac China Holdings Ltd.
Wanda Commercial is Wanda Group's flagship company. It is the world's biggest commercial property company, with 31.51 million square meters (103.3 million square feet) of operating commercial property space at the end of last year.
After bringing in strategic investors, Wanda Commercial will cease developing property and instead focus on commercial management under the name Wanda Commercial Management Group.
Meanwhile, Wanda Hotel Development Co. Ltd. has agreed to sell a commercial complex in Sydney and a five-star resort in Gold Coast for a total of AU$315 million ($255 million), the Wanda Group unit announced Monday.
The purchaser is Australian real estate investment company AWH Investment Group Pty Ltd.
Wanda Group has continued to shed assets since Chairman Wang Jianlin pledged to repay all of its overseas debt and promised not to default on any of its loans.f
After Wanda Group's years-long overseas investment binge, Wanda Commercial's credit rating was downgraded from BB+ to BBB by Fitch Ratings, which said the company's liquidity position could be threatened if it does not raise enough money to repay $510 million in overseas debt by March.
In 2016, Wanda Commercial was privatized in a HK$34.5 billion ($4.45 billion at the time) share buyback on the belief it was undervalued. The goal was to relist on the Chinese Mainland for a higher valuation by September 2018. The deal announced Monday would place the company's current value at 243 billion yuan.
The 14% stake being sold to the Tencent-led group of investors is nearly the same size as the 14.273% stake bought by the backers of Wanda Commercial's privatization, suggesting that the stakes strategic investors are set to acquire may be the same ones currently held by the de-listing backers. The backers had been promised in 2016 the equivalent of a 10% to 12% annual return on their investment if Wanda Commercial did not relist by September 2018.
Through the deal, Wanda Commercial could be attempting to transform into a property management and services company in order to move up the waiting list for a mainland IPO, as property developers have fallen out of favor with securities regulators in the time since the company's delisting, a source with knowledge of the matter told Caixin.
Contact reporter Teng Jing Xuan (jingxuanteng@caixin.com)
You've accessed an article available only to subscribers
VIEW OPTIONS
Share this article
Open WeChat and scan the QR code