Fallen Political Star Faces Bribery Charges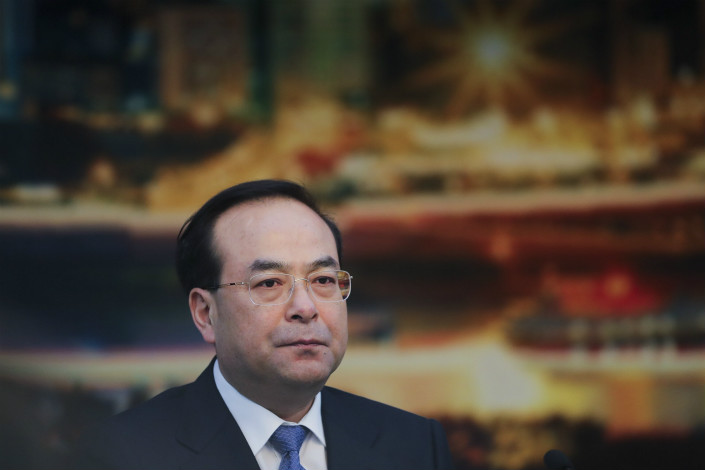 Sun Zhengcai had been a rising political star before he was expelled from the Communist Party in September for "allegedly accepting huge bribes on his own or via associates with whom he had special relationships," the party's Central Commission for Discipline Inspection (CCDI) said. Photo: VCG
Prosecutors have charged a former Politburo member who also served as party secretary for the southwestern municipality of Chongqing, Sun Zhengcai, with bribery and influence peddling, the state-run Xinhua News Agency reported Tuesday.
According to the report, which Xinhua said was based on information from China's top prosecutor the Supreme People's Procuratorate, prosecutors in Tianjin charged 54-year-old Sun with using his various government positions to help associates in exchange for huge payoffs.
Prosecutors say Sun pocketed bribes while serving as China's minister of agriculture between 2006 and 2009, the Chongqing party chief between 2012 and 2017, and in other posts.
Sun had been a rising political star before he was expelled from the Communist Party in September for "allegedly accepting huge bribes on his own or via associates with whom he had special relationships," the party's Central Commission for Discipline Inspection (CCDI) said before handing over Sun's case to prosecutors.
Sun was also removed from the Politburo, the party's key decision-making body, after the allegations came to light in July.
According to a recent Caixin investigation, Sun used his status as Chongqing party chief to help two mistresses, including long-time lover Liu Fengzhou, nail down lucrative government contracts.
The Caixin probe found that in August 2016, for example, Sun intervened personally to invalidate the first tender process for the Line 9 subway construction project in Chongqing after the contract was awarded to China Communications Construction Co. Ltd.
Liu asked Sun to make sure the contract was awarded to the successful bidder's rival, China State Construction Engineering Corp., a company with subsidiaries through which one of her associates could get kickbacks. The company won the contract, but it's unclear whether Sun and Liu ever profited.
The Tianjin No. 1 Intermediate Court plans to hear Sun's case. A trial date has not been set.
Contact reporter Li Rongde (rongdeli@caixin.com)
You've accessed an article available only to subscribers
VIEW OPTIONS
Share this article
Open WeChat and scan the QR code

Caixin China Biz Roundup: Rape Allegations at Acting School Spark Uproar