In Depth: Investigation Casts Shadow on Rosneft's China Investor CEFC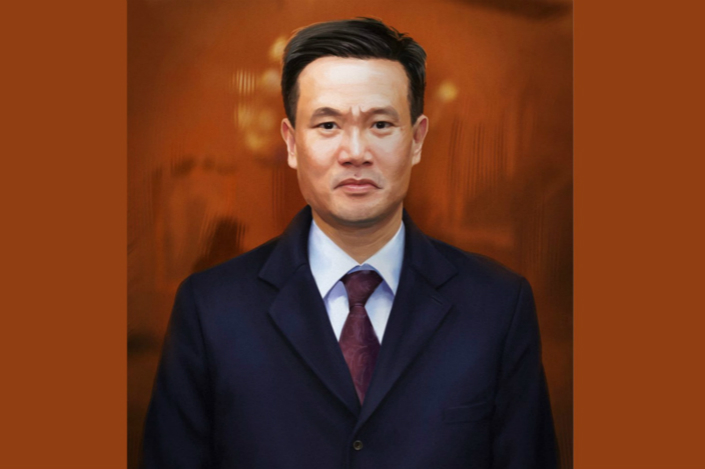 CEFC China Energy founder Ye Jianming. Illustration: Caixin
* Founder Ye Jianming is under investigation
* Rosneft stake acquisition likely to collapse if CEFC China can't get funds by end of February, a source says
The mysterious founder and chairman of China's private conglomerate CEFC China Energy, which is set to take a $9 billion stake in Russia's state-controlled oil major Rosneft, has been placed under investigation, Caixin has learned from sources close to the matter.
Ye Jianming, 40, set up CEFC China and in less than 10 years has transformed it from a little-known fuel trader to a fast-expanding oil and finance giant with assets in Europe, the Middle East, Central Asia and Africa.
But the company stands out as much for the opacity of its ownership and business structure as for its success. Its "management is highly divided" and information is rarely exchanged among different business segments, according to a person close to the company.
Ye has mostly stayed out of the public eye. Even his most senior executives said they have little chance to meet him in person. Yet he boasts some extraordinary titles such as an economic policy advisor for Czech President Milos Zeman and "special honorary adviser" to the U.N. General Assembly.
But Ye has shown his political savvy. In a rare interview with Caixin in April, the Fujian businessman said that CEFC China "aims to serve the state's strategy." Though privately owned, CEFC China has layers of Communist Party committees, which are usually staples of state-owned enterprises. It has also hired many former military brass and party cadres, underscoring its ties to Chinese officials.
"CEFC China is good at aligning itself with the government strategy," said Jiang Chunyu, CEFC China's party secretary and a retired military official.
CEFC China is rising quickly as a new power in China's tightly state-controlled oil industry. The company ranks No. 222 on the Global Fortune 500 list, with $43.7 billion in revenue in 2017, rising seven spots from the previous year. Its influence has continued to grow and it reaches beyond China.
In its latest mega deal, the Shanghai-based company agreed last September to buy 14% of Russia's Rosneft for about $9.1 billion to become third largest shareholder of the world's biggest listed oil firm.
CEFC China has also become one of China's biggest investors in central Europe. Since 2015, the company has acquired a slew of assets in the Czech Republic, including the country's top soccer club, Slavia Prague, a controlling interest in Prague's J&T Finance Group, one of the country's oldest breweries and other properties.
CEFC China Energy's headquarters in Shanghai. Photo: IC
The company said it has signed oil investment agreements or done deals in Kazakhstan, Qatar, Russia, Chad, Angola and Abu Dhabi. It also last year proposed a $100 million acquisition of U.S. financial company Cowen Group. But that bid was later dropped due to concerns from the Committee on Foreign Investment in the United States (CFIUS), the body that reviews cross-border deals for national security concerns.
Now the investigation of Ye has cast more uncertainties on how CEFC China's deals will move ahead. Sources close to the matter said the company has been seeking funding to proceed with the Rosneft deal, but financial institutions are hesitant.
CEFC China came under scrutiny in November after the U.S. detained two former senior government officials from Hong Kong and Senegal over corruption and money laundering allegations. The U.S. Justice Department accused Patrick Ho, former Hong Kong Secretary of Home Affairs, for bribing African officials on behalf of a private Chinese company for business interests. Although the department didn't name the company, public records indicated that Ho was listed as representing CEFC China's China Energy Fund in 2011.
Caixin learned that in September Chinese authorities have requested Ye's assistance in a graft investigation of Wang Sanyun, the former party chief of northwestern China's Gansu province, who was detained on corruption charges in July.
Wang had backed CEFC China's acquisition of Shenzhen-listed Huaxing Chemical Industry Co. in 2012, a deal which later helped CEFC China raise at least 2 billion yuan ($315.9 million), Caixin learned from sources close to the matter.
Rise of an empire
Ye held his first interview with Caixin last April at his company's Shanghai headquarters. The main building, called simply the Chairman Building, looks like a small replica of the Great Hall of the People in Beijing, which plays host to many high-level government events.
A number of senior company executives waited with the Caixin reporter to attend the interview, and Ye himself was less than welcoming due to Caixin's probing nature.
"You are very tricky," he said. "We don't like it, but I understand it. Otherwise I wouldn't meet you."
During the interview, the simply-dressed Ye said he has kept a low-profile to avoid mingling too much with others. "There are so many provincial governors and party secretaries that want to meet me," he said.
There is little public information about how Ye initially acquired the money needed to invest in and grow CEFC China. The company website said that he moved to Hong Kong in 1999 and later returned to the mainland as an overseas investor.
Sources close to Ye said he started a small trading business dealing in wood-products and fire equipment in his hometown in the southern province of Fujian in 2002.
Business registration records showed that in 2005, Ye set up Fujian CEFC Holdings with a core business of financial services. In 2009, CEFC Shanghai was established as a commodities trader.
In an interview with Fortune in July 2016, Ye said he ventured into the oil business after buying oil assets in 2006 at an auction. The assets had been owned by businessman Lai Changxing, who was convicted of bribery and of running a large smuggling ring
But in the more recent interview with Caixin, Ye contradicted that account. He said the auction was not successfully held and that CEFC China obtained the oil license from the Fujian government.
CEFC China's business expansion began when it moved its headquarters to Shanghai, China's financial hub in 2009. Sources from the company said CEFC China has mainly relied on letters of credit — a short-term financing instrument for traders — to obtain bank loans to support its early business expansion.
CEFC China used complicated trade arrangements among affiliated companies to obtain credit and expand its leverage, said one source. Such practices fall in a regulatory gray zone, but many private companies used them to raise funds around 2009 when commodity and property markets were booming, Ye said in the 2017 interview with Caixin.
CEFC China has benefited from a wide range of affiliated companies it partnered with over the years. Most were controlled by Ye's business partners and operated independently, but have complicated business links with CEFC China. A 2011 article published in a CEFC China internal publication cited Ye as saying that "more than 100 bosses" are supporting CEFC China's business with capital and assets.
CEFC Shanghai, the main business arm of CEFC China, reported that 27% and 14% of its total annual revenue in 2012 and 2013, respectively, came from transactions with affiliated firms. Massive connected-party transactions with affiliates quickly boosted the company's revenue. Between 2009 and 2016, CEFC Shanghai's annual revenue surged from 335 million yuan to 247.3 billion yuan. In 2015, CEFC Shanghai accounted for nearly 80% of CEFC China's total revenue.
Some of the trade deals were exaggerated to obtain bank loans, a former CEFC China executive told Caixin.
"Sometimes a shipment of goods would be stored in the port for over one year without moving, but the documentation might show that up to 100 transactions occurred," said another source familiar with the industry.
Ye denied any wrongdoing in the 2017 interview. Doubts about the business have been fueled by CEFC Shanghai's low profitability, including a profit margin below 3% in recent years, according to company documents, despite its recent revenue surge.
As of June 2017, CEFC Shanghai had total assets of 160 billion yuan and liabilities totaling 116.7 billion yuan, according to data released by the company.
Murky business
CEFC China struggled in 2011 and 2012 when several of its affiliated firms were hit by a debt crisis brought about by the global commodity market crunch of that time. Since late 2012, CEFC China has cut ties with some of its debt-ridden partners and turned to state-owned enterprises (SOEs) as trading partners.
Several major SOEs that earlier sought to expand their revenue became CEFC China partners, including power giant China Huadian Corp., Fujian Energy Group and Huainan Mining Group. Under the partnerships, the SOEs offered loans or guarantees for CEFC China to get bank loans. In exchange, the SOEs got trade deals with CEFC China's subsidiaries and affiliated firms, according to former company executives interviewed by Caixin.
Similar to the trade finance it facilitated with affiliated firms, the partnerships with SOEs used complex trade arrangements to help both CEFC China and its partners boost revenue figures on their books. For instance, CEFC China's business with Huainan Mining totaled 20 billion yuan in 2016, nearly half of the miner's total revenue that year. Huainan Mining declined to comment on the matter.
In November 2016, Du Chuanzhi, chairman of leading state port operator Rizhao Port Group, was detained by the party's anti-graft watchdog. Investigators said Du and other executives were probed for illegally extending loans and working with private companies to falsify trade deals. Rizhao Port has been a trading partner of CEFC China since 2013. That year, the port operator lent 4.3 billion yuan to CEFC China in receivables and prepayments.
In his interview with Caixin in 2017, Ye denied that CEFC China has falsified trade deals with partners for loans but said the company will cease such business operations entirely.
Bigger ambition
Since 2014, CEFC China has set its sights on the financial and overseas energy sectors. In August 2014, it acquired Shanghai-based Fortune CLSA Securities for 1 billion yuan and renamed it CEFC Shanghai Securities. It has also recruited a large number of financial executives from state-owned banks and other financial institutions.
In October 2014, CEFC China signed a contract to acquire 30% of Prague's J&T Finance Group, becoming the first private Chinese company to own a European bank. The following year, the company announced $1.5 billion of investments in the Czech Republic.
J&T was to become a key part of CEFC China's business transformation outlined by Ye, focusing on financial services and energy. Ye said the company would gradually spin off trade and other businesses to focus on these new areas.
"Our first-phase goal is to enter the high-end of the energy and financial business," Ye said in the 2017 interview with Caixin.
CEFC China has also picked up its pace on the offshore energy front, acquiring 51% of KMG International for 800 million euros ($977.13 million) in December 2015. KMG International is a refining subsidiary of Kazakhstan's national oil company, KMG Kashagan B.V.
In 2016, CEFC China spent $110 million for 35% of oil blocks in Chad. And in February 2017, it announced the purchase of $900 million in oil and gas assets of Abu Dhabi National Oil Co. (ADNOC).
The company says it has established a complete oil business chain from refining to sales in Europe and is building networks in the Middle East, Africa and Asia.
The Rosneft deal is CEFC China's biggest investment and a key component of its business strategy of shifting focus to the global energy sector. Under the deal, Rosneft will sell up to 13 million tons of crude annually to CEFC China starting this year and later increase the amount to 42 million tons. Along with the deals in Chad and Kazakhstan, CEFC China will have a stake in nearly 80 million tons of oil production, Ye said in his earlier Caixin interview.
But many of the deals so far have been slow to materialize. In March 2016, CEFC China said it planned to increase its stake in J&T to 50%, but the transaction is still on hold pending lengthy regulatory approvals from several countries where J&T has business. The latest updated public data showed that CEFC China's stake in J&T stood at 17.9%. Meanwhile, its acquisitions of KMG International and Rosneft also have yet to be completed.
The investigation of Ye will bring more uncertainty to the Rosneft deal. Sources close to the matter said CEFC China planned to pay $4 billion using its own cash, with the rest coming from bank loans, including from the China Development Bank. But domestic institutions have grown cautious about the deal, the sources said.
Ye's assistant, Sun Yunfeng, told Caixin that the company is in talks with Russian bank VTB for a two-year bridge loan. VTB didn't respond to Caixin's request for an interview.
"CEFC China is eagerly searching for money … But the Chinese government has remained silent and domestic banks are hesitant," said a source close to the matter. "If CEFC China can't get the money to make the transaction by the end of February, the deal is likely to fall apart and CEFC China may face fines."
Additional reporting by Yu Ning and Huang Kaixi.
You've accessed an article available only to subscribers
VIEW OPTIONS
Share this article
Open WeChat and scan the QR code