Swiss Bank Faces Suspension From Work on Hong Kong IPOs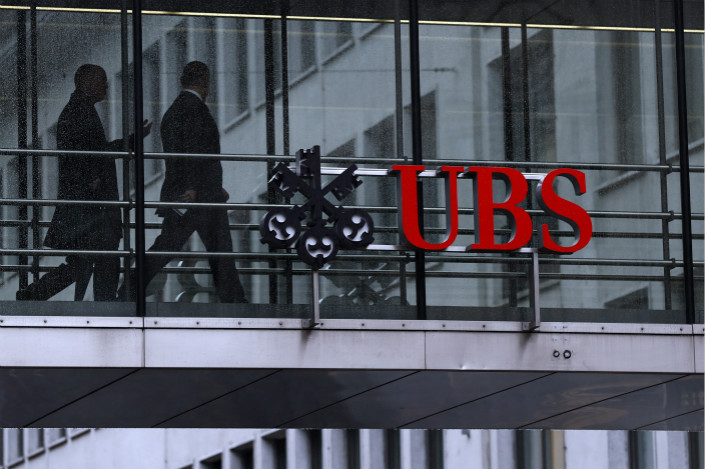 Employees pass between offices at the UBS headquarters in Zurich, Switzerland on Jan. 22. Photo: VCG
The Hong Kong authorities have decided to fine the brokerage arm of Swiss bank UBS Group HK$119 million ($15.18 million) and suspend the company from sponsoring an initial public offering (IPO) in the city for 18 months.
The penalty is the latest result of an ongoing investigation by Hong Kong's securities regulator into banks that sponsor IPOs there.
The Hong Kong Securities and Futures Commission (SFC) has been "conducting investigations into UBS's role as an sponsor on certain IPOs listed on the Hong Kong Stock Exchange," the bank said in its 2017 annual report, dated Friday.
The bank didn't identify the case linked to the SFC's investigation, nor did it provide further explanation about the suspension or fine, according to the annual report. However, it did say it was appealing the decision.
People familiar with the matter told Caixin that the SFC's decision has yet to be finalized pending a legal review. Until then, UBS can continue to sponsor IPOs.
Neither UBS nor SFC commented on the ruling.
Over the last few years, Hong Kong's financial regulator has been increasingly scrutinizing IPO listings in the name of investor protection. Last year, the watchdog announced that it was investigating 15 sponsors of Hong Kong IPOs. In January 2017, it sued UBS for its role in the listing for China Forestry Holdings. The logging company went public in Hong Kong in 2009 and later collapsed due to fraudulent accounting. It was delisted from the Hong Kong Stock Exchange on Feb. 24, 2017.
The SFC had informed UBS in 2016 that it intended to take action against the bank and some of its employees for their work on several IPOs, which could "result in financial ramifications for UBS, including fines and obligations to pay investor compensation, and suspension of UBS's ability to provide corporate finance advisory services in Hong Kong for a period of time," the bank said.
Amid the regulatory clampdown, UBS stepped back from sponsoring IPOs. In 2015, UBS sponsored more IPOs than any other bank in Hong Kong, according to market data provider Dealogic.
Last year, UBS did not sponsor a single IPO in the city, the bank's global investment banking head, Andrea Orcel, told Caixin at a media round table in Septembe. Orcel explained that the money it could make from sponsoring IPOs was no longer worth the risk.
U.K.-based Standard Chartered, which also came under investigation for the China Forestry IPO, abandoned its Hong Kong equities business in 2015, when it laid off more than 100 workers and returned its license to be a qualified Hong Kong IPO sponsor to the SFC.
Contact reporter Leng Cheng (chengleng@caixin.com)
You've accessed an article available only to subscribers
VIEW OPTIONS
Share this article
Open WeChat and scan the QR code