Alipay Racks Up More Penalties for Rule Violations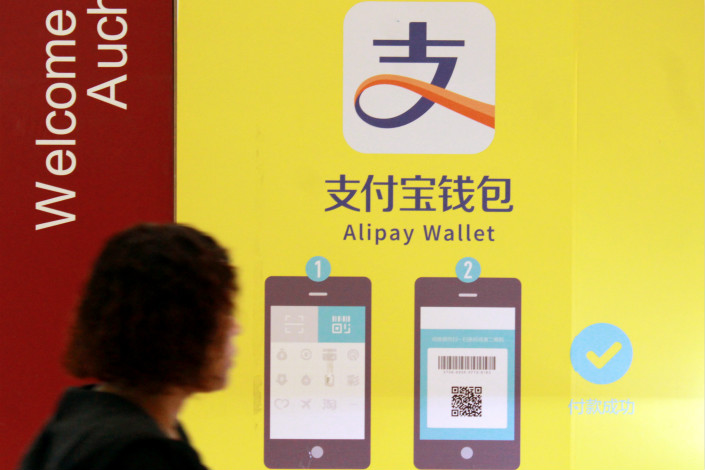 Alipay, an affiliate of e-commerce giant Alibaba, has been fined 180,000 yuan for violating customer privacy protection and product promotion rules. Photo: VCG
Alipay, China's largest mobile payment provider and an affiliate of e-commerce giant Alibaba Group, has been fined yet again, this time for misleading advertising and failing to protect its customers' privacy.
The company was slapped with a 180,000 yuan ($28,545) penalty for violations found during an inspection last year by the Hangzhou branch of China's central bank as part of an ongoing campaign by regulators to step up enforcement of consumer protection laws and stop companies from abusing their positions as holders of customer data.
In a statement on Sunday, Alipay said that it had taken corrective action to resolve the issues highlighted in the inspection and that regulators had acknowledged the measures it took.
News of the punishment comes just two months after China Forex, a journal backed by the foreign-exchange regulator, reported that Alipay and rival Tencent, which operates the Tenpay platform, were each fined 600,000 yuan for violating regulations covering cross-border foreign exchange payment services. During inspections in the first half of last year, authorities uncovered problems such as inadequate verification of customers' identity, exceeding allowed business scope and transaction limits, and failure to provide and report business information related to the transactions, the journal said.
Alipay processed around 54% of China's 37.7 trillion yuan in third-party mobile payment transactions in the fourth quarter of 2017, according to Analysys International estimates. The new fine represents the third time the company was publicly censured for offenses uncovered last year including failure to comply with real-name registration rules by not requiring enough of their customers to prove their identities. It was fined 30,000 yuan by the Shanghai branch of the central bank for that violation.
In the latest transgression publicized by the Hangzhou branch of the People's Bank of China, Alipay failed to comply with the principle of collecting the minimum amount of information necessary for the purposes of the service it was offering. It also improperly used personal information and did not sufficiently protect customers' right to know and their right to choose, the investigation found.
The platform used misleading content in its promotional video campaign and official social media Weibo account and did not properly calculate the number of complaints, leading to inaccuracies in data disclosure, according to the regulator.
Violations related to laws on protecting consumer rights such as misleading promotional material and personal data protection resulted in fines of 150,000 yuan, while another 30,000 yuan penalty was levied for a breach of regulations on the provision of payment services by nonfinancial institutions, it said.
Alipay and other Chinese financial companies face even tougher challenges ahead as they fall within the remit of new regulations on data protection implemented by the governments of other countries.
The General Data Protection Regulation (GDPR), which the European Parliament approved last year and is slated to take effect on May 25, represents the most sweeping and strict international data protection measures so far. The new rules will apply to any provider of goods and services to people living in the EU, and noncompliance could lead to a fine of 20 million euros ($23.9 million) or 4% of a company's annual revenue, whichever is greater.
Contact reporter Liu Xiao (liuxiao@caixin.com)
You've accessed an article available only to subscribers
VIEW OPTIONS
Share this article
Open WeChat and scan the QR code