Buddhists Win Round in Fight Against Commercialization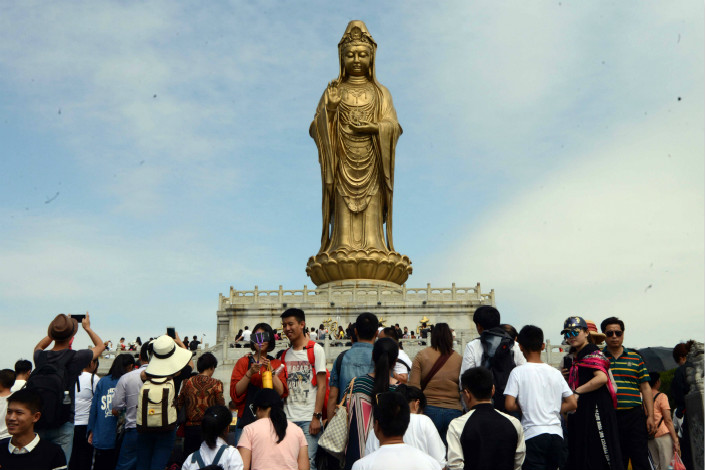 Tourists visit Putuoshan Mountain, one of Buddhism's four sacred mountains in China, during the National Day holiday in October. Photo: VCG
A travel agency in East China's Zhejiang province is discovering that some things are too sacred for earthly matters like the nation's booming tourism industry.
That lesson is being learned by a tourism company associated with Putuoshan, one of China's four sacred Buddhist mountains, which has been accused of trying to commercialize the well-known name in the run-up to a planned IP0.
The issue casts a spotlight on the broader commercialization of well-known destinations in China over the last decade, as local governments and entrepreneurs rush to cash in on the nation's millions of recently-minted tourists hungry for big-name attractions.
The Putuoshan Tourism Development Co. applied to make an initial public offering (IPO) in June, seizing on its well-known name that conjures pictures of the famous scenic mountain rising from the sea along China's east coast in the city of Zhoushan. The company had filed an updated prospectus for its listing plan at the start of this month, catching the attention of the Buddhist Association of China, which posted a complaint on its website last week.
Titled "Who Is Commercializing Buddhism — Worries Surrounding the Putuoshan IPO," the post complained the listing was "bundling" Buddhism with common and commercial elements, damaging the reputation of the 2,500-year-old religion.
It pointed out that such actions go against an opinion published in 2012 by the State Administration for Religious Affairs, which advised against the commercialization of religious sites through issue of stock, formation of foreign joint ventures, awarding of dividends and other methods. The agency released another policy last year explicitly forbidding Buddhist or Taoist venues from being included in publicly listed companies or from engaging in raising capital.
Putuoshan Tourism Development Co.'s assets are mostly tourism-related, and most of its money comes from transport-related services. But that didn't stop its controlling shareholder, the city of Zhoushan, from weighing in on the matter.
Just a day after the Buddhist association posted its complaint, the city's state-owned asset commission posted its own recommendation that the company applying for the listing drop the Putuoshan element of its name. That opinion carries extra weight because the state-asset commission, through one of its many units, holds about 72% of the company's shares.
Despite the victory for people who worry about commercialization of religion, similar tourist service companies continue to use various forms of China's other three sacred Buddhist mountains in their names. Two of those, Emei Shan Tourism Co. Ltd. and Anhui Jiuhuashan Tourism Development Co. Ltd., are already listed. A similar company associated with the fourth mountain, Wutaishan, has also expressed a desire to go public.
Contact reporter Yang Ge (geyang@caixin.com)
You've accessed an article available only to subscribers
VIEW OPTIONS
Share this article
Open WeChat and scan the QR code