Update: China Huarong Chairman Falls Under Graft Probe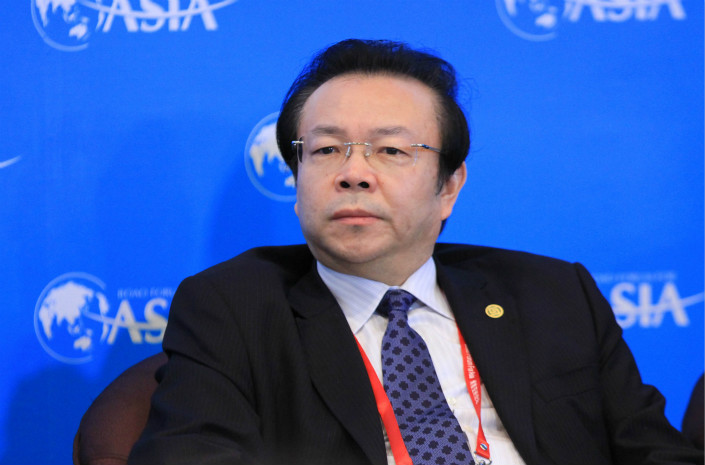 Lai Xiaomin. Photo: CFP
*Investigation is related to company's financial backing of a electrolytic manganese producer in the Ningxia Hui autonomous region
*Sources say Lai Xiaomin's successor as China Huarong party secretary has already been decided on
(Beijing) — China's top graft-buster is investigating the head of China Huarong Asset Management Co. Ltd., the country's largest distressed-asset management company.
Lai Xiaomin, China Huarong's chairman and party secretary, is being investigated on suspicion of "serious violations of party discipline and law," the Central Commission for Discipline Inspection (CCDI) said in a statement late Tuesday, using a phrase that usually refers to corruption. The CCDI did not explain the reason for the probe.
However, Caixin learned that the investigation is related to China Huarong's financial backing — sometimes provided in violation of regulations or without going through proper protocols — of a privately owned, mysterious electrolytic manganese producer in Northwestern China's Ningxia Hui autonomous region. This financial backing allegedly served to cover up the state-owned financial conglomerate's investment failures.
For example, China Huarong last year arranged a structured financing deal worth more than 20 billion yuan ($3.2 billion) for Ningxia Tianyuan Manganese Industry Group. About 10 of China Huarong's subsidiaries together provided over 10 billion yuan in a junior tranche of capital, which has a higher risk profile as it would be the first to be exposed to any potential losses.
"The deal caused shock waves within China Huarong because Tianyuan Manganese did not offer any collateral or guarantees," a source with knowledge of the matter told Caixin. "The lending did not comply with any regulations and forced several subsidiaries to overstep their authority."
In March, a wholly owned subsidiary of one of China Huarong's joint investment partners got together with two other investors in March to form a private equity fund with the goal of raising up to 20 billion yuan to restructure a troubled property developer. The real estate firm, which has had several defaults on its bonds in recent years, borrowed several billion yuan from China Huarong with little collateral. Ningxia Tianyuan Manganese Industry Group has a 16.39% stake through a subsidiary in the China Huarong joint investment partner involved in the restructuring deal.
Lai, 56, rose through the ranks of the central bank and the China Banking Regulatory Commission before joining China Huarong in 2009 and being appointed chairman and party chief in 2012. In an earlier media interview, Lai said he would prefer a political career in the regulatory agency rather than heading what he described as a "marginalized" enterprise like China Huarong. But now that he was at Huarong, he would "stay and enjoy it," he said.
Wang Zhanfeng, the director of the Guangdong province branch of China's banking regulator, will succeed Lai as China Huarong's party secretary, sources told Caixin on Wednesday. A successor for Lai's position as chairman will be nominated by the company's board of directors, the sources said.
Sources also told Caixin that Li Xin, formerly vice party secretary and chief supervisor of China Oriental Asset Management Corp., will become the company's new president, which had been unfilled.
Risky expansion
Lai has been known for his boldness in leading Huarong's business development.
Established in 1999, China Huarong was one of four state-owned asset management companies (AMCs) created to take over bad loans from the big four state-backed banks and recoup as much money as possible from the assets by selling or restructuring them or applying other methods of recovering the debt. The other three AMCs are China Cinda Asset Management Co., China Oriental Asset Management Corp. and Great Wall Asset Management Corp.
Over the past years, the four AMCs have expanded their business reach aggressively into a wide range of financial sectors. In October 2015, China Huarong raised HK$21.8 billion ($2.81 billion at the time) in an initial public offering in Hong Kong. The company has since accelerated its expansion into investment, loan and property businesses, with some of its subsidiaries getting involved in lending disguised as equity investment, a risky practice that has been targeted in the latest financial regulatory crackdown campaign.
China's financial regulators have tightened scrutiny of AMCs as part of the country's broader campaign to rein in financial risks. In December, the banking regulator released new guidelines for the country's four national AMCs, clarifying requirements about their capital adequacy ratio, leverage ratio and risk control.
Contact reporters Han Wei (weihan@caixin.com) and Fran Wang (fangwang@caixin.com)
You've accessed an article available only to subscribers
VIEW OPTIONS
Share this article
Open WeChat and scan the QR code

Caixin China Biz Roundup: Jack Ma Resurfaces on the Mainland