CEFC China Unit Plunges in Trading on Debt Concerns, Probe of Founder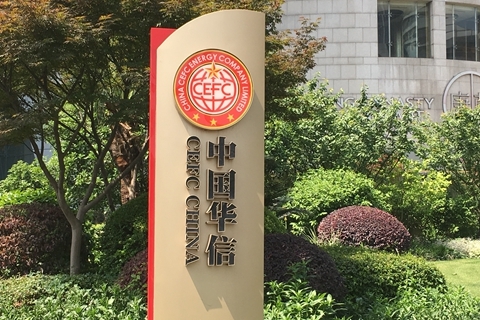 Private energy conglomerate CEFC China has scrambled after founder Ye Jianming was detained for investigation. Photo: VCG
A Shenzhen-listed unit of CEFC China Energy lost almost 2 billion yuan ($316 million) in market capitalization in two days as trading resumed following a suspension of more than a month. Investors are concerned over the embattled conglomerate's heavy debt and the January arrest of the company's founder.
Shares of CEFC Anhui International Holding, which is principally engaged in fertilizers, agricultural chemicals and energy businesses, dropped by the 10% daily limit within one hour after trading started for a second day on Thursday. A sixth of the company's value evaporated.
Trading in CEFC Anhui, which is controlled by CEFC China's main business subsidiary, CEFC Shanghai International Group, was suspended March 19 following reports that founder Ye Jianming had been detained by Chinese authorities. Caixin learned that Ye was detained in January. CEFC China has since stepped up its borrowings from banks and other creditors.
The news has sparked a series of downgrades of CEFC China's units, leading to the abandonment of a bond sale and the freezing of assets by several courts. Investor concerns have mounted over the company's financial situation and the outlook of several of its overseas deals, including the proposed $9 billion purchase of a stake in Russian oil giant Rosneft.
CEFC Anhui said in late March that all 1.38 billion shares held by its parent company have been frozen by several courts. The shares represent almost 61% of CEFC Anhui.
Data from the Shanghai Stock Exchange showed that CEFC Shanghai's debt balance increased in the first month of 2018 by 16.2 billion yuan, or 16%, to a total of 114.5 billion yuan.
CEFC Shanghai has repayment obligations on 13 bond issues totaling 29.6 billion yuan, including 10 billion yuan to be repaid this year, according to data from financial information provider Hithink Flush Information Network. The maturity of 2 billion yuan of bonds will come on May 21.
In early April, CEFC Shanghai dropped a plan to sell as much as 5 billion yuan of bonds to repay other debt and supplement working capital.
A group of more than 10 creditors of CEFC Shanghai, including state-owned China Construction Bank, are set to meet in May. They are asking CEFC Shanghai to clarify the company's assets and liabilities. The creditors also require that they approve any potential sale of assets.
CEFC China is considering selling its real estate holdings and a brokerage, according to a Bloomberg report. Reuters reported this week that China's state-owned conglomerate Citic Group is looking at CEFC's oil assets in Abu Dhabi.
CITIC recently confirmed that it is in talks to take a stake in CEFC China, though Citic Chairman Chang Zhenming said the two companies are only in "preliminary contact."
Zhuang Jianzhong, vice director of CEFC China's international research unit, said Wednesday on the sidelines of an energy conference in Shanghai that CEFC China may cut half of its 30,000-strong workforce.
The uncertainties have cast a shadow over CEFC China's planned purchase of a 14% stake in Russian oil giant Rosneft. But citing Zhuang, Bloomberg reported that the deal remains viable.
You've accessed an article available only to subscribers
VIEW OPTIONS
Share this article
Open WeChat and scan the QR code