CEFC China Chairman Steps Down, Czech Presidential Office Says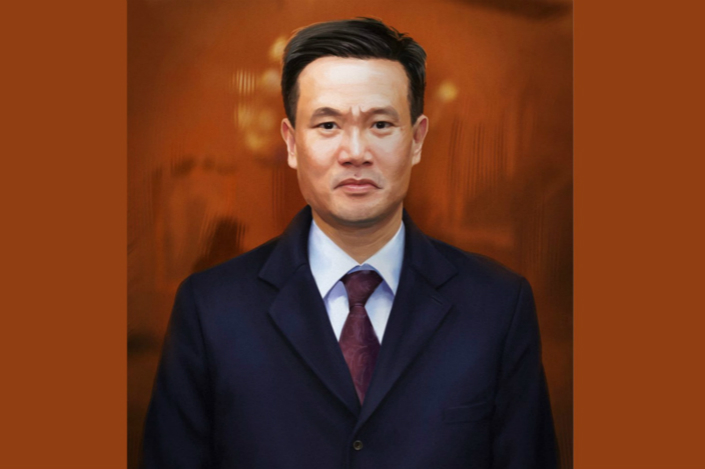 Caption: A Czech delegation learned about the investigation of Ye Jianming from Chinese officials and CEFC China representatives during the delegation's visit to Shanghai last week. Photo: Caixin
* Founder Ye Jianming is stepping down from management and shareholding roles
* CEFC China has withdrawn its request to the Czech central bank to further raise its stake in J&T Finance Group to 50%
The founder and chairman of CEFC China Energy, China's largest private energy conglomerate, is under investigation and stepping down from his management and shareholding roles in the company, the Czech Republic's president's office said.
A Czech delegation learned about the investigation of Ye Jianming, who is also an adviser to Czech President Milos Zeman, from Chinese officials and CEFC China representatives during the delegation's visit to Shanghai last week. Ye is being investigated on suspicion of breaking the law, the Czech president's office said in a statement.
Caixin reported early this month that Ye had been placed under investigation. CEFC China denied the report at the time.
CEFC China has made a wide array of investments in the Czech Republic in recent years, most notably a major stake in local financial giant J&T Finance Group. The investments also include soccer team SK Slavia Prague, travel company Travle Service, a brewing group, and several properties.
CEFC Europe, a Czech subsidiary of CEFC China, said in a separate statement on Monday that Ye will no longer be a shareholder or have a management role in the Czech company and its parent. The statement quoted Marcela Hrda, executive vice president of CEFC Europe, as saying that "a new shareholder" has emerged as CEFC China plans a change in its shareholding structure.
"CEFC Europe has been informed about the entry of a new shareholder and considers it a great opportunity and advantage as it is one of the strongest and most prestigious Chinese companies with rich international experience," the statement said.
Chinese authorities are not investigating CEFC China itself, the statement said.
Less than 10 years after Ye, 41, set up CEFC China, he had transformed it from a little-known fuel trader to a fast-expanding oil and finance giant, amassing assets in Europe, the Middle East, Central Asia and Africa. Last year, CEFC China raised eyebrows by agreeing to buy a $9 billion stake in Russia's state-controlled oil major Rosneft, making CEFC China the third-largest shareholder in the world's biggest listed oil firm.
But most of CEFC China's proposed deals have progressed slowly. For instance, CEFC China in 2014 announced an investment of 643 million euros ($791 million) for 30% of Prague-based J&T and proposed raising the stake to 50% in 2016. But the most recent public records show that CEFC China holds only 17.9% of J&T.
Similarly, CEFC's $680 million purchase of a 51% stake in a then-Romanian national oil developer, now named KMGI and owned by Kazakhstan's national KazMunayGas, was greenlighted by Romania, but still required approval from the European Union. In 2016, the company also paid $100 million for a 35% stake of exploration rights for an oil and gas block in Chad, but it has yet to exploit those rights.
CEFC Europe said in the Monday statement that due to the upcoming change in the shareholding structure, CEFC China has pulled its request with the Czech central bank to further raise its stake in J&T to 50%.
Ye has mostly stayed out of the public eye. Yet he boasts some extraordinary titles, such as special honorary adviser to the United Nations General Assembly, and honorable chairman of well-known think tank Club of Rome.
Sources close to Ye said he started a small trading business dealing in wood products and fire equipment in his hometown in the southern province of Fujian in 2002.
Business registration records showed that in 2005, Ye set up Fujian CEFC Holdings with a core business of financial services. In 2009, CEFC Shanghai was established as a commodities trader, which is now the main financing arm of CEFC China.
In an interview with Fortune magazine in July 2016, Ye said he ventured into the oil business after buying oil assets in 2006 at an auction. The assets had been owned by businessman Lai Changxing, who was later convicted of bribery and running a large smuggling ring.
But in the more recent interview with Caixin, Ye contradicted that account. He said the auction was not successfully held, and that CEFC China obtained the oil license from the Fujian government.
CEFC China's business expansion began when it moved its headquarters to Shanghai in 2009 and began an overseas investment spree in 2015. Sources from the company said CEFC China has mainly relied on letters of credit — a short-term financing instrument for traders — to obtain bank loans to support its early business expansion.
The company ranks No. 222 on the Global Fortune 500 list, with $43.7 billion in revenue in 2017, rising seven spots from the previous year.
News about the probe on Ye has fueled concerns over CEFC China's operations and sparked a selloff of the company's bonds. Major domestic rating agencies, including China Chengxin International Credit Rating Co. and China Lianhe Credit Rating Co., have downgraded CEFC China's major listed unit.
Contact reporter Han Wei (weihan@caixin.com)
You've accessed an article available only to subscribers
VIEW OPTIONS
Share this article
Open WeChat and scan the QR code