China Sees First Quarterly Current Account Deficit in Nearly 17 Years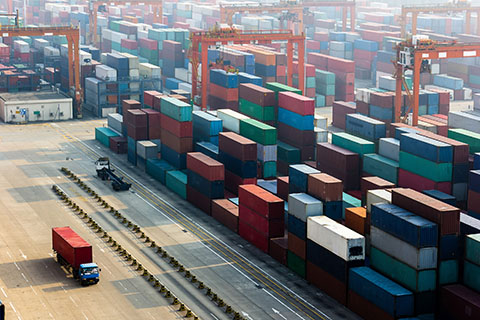 China has run a current account surplus on an annual basis for the past 25 years. Photo: VCG
China posted its first quarterly current account deficit in nearly 17 years as top officials engage in trade talks with the United States, which is pressing the world's top exporter to reduce its huge trade surplus.
China saw a current account deficit of $28.2 billion in the first quarter this year, the first quarterly deficit since the second quarter of 2001, data released Friday by the State Administration of Foreign Exchange (SAFE) showed.
The goods trade still ran a surplus of $53.4 billion, but that was down 35% from a year ago, while the service trade posted a deficit of $76.2 billion, the biggest quarterly deficit since 1998, the data showed.
China had a surplus of $28.2 billion in its capital and financial accounts, including a $100 million deficit in its capital account.
The SAFE attributed the rare deficit in the current account to seasonal factors and the rapid growth in goods imports. Goods exports grew by 11% from a year earlier, while imports rose by 21%.
"Faster imports growth pushed China's goods trade to a more-balanced level. The first-quarter goods-trade figure is usually the lowest of the year due to the impact of the holiday seasons," a SAFE spokesperson said Friday at a news conference, adding that the current account balance would stay within a reasonable range for the whole year.
But economists expect a current account deficit could be the new norm for China against the backdrop of intensifying trade friction with the U.S.
China has run a current account surplus on an annual basis in the past 25 years and "people tend to take China's surplus for granted," said Ding Shuang, the chief China economist with Standard Chartered.
He expects the trade talks with the U.S. will have an impact on China's expansion in imports and opening in service sectors, which could further narrow China's current account surplus.
China has been moving toward a shift away from its reliance on exports for growth toward domestic consumption. Since the 2008 financial crisis, China's current account surplus has been steadily shrinking.
Chin's overall trade and current account surpluses have fallen significantly as a percentage of its GDP since 2007. China's current account surplus declined from 9.9% of GDP in 2007 to 1.3% in 2017, according to the SAFE.
Standard Chartered recently lowered its estimate on China's current account surplus as a percentage of its GDP. It now expects the ratio in 2018 will be 0.5 to 1% in 2019, down from previous estimates of 1.5% to 1.6% for next year.
You've accessed an article available only to subscribers
VIEW OPTIONS
Share this article
Open WeChat and scan the QR code