Top Finance Official Being Probed for Corruption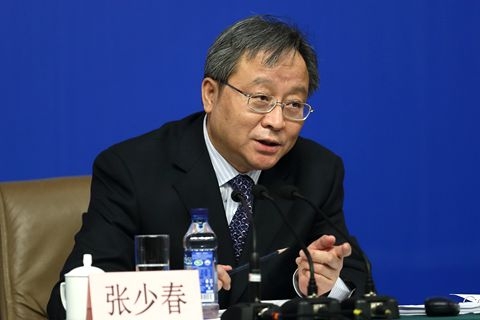 Finance Vice Minister Zhang Shaochun is being investigated for "serious violations of party discipline and law." Photo: VCG
China's longest-serving finance vice minister is under investigation for alleged corruption, two years after rumors of his misconduct surfaced.
Zhang Shaochun is being probed for "serious violations of party discipline and law" — a common euphemism for bribery, embezzlement and influence peddling — according to a joint statement released by China's two top anti-graft bodies, the Central Commission for Discipline Inspection (CCDI) and the National Supervisory Commission.
Neither agency provided details of the investigation.
Zhang's fall from grace did not come as a surprise to many within the ministry. Rumors of his alleged misconduct have been circulating since July 2016, when CCDI inspectors conducted routine checks for violations of clean-government rules, according to several people close to the ministry.
In October 2016, the inspection team warned the ministry about management problems and its lack of transparency. The team said at that time that it had submitted information regarding certain officials to the CCDI and the Communist Party's organization department for further investigation, but did not call out Zhang by name.
But CCDI inspectors had in fact received written tips about his alleged irregularities, sources said. One source who asked not to be named said the "downfall of Ministry of Finance officials is triggered by no more than violations of rules regulating government-backed projects, distribution of public funds and promotion of personnel."
Some of the whistleblowers were Zhang subordinates who resented that he had not given them the promotions he had promised, sources said.
Zhang, 60, is a large man and sometimes "behaved like a mafia figure," sources said. A graduate of Dongbei University of Finance & Economics (DUFE) in Dalian, Liaoning province, Zhang was the lead figure in the so-called "DUFE clique" within the ministry, which wielded significant power in matters such as promotions, another source said.
Signs of trouble for Zhang began to emerge two years ago, when he was not transferred to the Standing Committee of China's top legislature, the National People's Congress, as his predecessors had been as they itched toward retirement age. Such transfers also mean promotion to a ministerial rank.
Zhang was not also elected as a delegate to the Communist Party's 19th National Congress last year, nor as a deputy to the National People's Congress when the top legislature convened for its annual meeting in Beijing in March.
"All these were troubling signs for him because they indicated that Zhang failed to pass official vetting for the prestige" positions, said one person with knowledge of the matter.
Zhang spent his entire career at the ministry and over 11 years as a vice minister. He is the third vice minister of finance to face corruption allegations.
A vice minister from 2000 to 2008, Zhu Zhigang, who was appointed a member of the Standing Committee of China National People's Congress, was sentenced to life in prison in 2010 for taking 7.4 million yuan (about $1.1 million at the time) in bribes during his tenure. Wang Baoan, a vice minister from 2012 to 2015 who later became China's top statistician, was sentenced to life in prison last year over bribery involving more than 150 million yuan ($23.6 million).
Contact reporter Li Rongde (rongdeli@caixin.com)
You've accessed an article available only to subscribers
VIEW OPTIONS
Share this article
Open WeChat and scan the QR code

China Stories: The Rural Hardship Behind the Mine Murders That Shocked China