Plan to Ban Online Sales of Prescription Drugs on Hold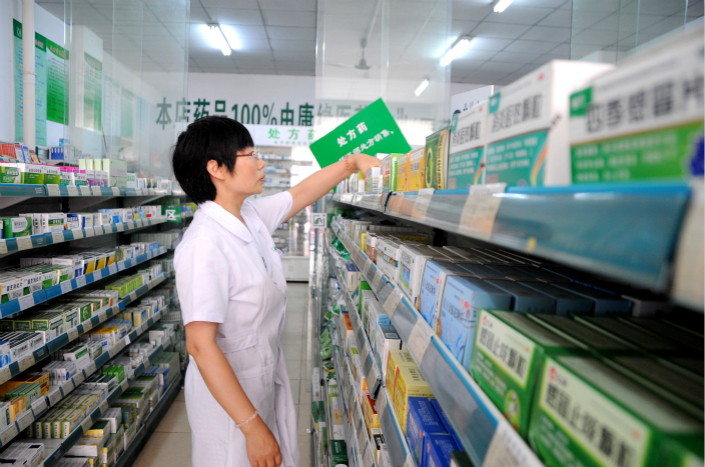 An employee of a drugstore in Lianyungang, Jiangsu province, sorts medicines on July 1. Photo: VCG
The government may scrap or scale back proposals to ban online sales of prescription medicines after two drafts of the plan garnered strong opposition, a source close to the drugs regulator told Caixin.
The U-turn could boost dozens of companies who sell on internet platforms such as Alibaba Group Holding Ltd.'s Tmall and JD.com Inc.
Although no official decision has been made, debate continues to rage within policymaking circles over the proposal. The authorities, including the regulator formerly known as the China Food and Drug Administration (CFDA), are "studying the possibility of allowing online sales of prescription drugs and to what extent it should be allowed," said the source, who declined to be identified.
The government has been tightening its regulation over the sale of medicines, both in hospitals and over the internet, for several years while also trying to balance its aim of lowering drug costs.
The sale of prescription drugs over the internet is a legal gray area. In November, the CFDA issued a draft regulation that proposed prohibiting sales of prescription medicines over the internet and also preventing online stores from even offering information about such drugs. After a period of public consultation that triggered a wave of objections, the watchdog — which in March was subsumed into the State Administration for Market Regulation in a major government shake-up — issued another draft in February, reiterating the plan for a ban. But the new proposals also triggered opposition, the person said.
New guidance on drug sales from the State Council in April appeared to weaken the government's resolve to block online sales. The document said that the sale of prescription drugs for common or chronic diseases could be delivered by third-party organizations other than hospitals or drug distributors, although it did not specify whether the rule covered online sales.
Plans to ban the sale of prescription drugs over the internet were a blow to the online medicine industry, which had been gearing up to gain more access to the multitrillion-yuan market, especially as the government has issued other policies to cut the price of drugs and break the stranglehold that hospitals hold over the industry.
A number of internet-based pharmacies embarked on expansion strategies after regulators offered positive signals in 2014 in a draft policy to allow qualified online pharmacies to sell prescription drugs. The pharmacies built up logistics and warehousing facilities and hired staff, but the policy hasn't yet taken effect, leaving them in limbo.
Nevertheless, online drug sales, including both prescription and over-the-counter ones, have soared as customers searched for medicines that were cheaper than those offered by hospitals, which have usually added hefty markups. Online sales jumped by nearly 88% to 28.6 billion yuan ($4.48 billion) in 2016 and will reach 140 billion yuan by 2022, according to Shenzhen-based consultancy Forward Industry Research Institution.
Hospitals have traditionally held a monopoly over prescription drug sales, giving them the power to impose markups on prices to boost revenue and the freedom to prescribe more-expensive brands. A campaign to scrap drug surcharges started last year.
Drug distributors and offline pharmacies, who opposed efforts in 2014 to open up the prescription drug market to online sales, continue to object, citing concerns that the move would lead to more counterfeit medicines being sold.
Xie Zilong, chairman of pharmacy chain LBX and an opponent of the policy, told Caixin earlier this year that he still believed it would lead to greater public safety risks because of the difficulties of regulating and monitoring fake drugs.
But Kang Kai, general manager of the medical care department of Alibaba's Tmall online marketplace, disputed that argument, pointing out that counterfeiting was also a problem in offline sales channels.
Zhong Yi, CEO of online drug retailer Yaofangwang, said tracking the distribution and sales record of drugs sold over the internet is easier and more transparent than it is for offline sales.
Wang Yue, a professor at the Institute of Medical Humanities at Peking University who has studied the subject, proposed opening the market gradually, initially allowing the online sale of certain medicines, such as those for chronic diseases. "We can't just beat (online sales) to death with a stick, but neither should we open the market in one fell swoop," Wang said.
Contact reporter Coco Feng (renkefeng@caixin.com)
You've accessed an article available only to subscribers
VIEW OPTIONS
Share this article
Open WeChat and scan the QR code