China Slams U.S. Move to Stem Flow of Science-Student Visas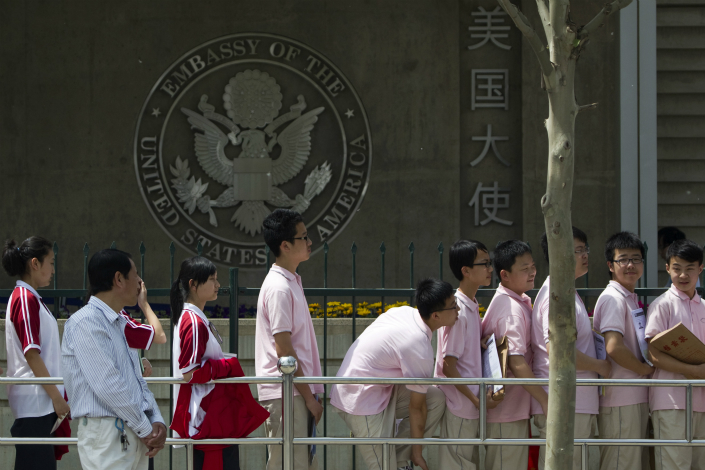 Students wait outside the U.S. Embassy in Beijing for their visa application interviews in May 2017. Photo: VCG
* Foreign media report U.S. will shorten the validity length of visas for Chinese students in some science, technology, engineering and mathematics fields
* China's Foreign Ministry said the U.S. should encourage the exchange of people rather than "doing the opposite"
(Beijing) — Reports of planned visa restrictions for Chinese citizens hoping to study in the U.S. have provoked criticism in China from both government officials and students caught in the crossfire.
Multiple news outlets, including The Associated Press, reported Wednesday (China time) that the U.S. State Department will shorten the validity length of visas for Chinese students in some science, technology, engineering and mathematics (STEM) fields. The State Department also will implement new clearance procedures on applicants deemed particularly risky.
The moves, which will take effect in June, are part of the Trump administration's efforts to counter what it sees as rampant intellectual property theft.
The news comes amid the U.S.' abrupt U-turn on tariffs against China, after the two countries' trade representatives reached what had appeared to be a breakthrough deal earlier in May. The two countries have also been engaged in recent months in a legal tussle involving the World Trade Organization over what the U.S. described as China's discriminatory intellectual property laws. The new U.S. visa policy will target areas that include robotics, aviation and high-tech manufacturing — all included in China's "Made in China 2025" plan, the AP reported, citing an unnamed U.S. official.
The U.S. State Department did not immediately return requests to confirm the reports.
China and the U.S. should facilitate "people-to-people exchanges" instead of "doing the opposite," China Foreign Ministry spokesperson Hua Chunying said in response to the reported visa policy changes at her regular news briefing Wednesday.
You Tianlong, a Chinese doctoral student at Arizona State University who specializes in immigration, said the restrictions "will make the life of Chinese STEM students much harder.
"Not only will F1 visas become hard to get, but also H1-B visas," You told Caixin, referring to visas for students and specialized workers respectively.
Chinese students were the largest group of international students in the U.S. in the 2016-17 academic year, accounting for nearly a third of foreign students, with a significant portion studying in STEM fields, according to figures from the U.S. Department of Homeland Security.
An editorial published by the state-run Global Times called the Trump administration's policy a sign of the U.S.' "insular streaks" after a relatively long period of openness to foreign students, and argued that "Washington should not monopolize knowledge."
But others felt that the new policy will simply formalize the difficulties already faced by many Chinese students who hope to attend U.S. institutions. Chinese STEM students applying for a visa already receive extra scrutiny, said a first-year electronic engineering doctoral student in the U.S. who declined to be named.
The student, a Chinese citizen, told Caixin that he and his peers must reapply for visas every year, and frequently have to wait a month before being allowed to return to the U.S., even after receiving their new visas. "One of my classmates was stuck wandering in Canada for a month," he said.
You pointed out that the U.S. already has in place restrictions on technology transfer from U.S. companies to Chinese buyers. The new visa policy could cause the gap between the U.S. and China in the field of commercial technology to get wider, even though China "can catch up with the U.S. in some ways," he said.
Contact reporter Teng Jing Xuan (jingxuanteng@caixin.com)
You've accessed an article available only to subscribers
VIEW OPTIONS
Share this article
Open WeChat and scan the QR code

China Stories: How Beijing's Health Care System Battled Covid as Cases Peaked