A Corrected Correctional Facility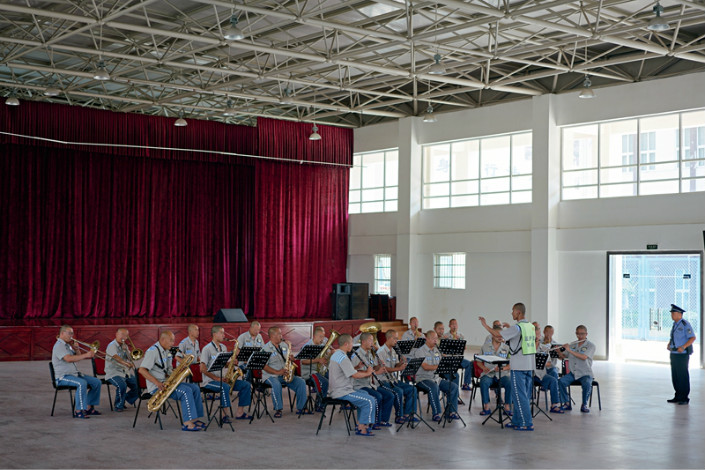 A prisoners' orchestra rehearses in the music hall at Chuanbei Prison under the watch of a guard. The band practices five hours a day in order to be ready to perform on short notice. Photo: Liang Yingfei
If it weren't for the high walls and the white-and-blue-striped shirts the inmates wear, you could be forgiven for thinking the new Chuanbei Prison is a school.
Dormitories, workshops, classrooms and even a music hall and a recreation center have been built around a soccer field that is in the center of the complex.
The new prison, just outside Mianyang in the southwestern province of Sichuan, is a far cry from its past as a correction-through-labor camp in its previous location.
Modernized prisons have begun to appear in China following decades of scathing reports from the international media about the brutal mistreatment of inmates. Many, particularly those convicted of serious crimes, were forced to work on water and land-conservation projects, road and rail construction sites, and deep underground in mines in remote areas with little or no safety protection or pay.
The old Chuanbei prison, about 250 miles from Sichuan's Wenchuan county, had for decades operated mines, steel and cement mills to take advantage of prisoners as cheap labor when it was first opened in 1952.
One prisoner who has been incarcerated in Chuanbei since 2010 said he used to work in the packaging unit of a cement mill affiliated with the old facility. "The air was full of so much dust that the sky turned gray and all my body, apart from my eyes, was covered in dust," he told Caixin.
"Now our lives at the new facility are so different, it's like the distance between the sky and the earth," he said.
Another inmate said that his dormitory in the old facility was so dilapidated that rainwater often dripped through the roof onto his bed.
Luo Xiaoming, a prison guard who has worked at Chuanbei for 30 years, said he still remembers how in the 1980s he sometimes needed to escort several prisoners for miles on foot to the nearest market to buy vegetables and meat.
China has long been under intense scrutiny over issues related to its prison system — including commodities that prisoners produced in harsh conditions — since the country's opening-up and reform in the late 1970s. Amid mounting pressure, China enacted the country's first-ever legislation on prison and detention facilities in 1994.
Authority began to overhaul the system at the turn of the century to keep inmates from exposure "to hazardous work conditions and limit their workloads to adequate levels," according to government documents.
Chuanbei was order to shut down its cement mills in April 2010. The facility, critically damaged in the catastrophic Wenchuan earthquake in May 2008, was relocated to its current location, just outside Mianyang, in 2012.
While dozens of inmates were previously crammed into one room with a single open toilet that provided no privacy, now each room houses 12 prisoners who share three enclosed squat toilets.
They are still required to work in workshops inside the prison, but are taught useful job skills rather than being exploited as cheap labor.
The elderly and those in poor health or with mental health problems are provided with extra care and counseling in special units.
However, Chuanbei was the first prison to be rebuilt under a reconstruction plan rolled out by Sichuan Provincial Prison Administration Bureau following the deadly quake 10 years ago. It may be being used as a showpiece, and many other prison facilities might not be able to match the same standards.
Inmates who have committed minor violations of prison rules are brought into this discipline center, where they can be subjected to up to 60 days of disciplinary measures, including being made to stand against a wall for hours at a time and having "reflection sessions" in solidarity confinement. They are required to face the wall when visitors arrive to appear less threatening. Photo: Liang Yingfei
Inmates watch an NBA game in the prison's recreation center on May 15. Photo: Liang Yingfei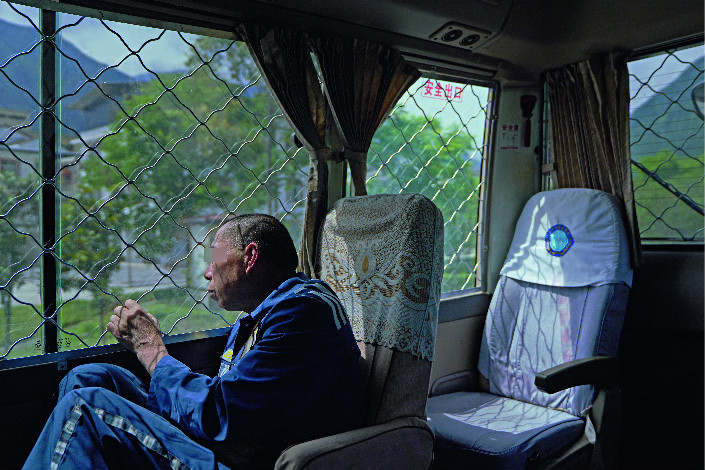 An inmate was driven to Beichuan Qiang autonomous county in Mianyang, Sichuan province, on May 11 to allow him to pay tribute to relatives killed in the deadly quake, one day before the 10th anniversary of the disaster. Photo: Liang Yingfei
A woman was allowed to cuddle and hold hands with her inmate husband under the watch of a guard during a "help via family bond" session at Chuanbei Prison on May 10. Photo: Liang Yingfei
An inmate receives counseling from a female psychiatrist on the other side of a glass wall. Photo: Liang Yingfei
Contact reporter Li Rongde
(rongdeli@caixin.com)
You've accessed an article available only to subscribers
VIEW OPTIONS
Share this article
Open WeChat and scan the QR code

Dec 07 06:55

Dec 07 06:36

Dec 07 05:00

Dec 06 18:18

Dec 06 16:36

Dec 06 16:04

Dec 06 13:34

Dec 06 11:26

Dec 06 11:36

Dec 06 06:25

Dec 06 03:01

Dec 06 03:14

Dec 05 18:03

Dec 05 17:03

Dec 05 15:39
GALLERY