Troubled HNA Group Shuffles Assets to Raise Money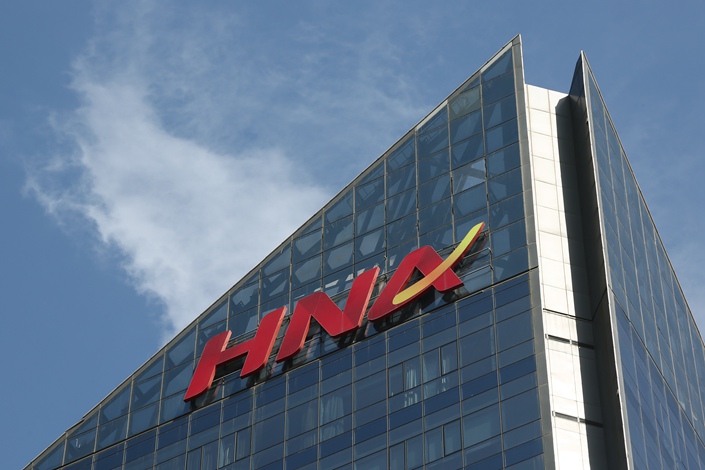 HNA Group's headquarters is seen in Beijing on March 15. Photo: VCG
More details have emerged of plans by debt-ridden airlines-to-property conglomerate HNA Group to restructure some of its listed subsidiaries that have halted trading in their shares pending announcements of changes aimed at helping the company repay its borrowings.
Shanghai-listed HNA Infrastructure Investment Group Co., which is primarily involved in real estate development in China, will buy subsidiary HNA Finance I Co., an investment holding company, from another HNA unit, Beijing Hainan Airlines Finance Holding Co., for 10.38 billion yuan ($1.60 billion) through a cash and stock deal, according to a filing with the Shanghai Stock Exchange on Friday.
To fund the acquisition, HNA Infrastructure said it plans to issue 747 million new shares at 11.12 yuan per share, which will raise 80% of the required funds. The remaining 20% will be paid in cash through funds raised from no more than 10 investors. The company didn't give any details of prospective investors or of buyers of the new shares. The deal will require approval from the National Development and Reform Commission, China's economic planning agency, because it involves an onshore company acquiring offshore assets.
As one of China's most acquisitive companies over the last five years, HNA Group has found itself struggling under a growing debt burden exacerbated by government orders to banks to rein in exposure to aggressive overseas deal-makers. Its borrowings grew 22% to 737 billion yuan last year, and its debt-to-asset ratio climbed to almost 60%, stock exchange filings show.
HNA Infrastructure's shares were suspended in January at 11.16 yuan. It is one of seven listed HNA units whose shares have been suspended due to potential investment, asset divestment and restructuring, and is the third to make an announcement about its plans. The company's assets include a dozen landmark office buildings, stakes in 13 airports, and a duty-free store.
HNA Finance I Co. holds 74.66% of another HNA subsidiary, Hong Kong International Construction Investment Management Group Co. Ltd. (HKICIM), and a stake in Swiss duty free retail giant Dufry AG. HNA Group overall held just over 20% in Dufry AG in early December, but sold 5.6% to hedge fund Elliot Management in late December, according to multiple media reports.
HNA Infrastructure's announcement was made two weeks after Hainan Airlines Holding Co. said it plans to issue shares to fund a 10.5 billion yuan deal to become the controlling shareholder of five HNA affiliates. The company also said it planned to raise as much as 7 billion yuan by issuing new shares to no more than 10 investors, including Singapore's Temasek Fullerton Alpha Pte., to fund airplane maintenance and purchases, airport construction and aviation training.
Earlier in April, Tianjin Tianhai Investment Co., a Shanghai-listed subsidiary of HNA, agreed to pay 3.44 billion in cash and raise 4.06 billion yuan to acquire e-commerce company Dangdang Inc.
But whether the HNA units can raise money in the capital markets remains to be seen.
Last week, Bohai Capital Holding Co., which runs the group's aircraft-leasing business, managed to raise only 1.06 billion yuan from a bond issuance that was originally intended to bring in more than 2 billion yuan, sources with knowledge of the sale told Caixin. Bohai Capital will have to pay 7% interest on the bond, its first sale since January. That compares with a weighted average interest rate on loans offered to nonfinancial enterprises and other sectors of 5.96% in March, according to the latest central bank quarterly monetary policy report.
Contact reporter Liu Xiao (liuxiao@caixin.com)
You've accessed an article available only to subscribers
VIEW OPTIONS
Share this article
Open WeChat and scan the QR code