School District Reform Prompts Parent Protests in Beijing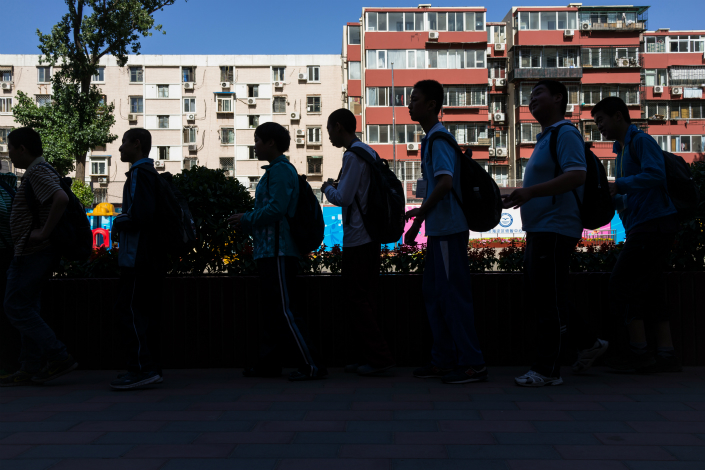 Middle school students return from school in Beijing in May. Photo: VCG
A group of 30 parents staged a protest at the education department of Beijing's Dongcheng district earlier in May to voice their opposition to a sweeping change to the "school district" policy now being tested by the local government.
Under the change, a school district, usually comprised of several neighborhoods, is no longer tied to one specific school. Instead, students in one school district can choose from a list of schools close to their homes depending on the availability of spaces at each of the schools.
That means that there is no longer any guarantee that a student living in a school district that until now has been tied to an elite school will be able to attend that prestigious institution. They could end up in any of the several schools that the education authorities have linked to their neighborhood.
The parents at the May protests were a mix of long-time residents of sought-after school districts and recent homebuyers who paid a steep premium to try to get their children into an elite school.
They strongly opposed the plan over concerns about the possible devaluation of their properties or losing money in their new investment. "We've spent money for the exclusive rights to a good school," said one parent who had just bought a new home in a popular school district in Xicheng district. "But if the new policy takes effect, we would no longer have the guarantee in return."
Such a public display of dissent is increasingly rare amid heightened official wariness over mass movements in China. But a number of such protests have broken out in the Chinese capital in recent weeks over the lack of transparency over school districts are delineated and the government's failure to narrow the gap in the quality of teaching at different public schools — a gap underscored by the high price of so-called school-district houses.
School-area home
Under existing education policies, each school can only admit students from one school district designated by the local school authorities, with eligibility largely set by home ownership. But the problem is there are huge discrepancies in the quality of teaching among public schools.
To get their children into a top-tier school, rich families spend millions of yuan to buy a "school-district home," usually a small, old home in a desirable area. This has pushed home prices skyward in sought-after locations where housing prices are already outrageously high.
Some property developers have fueled competition by paying for their projects to be included in sought-after school districts, according to Bi Bo with Tsinghua University's School of Architecture.
Others have teamed up with existing elite schools, most of which are in the Xicheng, Dongcheng and Haidian districts of Beijing, to build an affiliated school reserved for their customers.
Amid controversy, the Beijing Municipal Education Commission began to introduce a new policy in select areas last year that ties some school districts to multiple schools instead of a single school. As the program continues to expand this year, it has met strong pushback from families that already live in a school district tied to a prestigious school.
Meanwhile, demand for school-district houses remains strong despite of the uncertainty, according to a real estate agent based in Dongcheng's Fenghuiyuan neighborhood. There are at least two elite middle schools in the area, including Beijing No. 8 Middle School and the Beijing Normal University Affiliated School. One shabby 70-square-meter (753-square-foot) house in Fenghuiyuan is now on sale for around 14 million yuan ($2.1 million) or nearly 200,000 yuan per square meter — two-thirds more than the average house prices in nearby neighborhoods that are not linked with the top schools.
Disparity in the quality of teaching at Chinese public schools has been a protracted issue, and competition for places at a few elite schools is particularly fierce among those with money and power, according to professor Peng Bo at the Hunan Provincial Research Institute of Education.
Opaque process
The underlying problem with how the government draws school districts is a lack of transparency and credibility, according to Bi.
"That is why we have seen pushback from parents every time the authorities, bowing to pressure, tried to overhaul certain school areas but also intense tension between regulators and the public when authorities refuse to make adjustment," he said.
The concept of school districts was first introduced to China in 1983 when the Ministry of Education stipulated that schools should serve students from nearby neighborhoods. The ministry reaffirmed the policy in 1987, saying that schools should only admit students living in neighborhoods within a radius of three kilometers (1.8 miles).
So residents in Swan Bay and Chaoyang Yazhu, two residential developments in the Dongba school area of Beijing's downtown Chaoyang district, thought that their children would be eligible to attend a new campus launched by Beijing No. 2 Middle School in their neighborhood. For years, students living in both developments had to spend two hours a day commuting between their homes and the experimental school affiliated with Beijing Ritan Middle School, 4 kilometers away, because that was the only school that they were allowed to go to.
After they were told in May that the new school would be off-limits to their children despite its proximity, parents have repeatedly demanded that Chaoyang District Education Commission officials explain why.
The education authorities tried to appease the parents by allowing them to choose from a list of four schools for their children, but the branch of Beijing No.2 Middle School was not on the list. One new addition is a distant school that requires their children to cross three major thoroughfares and one railway line to attend.
"Why do our children have to go to a school miles away when there is one close to our homes?" one parent asked.
The parents said that they are even more perplexed by the fact that several other residential compounds in the same school area have been allowed to send children to the new campus after similar petitions to the district authorities.
Parents living in Swan Bay could not find any official documents or databases that laid out the rules governing the designation of such school areas and how such rules are implemented, according to Yang Nan, one Swan Bay parent.
"When we confronted officials from the district education commission, we got the impression that they had no idea what they were talking about when it comes to explaining the rationale behind school area divisions," she said. "They didn't even know where Swan Bay and Chaoyang Yazhu are exactly located in relation with the new school."
Children at Gome No. 1 Town in Dongba also have to go the experimental school affiliated with Beijing Ritan Middle School. But their parents were able to pressure the district education commission into reconsidering whether or not they will list the Beijing No.2 Middle School campus as a school they could attend.
But many parents said that their battle is not over yet and their next goal is to fight for access to government information about school areas.
"On what grounds are such school districts drawn? Why did students from our community have to go to a school 3 kilometers away in the past? Why is one school area tied to one school and students from another area?" one parent asked.
Controversy surrounding school areas results from a lack of democratic oversight in the drawing-up of each of the areas, according to Xiong Bingqi, a vice director of 21st Century Education Research Institute in Beijing.
"The education authorities do not allow public scrutiny of their decision-making process, and it's justified for parents to question whether there were any under-the-table deals and whether due process was followed," Xiong said.
Contact reporter Li Rongde (rongdeli@caixin.com)
You've accessed an article available only to subscribers
VIEW OPTIONS
Share this article
Open WeChat and scan the QR code